Advertise with Security Management
OUR COMMUNITY, YOUR CUSTOMERS
The security profession makes the world a​ safer place and has a positive impact on the future on the organizations and stake holders we serve. Security Management: An award-winning Publication.
The 2020 media kit is available below. Each icon is broken down by section and the text on the right will allow you to download each section of interest to you. If you prefer to download the whole media kit in its entirety the link is below. Do you prefer a hard copy of the 2020 Media Kit? Please email Keith Schilling. If you have any further questions please contact your sales reps today!
Download the full 2020 Media Kit. Also available, 2019 Media Kit.
Empowering Security Leaders to Protect

Security Management is written primarily for security professionals. It also makes vital security information understandable to a general business audience, helping ASIS International advance security worldwide.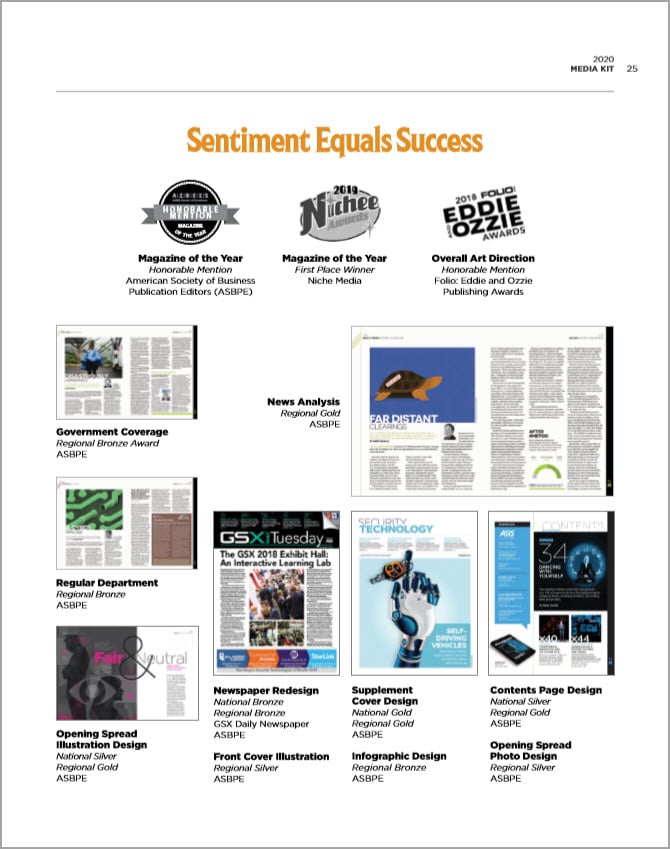 Awards, Lots of them
​ASIS International's flagship publication Security Management​ took home multiple honors in editorial, design, and web at recent regional and national award ceremonies.​​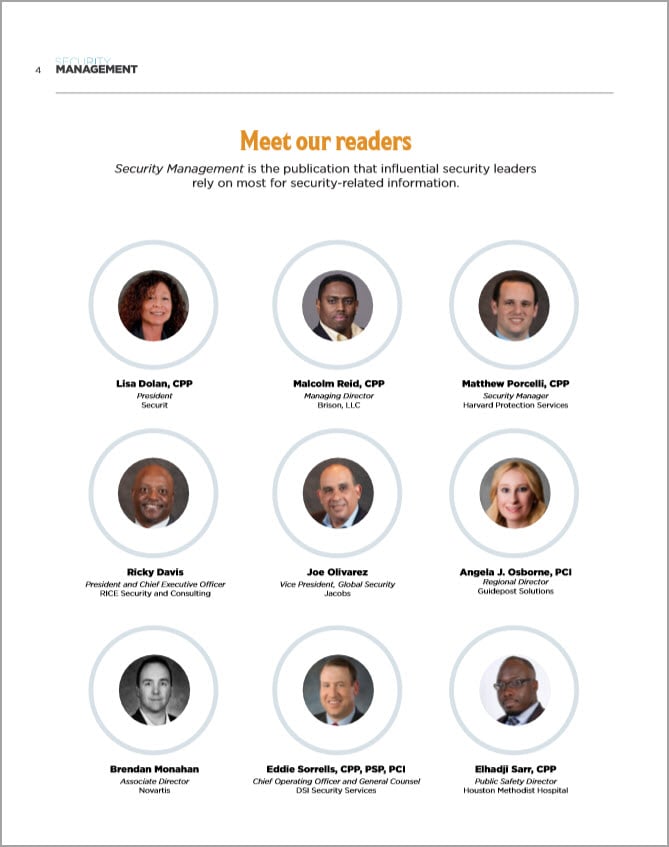 About our Rea​ders
Security Management is the publication that the best security leaders rely on most for security-related information.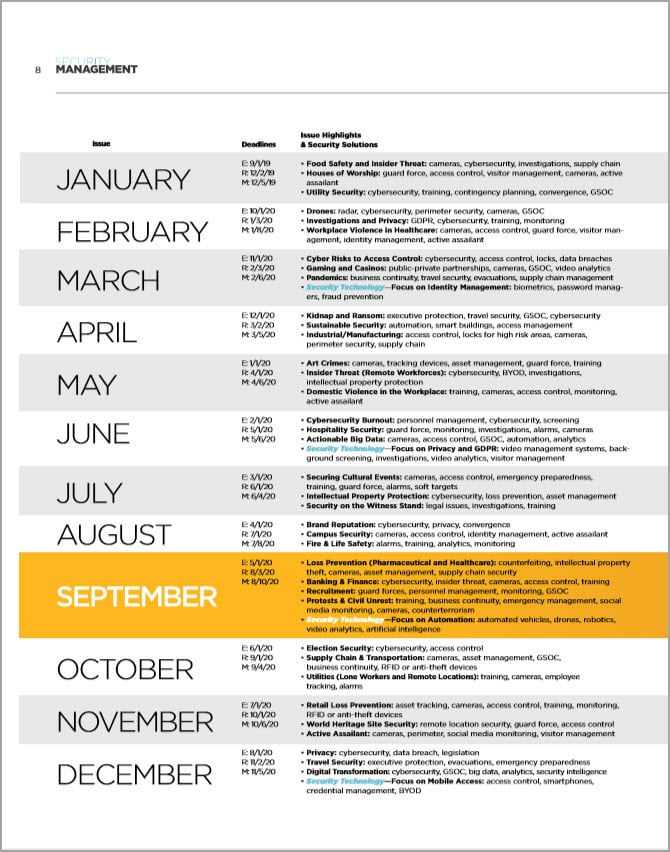 2020 Editorial Calendar​
Issues, deadlines, highlights and & Security Solutions.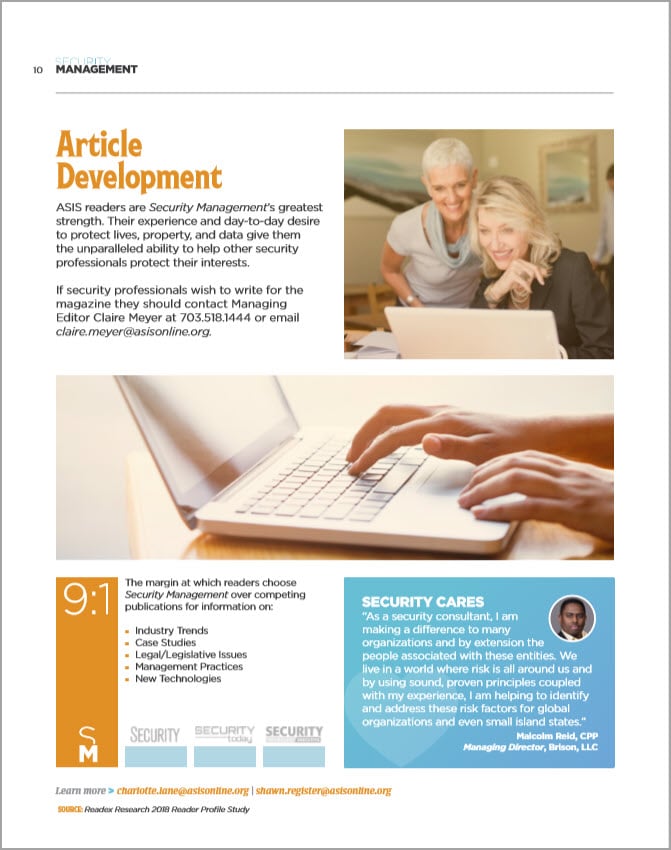 Article Development
Issues, deadlines, highlights and & Security Solutions.
If you are interested in writing for the magazine please contact Editor-in-Chief Teresa Anderson.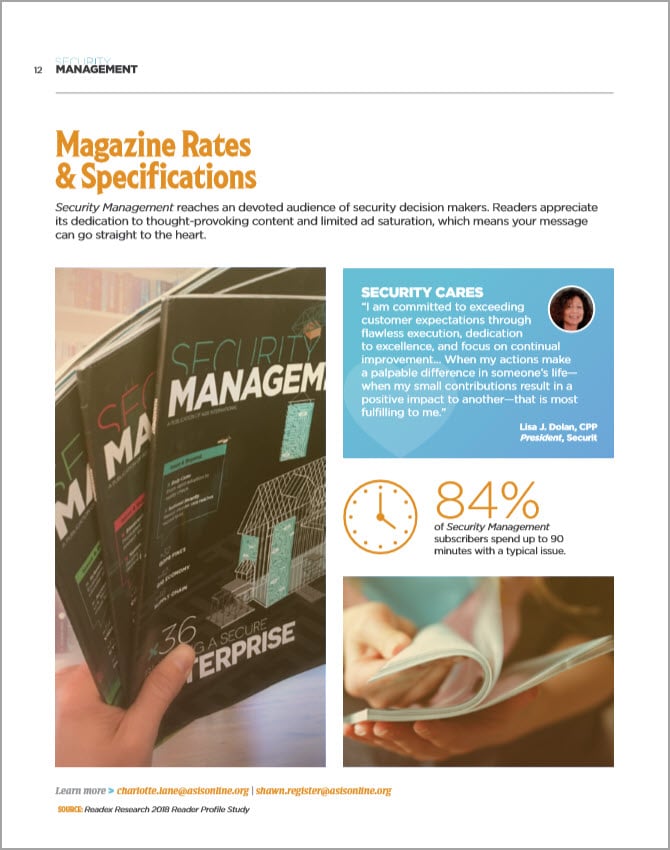 Ma​gazine Rates & S​pecifications
Security Management reaches an exclusive audience of industry decision makers. Your message delivers greater impact and never gets lost in the noise.​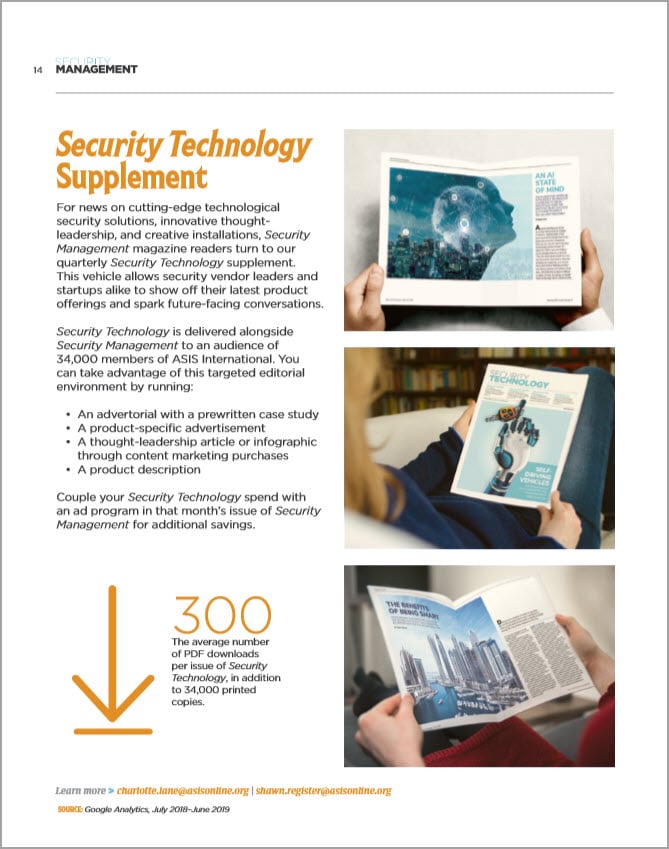 Security Technology Supplement
NEW by popular demand! Our new quarterly supplement is dedicated to the ever-evolving technological side of security solutions and allows security vendor leaders and newcomers alike to show off their latest product offerings.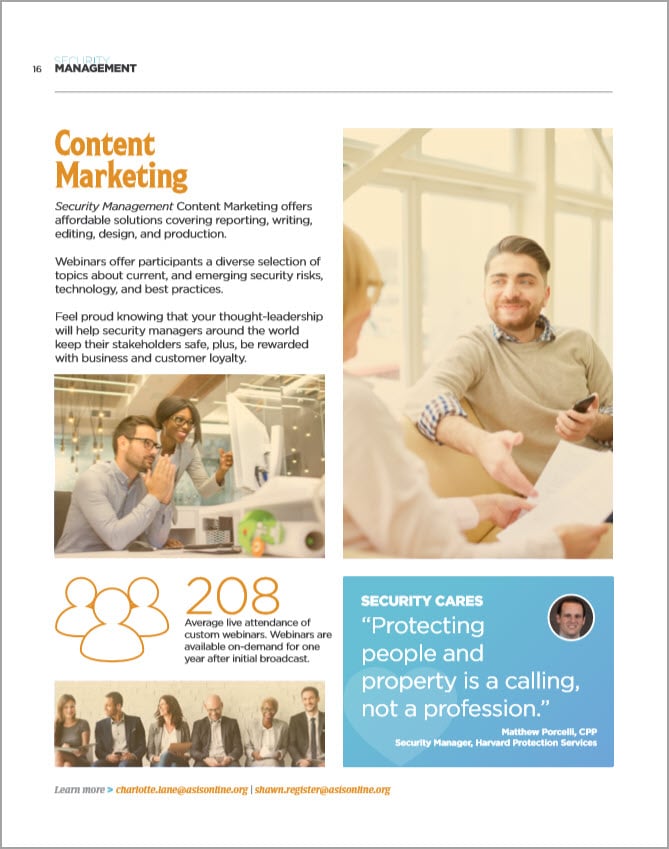 C​ontent Marketing
Attract customers by creating valuable content for their benefit. Though Security Management content marketing campaigns, deliver helpful information to your audience and increase the prospect they will reward you with business and continued loyalty.​
It's Show Time!
Connect with more than 20,000 security professionals in Chicago at the Global Security Exchange. GSX is a world-class education, networking, and solutions marketplace, and the biggest security-related event of the year.
Engaging Emails
Security Management's curated newsletters deliver security-related news stories, industry trends, and the latest in technologies and solutions. Dynamic product and positioning options simplify and optimize marketing campaigns and target active ASIS members.​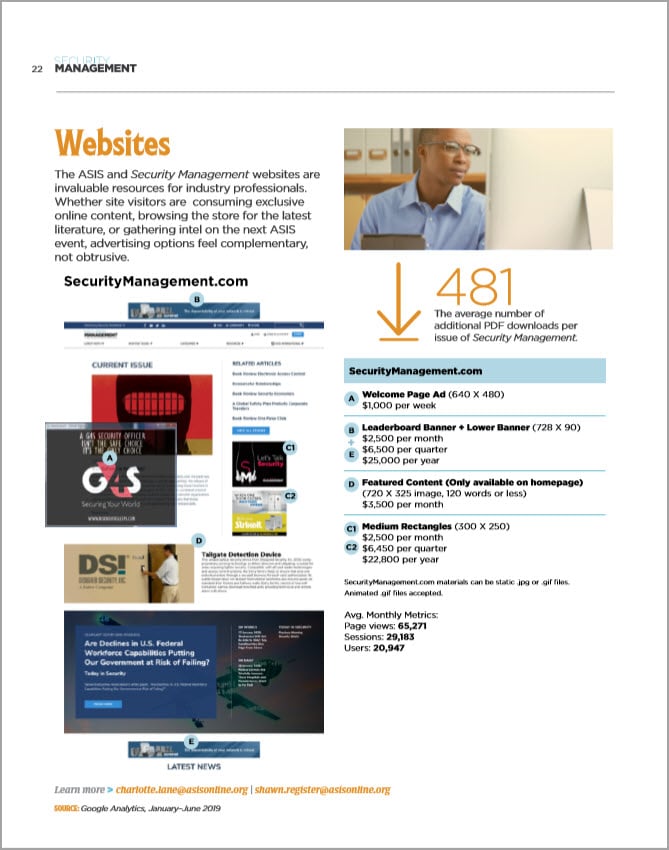 Resourceful Web Presence
The ASIS and Security Management websites are invaluable resources for industry professionals. Whether it's consuming exclusive online content, browsing the store for the latest literature, or gathering intel on the next ASIS event, advertising options feel complementary, not obtrusive, to site visitors.​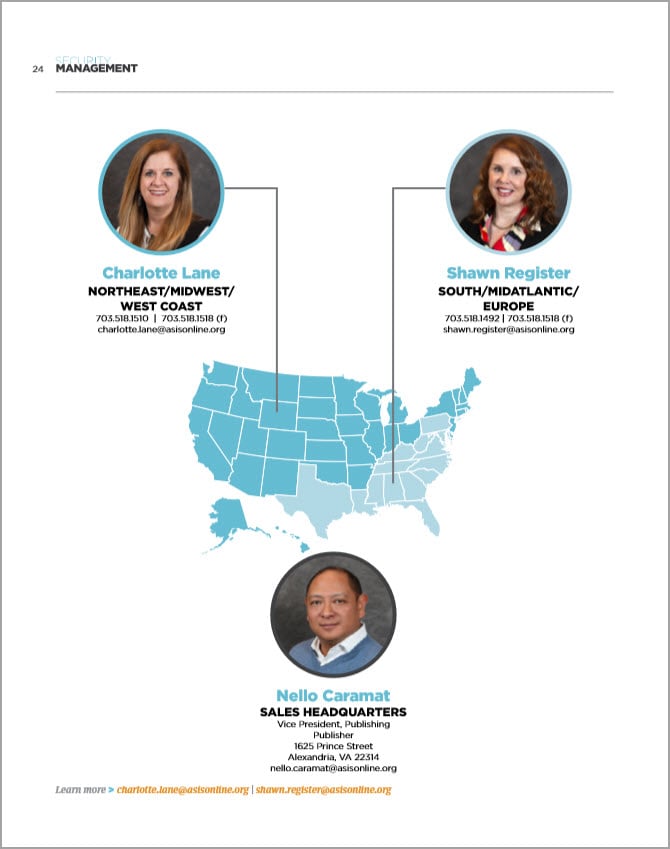 Let's Grow Your Business Together
Contact a sales representative to learn more about these and other advertising opportunities that can help your organization thrive.​
Contact your sales representative today!
Northeast/Midwest/West Coast
Charlotte Lane
703.518.1510
FAX: 703.518.1518
Charlotte.Lane@asisonline.org
South/MidAtlantic/Europe
Shawn Register
703.518.1492
FAX: 703.518.1518
Shawn.Register@asisonline.org
​Sales Headquarters
Nello Caramat
VP of Publishing​
1625 Prince Street
Alexandria, VA 22314
703.519.6200​
FAX: 703.518.1518
Nello.Caramat@asisonline.org