Security Technology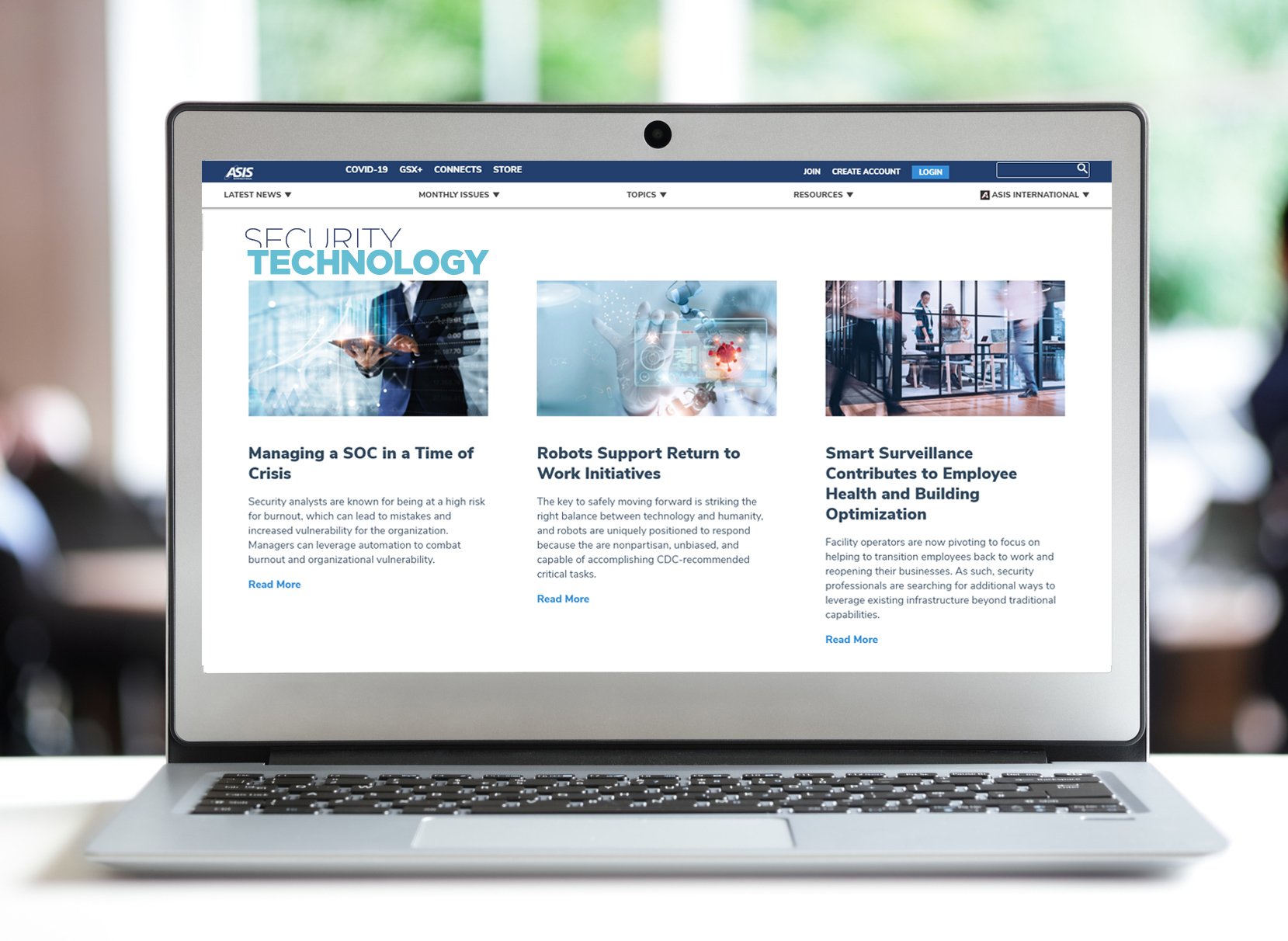 For news on cutting-edge technological security solutions, innovative thought-leadership, and creative installations, Security Management magazine readers turn to the Security Technology community for information. This digital platform allows security-vendor leaders and startups alike to show off their latest product offerings and spark future-facing conversations.
Security Technology articles are prominently featured on the SM website and highlights can be found in each issue of Security Management, read by an audience of 34,000 security professionals.
Major topics Security Technology will address in 2021 include mass communication, video surveillance, critical infrastructure, perimeter security, and more.
Take advantage of this targeted editorial environment by providing a:
• Prewritten case study
• Product-specific content
• Thought-leadership article
• Infographic
($3,000 per item)

Security Technology Editorial Calendar
February
Communication Systems: mass communication, emergency notifications, intercoms, crisis management
Sponsored content due January 15.

April
Artificial Intelligence: security management, privacy, systems integration, analytics, automation
Sponsored content due March 15.

June
Video Surveillance: analytics, thermal imaging, employee monitoring, privacy
Sponsored content due May 14.

August
Critical Infrastructure: smart cities, industrial internet of things, convergence, cyber risk
Sponsored content due July 15.

October
Perimeters: radar, LiDAR, drones, robotics, thermal cameras, intrusion detection
Sponsored content due September 15.

December
Biometrics: facial recognition, access control, identity management, privacy
Sponsored content due November 15.

Security Technology Newsletter NEW!
Top Banner (468 x 60)
$2,500 per month
Interstitial Banner 1 or Sponsored Content* (468 x 60; 150 x 150 image, 80 words or less)
$2,000 per month
Interstitial Banner 2 or Sponsored Content* (468 x 60; 150 x 150 image, 80 words or less)
$2,000 per month
*Sponsored content only available with purchase of case study/infogrphic.
Contact [email protected] to learn about utilizing sponsored content opportunites in the Security Technology newsletter.

Write a Thought-Leadership Article
If you are interested in writing a Secuity Technology article, email [email protected] or call at 703.518.1459.


Need more information or ready to place your advertisement? Email [email protected] to reserve your ad placement and positioning, or call her at 703.518.1510.