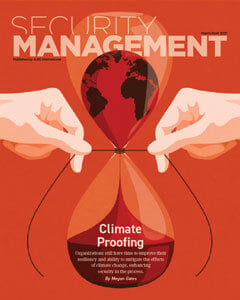 March/April 2021 | COVER STORY

Natural disasters create a national security threat that scientists, military representatives, and others say needs to be addressed as part of a global response to climate change. Another challenge arises from the resulting changes in mass migration patterns, increases in social tensions, and challenges to human health. According to an assessment from the Center for Climate and Security, every region of the world will face severe risks to national and global security over the next three decades due to increased warming.
But organizations still have time to improve their resiliency and ability to mitigate the effects of climate change, enhancing security in the process.