In the Great Resignation, Engage to Retain
There has never been a better time to look for a job. A recent report from CNBC found that job openings are at near record highs and hourly pay has risen—in some sectors by more than 10 percent in a year. This is good news for candidates, but for employers, this could result in losing top talent at significant expense.
As business owners and managers know, employee turnover is costly. According to Employee Benefits News, turnover can cost employers a whopping 33 percent of an employee's annual salary. Why? Because of the cost in time and expense associated with recruiting, interviewing, and, of course, new employee training. Replacing a $50,000 per year employee now has a price tag of around $66,500 if you include $16,500 in turnover expense with the $50,000 salary (assuming you don't hire someone with more experience at a higher rate). There are also hidden costs that can be harder to measure, such as team morale and customer relationships.
Sponsored

XProtect® Hospital Assist is a remote patient monitoring solution that helps your staff work more efficiently while enhancing patient care.
The best method to combat turnover is to keep employees happy. It's a lot easier to keep a star than to find a new one. Create and maintain a culture so they will not want to leave. Many companies do not put forth the extra effort to engage staff, but engagement can be accomplished in many ways and yields many returns.
Emerging from the Pandemic with a Roadmap
It would be easy as we emerge from the COVID-19 pandemic—which hit businesses hard—to focus on business instead of people, but without your people, you won't have much of a business. In a post-pandemic era, employees can be unsure and even fragile as they navigate the workplace.
It's important to develop a roadmap for reinforcing trust, demonstrating respect, and providing flexibility. Employees are your company's greatest competitive advantage, and they should be taken care of holistically, mentally, and physically. Studies have shown a direct correlation between employee engagement and productivity, loyalty, and turnover.
For example, a study by Queens School of Business and the Gallup Organization found that disengaged workers have 37 percent higher absenteeism, 49 percent more accidents, and 60 percent more errors. Further, a Gallup study of 23,910 businesses found that businesses with engagement scores in the bottom quartile experienced an average of 31-51 percent more employee turnover than those in the top quartile.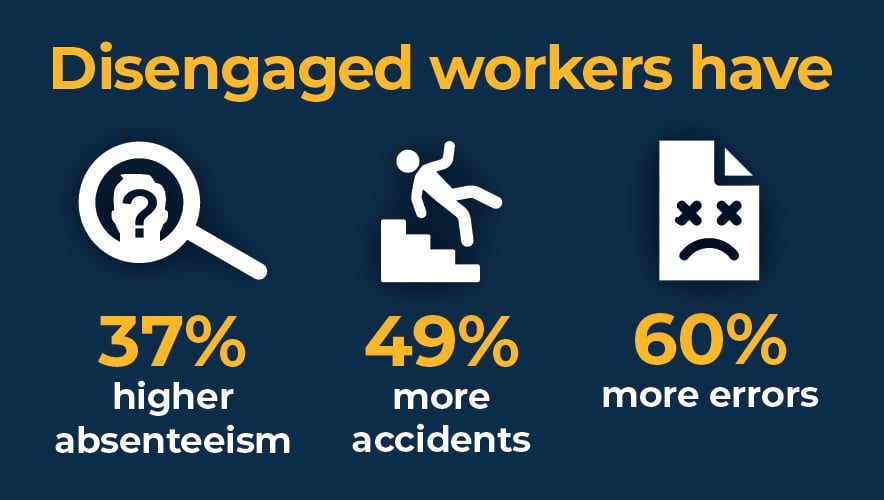 The pandemic presented a range of challenges for personnel and, by extension, businesses.
Employee health fears and the unknown. "Is this ever going to end?"


Dealing with angry clients. "Do I have to wear a mask at your office?"


Contending with continuing business policies. Cleanliness and different regulations regarding masks or vaccines can spark confusion or contention.


Personal issues. Some employees also might be experiencing significant personal hardship (mortgage payments, loss of a loved one, etc.).
To address these potentially negative issues, employers should work to improve the culture to foster employee trust and regain the competitive advantage in today's climate. Start with the idea that people are at work for essentially the same reasons: to provide for themselves and their families. How can you as an employer work to incorporate respect to the returning workforce and increase employee engagement and motivation? This starts by having an open dialogue with employees, and even facilitating opportunities to do so via company-encouraged get-togethers.
If employees exhibit behaviors that indicate they are not adjusting well to the COVID era, such as heightened absenteeism, complaints, or stress levels, then consider building a dashboard to measure the workplace climate so managers can recognize emerging issues and proactively address them. This can include evaluating indicators like the number of workers' compensation cases related to stress; the number of complaints made regarding workplace culture issues; number of absences; and an increase in requests from a particular department, location, or supervisor.
These efforts can help identify issues before they become problems so that you can avoid losing good employees. Also consider conducting focus groups with management where employees can talk freely about issues that affect them (held without direct supervisors to encourage better participation). The fact that your business leaders are even taking the time to hold these sessions engenders trust.
Consider asking any or all of the following questions in your focus group:
What has your organization's leadership done to gain your trust and represent your best interests?


How does your organization's leadership support your career advancement?


In what ways do leaders display actions consistent with the organization's core values?


How does leadership communicate expectations and hold members accountable for them?


What does leadership do to show you it will meet their commitments to you?


How does leadership ensure communication within the organization is effective?


What could leadership do to strengthen your trust in it?


What examples has leadership displayed to demonstrate it will own its mistakes and correct them?
Another key to restoring employee trust and regaining competitive advantage is empathy. There are employees who were not greatly affected by the pandemic, while others may have suffered significantly. If an employee appears to be overreacting, stay calm and communicate clearly. Demonstrate empathy, strategize on ways you can help the employee through this difficult time, and connect him or her with resources that are available to assist, such as your human resources department, an employee assistance program, or other mental health resources.
Sponsored

Milestone Kite™ is an ideal plug-and-play cloud solution for schools. Learn how it makes analytics for advanced, cloud-delivered VMS a realistic, affordable, and feature-filled option.
A Swedish Coffee Break that Can Bring Teams Together
You can also engage with employees personally by taking time to host informal get togethers. In my department, we began hosting a bi-weekly fika (Swedish for coffee break) during the pandemic. These in-person or virtual coffee hours have helped our teams stay connected–sharing thoughts, fears, and feelings. It turns out that during the pandemic, we all experienced some of the same worries that ranged from catching the virus to job uncertainty.
Initially, the manager in me worried whether the time we spent in fikas throughout the pandemic was a productive use of our time. After all, we're paid to do a job. But this time put us together in what author Tony Schwartz calls the "Recovery Zone" in his book The Power of Full Engagement: Management Energy, Not Time, is the Key to High Performance and Personal Renewal. In this book, Schwartz discusses the ways we can manage our energy to best meet the demands of a high intensity environment. The idea is to strive to spend most of our time in the performance and recovery zones (just like an athlete) and less time in the survival and burnout zones.
Having coffee with my team and talking about anything other than work was likely the most important task I completed since the COVID-19 pandemic began. Activities like fikas, which can motivate and reenergize employees, would likely benefit many workplaces and employee retention efforts.
Are You Headed for a Turnover Tsunami?
The Society for Human Resource Management (SHRM) forecasted that as many as half of the workers in the United States intend to look for a new job within the next year—otherwise known as the "turnover tsunami." So, what can you to do keep employees from jumping ship? Engage with them.
Turnover is expensive. It costs time, energy, and money. If I'm not keeping my team of 12 engaged, I can expect—according to SHRM's forecast—to lose six of them. Let's say that only two leave. Even at that, it's costly. This is what I can expect:
The average job posting receives 118 applicants.


An average of six candidates are interviewed per position.


Candidates go through two to three rounds of interviews before a selection is made.


Most job interviews are at least one hour long.
Here's a conservative estimate of what it costs in time:
Five hours to screen resumes,


Six hours of candidate screening over the phone,


Four hours of in-person interviews,


Two hours with each finalist,


One hour checking references, and


Two hours reviewing benefits, negotiating offer, and putting together an onboarding plan.
That's 20 hours at a minimum. Those hours could have been better used taking one hour to meet with each team member just to check in.
SM7 Newsletter

Find out your top 7 security-news articles,
delivered to your inbox, weekly.
And retention efforts can extend beyond check-ins. Gallup has identified 12 needs managers must meet to improve employee productivity. Your organization can easily survey employees directly with 12 simple questions such as "Do you know what is expected of you at work?," "Do you have the materials and equipment to do your job correctly?," and "Do you feel valued?" Don't just gather the information—evaluate it and make positive changes based on feedback.
For example, if your organization scores low on "There is someone at work who encourages my development," it's a clear indicator that your employees are experiencing stagnation which can lead to disengagement. In this case, it might be necessary to create a job rotation or mentorship program.
If you're concerned about losing employees to a red-hot job market, it's not too late to establish a plan that emphasizes employee engagement and retention. Developing a culture of engagement facilitates employee satisfaction and results in better performance, lower turnover, and, of course, reduced turnover costs.
Elaine Palome is the director of human resources for Axis Communications.