Making the Most of Your First GSX: Insights from Mackenzie Grahek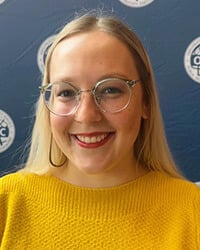 Mackenzie Grahek is a security manager of intelligence and assistance for International SOS, where she focuses on mitigating security risks for members of marginalized communities that are traveling.
Ahead of GSX 2023, the GSX Daily chatted with Grahek about how she's preparing for the conference and the two sessions she'll be presenting:
Sponsored

At GSX 2023, Hanwha Vision is showcasing an array of new products and solutions in Booth #3123 in Artificial Intelligence (AI) Hanwha stands at the forefront of AI innovation and will demonstrate new uses of AI in PTZ and Q series cameras, delivering precise detection, robust search capabilities, elevated data analysis, and enhanced image quality. Also on display will be FLEX AI technology machine learning which helps our cameras continually learn to recognize key objects for more efficient operation.
How many times have you attended GSX?
Grahek: While International SOS and our excellent group of security experts have had a strong presence at GSX throughout several years, this will be my very first time attending and I'm looking forward to it!
What will you be up to before the show on Tuesday?
Grahek: Prior to conferences, I like to get as much sleep as I can. In the mornings, I like to prepare for the day by grabbing a coffee and protein bar on my way to the show floor. After a quick breakfast, I plan to connect with my co-speakers to review our presentation and ensure we're good to go for an impactful and informational session—which I am extremely thrilled to present! I'll also make sure to review my schedule for the day and prepare any needs for a successful day!
Are you planning to attend any sessions?
Grahek: I like to coordinate my schedule alongside my colleagues and prefer to do so based on recent events and trending news. Depending on how my days shake out, I'll review the speaker session schedule closer to the conference and finalize my schedule based on the sessions I'm able to attend.
At this time, the sessions I am most excited about will be led by my colleagues Jeffrey Dell, Steven Barnard, and Rich Davis on crisis management and business continuity, which will be held on Monday, 11 September, at 10:00 to 11:00 a.m.—an awesome way to start the conference!
On Tuesday, after leading a speaker session on LGBTQ+ safety in the modern industrial democracies alongside my colleagues, I plan to sit in on some other sessions and connect with other experts that will be attending.
And do you have a plan of attack for the GSX Exhibit Hall?
Grahek: Walking the show floor is one of the things I enjoy most about conferences. I'll certainly make it a point to walk down each aisle to connect with attendees and booths that speak the most to me.
I also love to use this time to say hi to fellow attendees and organizations that I have relationships with. I have heard about all the educational opportunities at GSX, and I am looking forward to learning more about the other exhibitors.

Are there any security topics that you're interested in learning more about?
Grahek: At this year's GSX conference, I am looking for more information and resources on how the security industry can be more inclusive. This is a big passion of mine, and I'm eager to hear about diversity and inclusion at the show.
What networking events will you be attending?
Grahek: I'll be attending Texas Night at GSX 2023 on Sunday, 10 September, where I'll have the opportunity to connect with fellow attendees.
How do you plan to prepare for the next day of the show?
Grahek: My evening routine consists of having dinner, reviewing my notes from the day, and preparing for the next day. Of course, I like to ensure that I also get lots of rest.
Any advice for first time attendees?
Grahek: I'm looking forward to being able to tell you next year!
What's the best way to connect with you at the show or afterwards?
Grahek: The best way to connect with myself or my fellow subject matter experts is by scanning your badge at the International SOS booth (booth 2523) and leaving a note with my name. This way I can ensure to reconnect with you after the show. I'll also be able to share business cards with my International SOS contact information at the booth as well.
Sara Mosqueda is associate editor of Security Management, the publication behind the GSX Daily. Connect with her at [email protected] or on LinkedIn.