Timeline: The Boston Marathon Bombing and Response
Marathons are run around the world. But one of the most prestigious, attracting elite and just-for-fun runners alike, is held annually in Boston.
On 15 April 2013, approximately 27,000 runners started their marathon in Hopkinton to make the 26-mile trek to Boylston Street in Boston. Most of them, however, would not complete their race because in the middle of the afternoon, two individuals set of bombs near the marathon's finish line, killing Martin Richard, 8; Krystle Campbell, 29; and Lu Lingzi, 23; and injuring 264 others.
SM Podcast

Is it time to listen to respond or listen to learn? Learn how to leverage soft skills to drive more effective and impactful crisis preparation, response, and recovery.
The incident spurred a massive response from the Boston Police and Fire Departments, as well as local, state, and federal partner agencies to care for the victims, investigate the crime, and apprehend the perpetrators.
Below is a condensed timeline of the incident and its aftermath, based on the After Action Report for the Response to the 2013 Boston Marathon Bombings, which provides a look at the steps security practitioners take when responding to a crisis.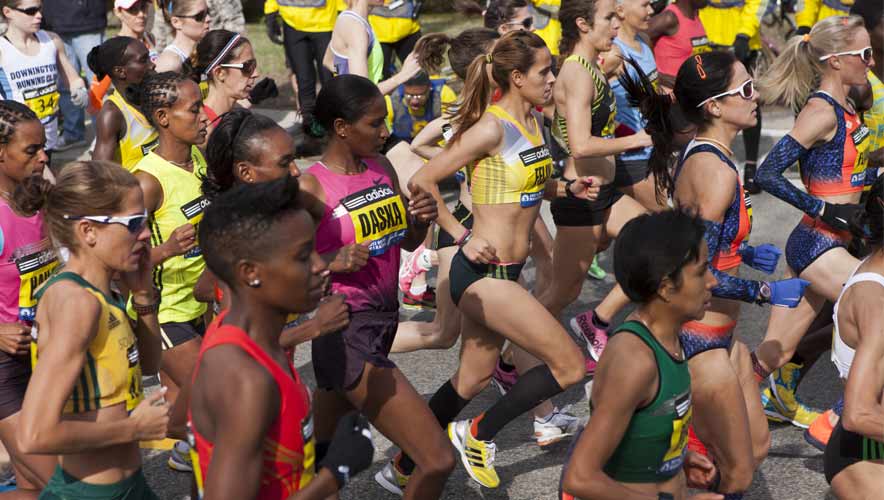 Monday – 15 April 2013
7:00 a.m. – Multi-Agency Command Center (MACC) is activated with partial staffing from Massachusetts Emergency Management Agency (MEMA) Headquarters in Framingham.
8:00 a.m. – Massachusetts Department of Public Health (MDPH) Department Operations Center (DOC) opens and is operational. City of Boston Law Enforcement Coordination Center is operational. MDPH staff arrive at assigned medical tents along the route to provide situational awareness.
8:10 a.m. – MDPH conducts bed counts for Boston-area hospitals through the MDPH WebEOC. Boston Medical Intelligence Center (MIC) is operational.
9:00 a.m. – Boston Marathon begins. MACC is fully operational, staffed with more than 80 personnel from first responder, local and federal partner agencies.
10:45 a.m. – MDPH staff arrive at Newtown Wellesley Hospital and medical tents at Finish Line to provide situational awareness.
11:00 a.m. – MDPH conducts initial pre-planned conference call with hospitals to check in as approximately 27,000 runners are now on the course.
11:05 a.m. – Red Sox baseball game at Fenway Park begins.
Noon – MDPH conducts pre-planned conference call to obtain situational awareness of medical tents providing support to injured runners.
12:36 p.m. – Elite runners finish the race.
1:00 p.m. – MDPH conducts updated hospital bed count.
2:00 p.m. – MDPH conducts pre-planned conference call with route hospitals to check in, provide situational awareness.
2:08 p.m. – Red Sox game ends, releasing approximately 37,000 people onto the streets of Boston.
2:24 p.m. – Course medical stations 1 through 8 on the first parts of the course are closed.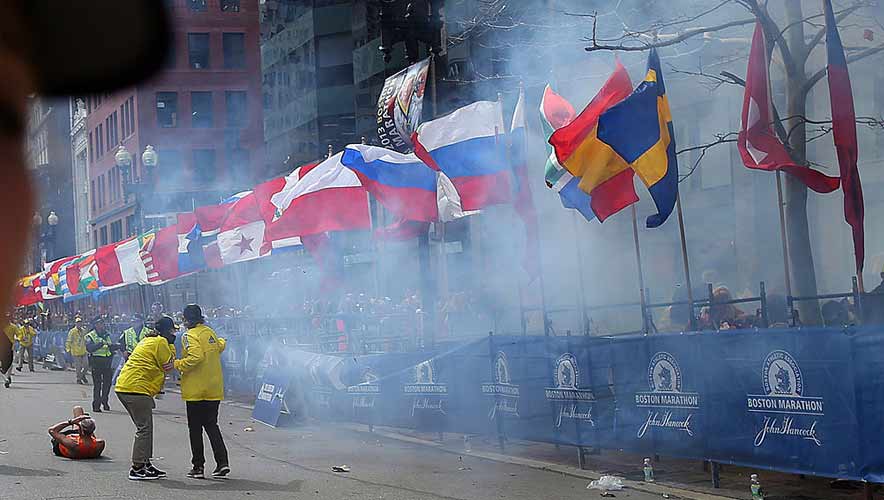 2:49 p.m. – First bomb detonates in front of 671 Boylston Street (Marathon Sports store) near the Boston Marathon finish line.
2:49.13 p.m. – Second bomb detonates in front of 755 Boylston Street (Forum restaurant), approximately 180 yards from the first bomb detonation site.
2:50 p.m. – Triage and treatment of those injured begins immediately. Radio transmissions from Boston Police Department, Boston Fire Department, Emergency Management Services, and MSP are being transmitted.
2:51 p.m. – The BRIC shares situational awareness information about the explosions to its intelligence distribution list, including local, state, and federal law enforcement.
2:52 p.m. – Boston Police Department (BPD) Explosive Ordnance Disposal (EOD) Teams, Special Weapons and Tactics (SWAT), and other first responder teams are deployed. The BRIC issues first of 61 alerts for suspicious packages over the next five hours, all ultimately checked and cleared by law enforcement EOD teams.
2:53 p.m. – Hospitals receive radio and email notification that a mass casualty incident has occurred at the finish line.
2:54 p.m. – Boston Fire Department and Massachusetts National Guard (MANG) complete initial review of handheld and stationary air monitoring devices in the area of the finish line for chemical and radiological contamination. Results are negative, but mobile measurements continue. Area hospitals receive initial estimates of the number of patients to expect.
2:55 p.m. – Boston EMS broadcasts request use of any available ambulances over mutual aid radio system to private EMS ambulance companies; nine companies respond to commit 73 ambulances total. Following the Marathon operations plan, a staging area is already in place in an area called the rear of the Alpha Tent. A secondary ambulance staging area is created at Boylston and Fairfield Streets, but it is relocated several times when areas are deemed risky.
2:56 p.m. – Boston Fire Department receives report of explosion and fire at JFK Presidential Library in the Columbia Point area of Boston.
2:57 p.m. – Most Boston hospitals fully activate and staff their emergency operations centers. MDPH and Boston MIC send additional alerts to hospitals through the Health and Homeland Alert Network and the Central Emergency Medical Direction Network (CMED).
2:58 p.m. – The first ambulance leaves the scene with a critically wounded patient, headed for Massachusetts General Hospital.
3:00 p.m. – On-scene commanders are informed there is no radiological or chemical contamination from the bombs. Hospitals do not get this information.
3:02 p.m. – MDPH broadcasts information on bombing to additional hospitals outside of Boston through the Health and Homeland Alert Network.
3:16 p.m. – Boston EMS advises that ambulances are to obtain hospital destinations from CMED system. Soon afterward, patient distribution is transferred to on scene Boston EMS loading officers.
3:22 p.m. – Boston Emergency Operations Center (EOC) is operational.
3:28 p.m. – All remaining marathon runners are stopped on course, with temporary shelters opening for runners to head to. The Westin Hotel is established as the ad hoc location for a Unified Command Center with BPD, Boston Fire Department, EMS, MEMA, MSP, Transit Police Department, and FBI representatives present, shortly joined by MANG.
3:30 p.m. – Law enforcement mutual aid beings to arrive on scene to assist with investigations and response to suspicious packages.
3:37 p.m. – Last critical patient is transported from the bombing scene.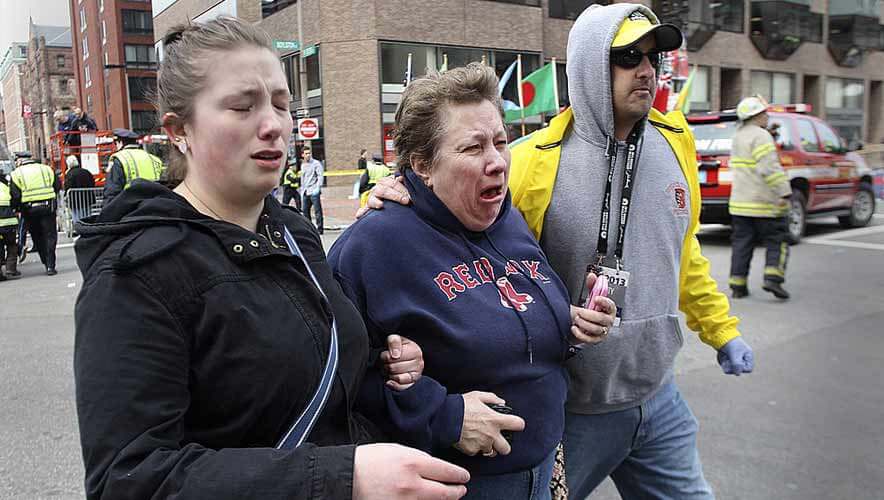 3:42 p.m. – ARC "Safe & Well" website is promoted to facilitate family reunifications.
3:56 p.m. – Boston, Brookline, and Newton police request buses from MBTA to evacuate spectators and move police into the area.
3:59 p.m. – Shelters are opened at Newton City Hall, St. Ignatius Church, and More Hall on the Boston College campus. Another shelter at La Salle College is opened later.
4:05 p.m. – U.S. President Barack Obama contacts the Mayor of Boston and the Governor of Massachusetts by phone.
4:25 p.m. – Boston Bruins hockey game is cancelled.
4:30 p.m. – BPD detectives are deployed to hospitals for interviews and evidence collection. The Federal Aviation Administration (FAA) establishes temporary flight restriction of 3 nautical miles around 3,000 feet above Boston.
4:31 p.m. – BPD Commissioner announces 12-hour shifts for all sworn personnel in BPD and cancels all leave.
Sponsored

Download our e-Book and learn how open-source intelligence can be used to investigate these attacks and de-anonymize threat actors.


4:32 p.m. – Massachusetts Governor Deval Patrick arrives at the UCC and is briefed. MBTA transit system service between Park Street and Kenmore stations is suspended. Transit PD increases security at MBTA stations and conducts sweeps for suspicious packages at stations. Massachusetts National Guard (MANG) soldiers are later deployed to assist Transit police in providing security.
4:47 p.m. – First news conference is held with the governor and UCC leadership at the Westin Hotel to convey initial information about the bombings.
4:54 p.m. – The mayor of Boston, Thomas Menino, arrives at the UCC and meets with BPD Commissioner and other City of Boston department heads. Tufts Medical Center declares Code Black (no further emergency patients accepted) because of a suspicious package found in emergency department. The code is soon lifted. Boston PD requests MANG soldiers assist in securing crime scene perimeter, which is granted.
5:00 p.m. – Boston Office of Emergency Management (OEM) delivers phones, chargers, computers, and radios to resolve communications capability issues at UCC.
5:49 p.m. – Second press conference is held with the governor, mayor, BPD commissioner, BFD commissioner, Boston EMS chief, U.S. attorney, and other UCC leadership and elected officials.
5:52 p.m. – Request is made to major cellular carriers to provide mobile infrastructure for expanded cellular service at Westin Hotel/UCC.
5:58 p.m. – MBTA Green Line service resumes incrementally.
6:00 p.m. – Boston OEM and Boston Centers for Youth and Families opens facility at Castle at Park Plaza to provide immediate assistance to runners, including counseling and support.
6:10 p.m. – President Obama holds a press conference in Washington, D.C.
6:30 p.m. – UCC leadership conducts strategy meeting, reaching consensus that the incident is likely a terrorist attack and the FBI will serve as the lead investigative agency. Third press conference is held announcing FBI will take this role. BPD commissioner shares that the fire at the JFK Library was accidental and not related to the bombings.
6:54 p.m. – The perimeter of the crime scene is defined as a 12-block area.
8:00 p.m. – Runners' bags are secured, scanned by BPD EOD teams, and placed under guard by MANG until Tuesday morning.
8:39 p.m. – Fourth press conference is held with the governor announcing Boston will be open for business the next day.
8:50 p.m. – Last patient with incident-related injuries is transported to a hospital from the scene.
Tuesday – 16 April 2013
Midnight – UCC at the Westin Hotel is stood down. MACC transitions to a partial activation of the State Emergency Operations Center (SEOC)
9:00 a.m. – Runners are allowed to begin retrieving their bags at Berkely and Stuart Streets in Boston.
9:40 a.m. – Fifth press conference is held where FBI confirms that the Joint Terrorism Task Force (JTTF) is working with partners to solve the crime, requests public provide information to the FBI tip line.
5:07 p.m. – Media briefing is held at Westin Hotel where FBI provides an update on the investigation, stating the Bureau is looking for individuals that may have been carrying black, heavy bags or backpacks that contained pressure-cooker type devices. Mayor and governor announce formation of the One Fund Boston for donations for victims and survivors, as well as details of interfaith service.
7:00 p.m. – The SEOC returns to normal operations for overnight shift.
11:00 p.m. – Castle assistance center for runners closes.
Wednesday – 17 April 2013
President Obama issues an Emergency Declaration for Boston, declares plan to visit on Thursday to participate in interfaith service.
9:00 a.m. – Boston opens a Business Assistance Center at the Park Plaza Hotel. Officials open a Family Assistance Center to provide information and services to survivors, their families, and families of the deceased.
9:30 a.m. – City of Boston Cabinet meeting is held with the mayor, who sets recovery priorities for the city.
Thursday – 18 April 2013
9:00 a.m. – Boston OEM increases staffing to support the presidential visit.
11:00 a.m. – Interfaith service is held at Cathedral of the Holy Cross in Boston.
12:54 p.m. – President and governor visit survivors and families at Massachusetts General Hospital.
1:01 p.m. – First Lady Michelle Obama visits survivors and families at Brigham and Women's Hospital.
4:00 p.m. – President's flight departs, ending presidential visit security activities.
4:01 p.m. – Boston OEM initiates planning session to create plan for recovery and restoration of Boylston Street.
5:20 p.m. – Press conference is held and FBI releases photos of suspects asking for public's help in identifying them.
10:28 p.m. – Armed robbery occurs at convenience store at 750 Massachusetts Avenue in Cambridge.
10:31 p.m. – Massachusetts Institute of Technology (MIT) Police Officer Sean Collier is fatally shot while sitting in his unmarked cruiser on campus. Officers from MIT and Cambridge Police Department respond to the scene. Boston Area Police Emergency Radio Network broadcasts notification of the shooting.
11:16 p.m. – Cambridge police issue a "Be On the Look Out" (BOLO) for suspect of armed robbery.
11:20 p.m. – A sports utility vehicle (SUV) is carjacked on Brighton Avenue in the Allston neighborhood of Boston.
11:45 p.m. – Watertown police briefed on Officer Collier's murder.
Friday – 19 April 2013
Midnight – Cambridge police provide a supervisor and four officers to assist MIT police.
12:13 a.m. – Watertown police dispatch center puts out a BOLO on Cambridge armed robbery.
12:19 a.m. – Cambridge Police Department receives a 911 call from victim of the SUV carjacking; the victim is at a gas station at 820 Memorial Drive in Cambridge where the victim has escaped his captors. Twenty minutes into an interview, the victim provides information that associates the carjackers with the Marathon bombings and tells investigators that the vehicle has a manufacturer tracking system, which is activated.
Sponsored

Choose Allied Universal® for experienced staff providing peace of mind. Your event, our expertise. Preferred by Clients. Loved by Guests.
12:26 a.m. – Cambridge police issues a BOLO for the black Mercedes SUV and the carjackers, noting that they are armed. A police radio network broadcasts that the two male, armed carjackers, are at large.
12:41 a.m. – The manufacturer tracking system in the SUV locates the vehicle at 81 Dexter Avenue in Watertown. Watertown police dispatch puts out a call over the radio with the location of the vehicle, advises that a response should be treated as a felony stop. An officer locates the vehicle, makes eye contact with the vehicle's operator, and is instructed to wait to approach until a supervisor nearby arrives on the scene. The officer follows the SUV and a Honda sedan in his vehicle, when the SUV driver stops, exits the vehicle, and walks towards the officer's cruiser while firing a gun. The supervisor then arrives and is also fired on. The second suspect emerges from the Honda sedan, tossing homemade improvised explosive devices (IEDs).
12:44 a.m. – Responding officers radio indicate shots fired, causing Watertown dispatch center to call for immediate assistance from other police departments. Firefight ensues between police and suspects, followed by several hundred police officers responding to the scene.
12:49 a.m. – First suspect is tackled by responding police and struck by the vehicle the second suspect is driving while fleeing the scene. First suspect is taken into custody and loaded into an ambulance to be transported to Beth Israel Deaconess Hospital. The second suspect flees the scene, driving half-a-mile before abandoning the SUV on Spruce Street in Watertown and fleeing on foot.
12:51 a.m. – A wounded police officer is loaded into an ambulance and transported to Mount Auburn Hospital in Cambridge.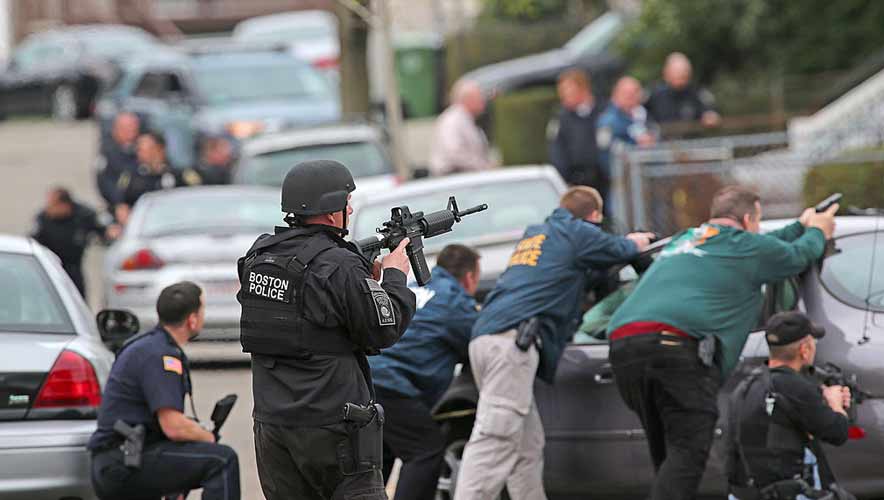 12:56 a.m. – Dexter Avenue, Laurel Street, and Cypress Street in Watertown are restricted as an active crime scene. A larger perimeter is later created to search for the second suspect, which is held until a comprehensive grid search of the area is completed.
1:00 a.m. – Mutual aid EOD technicians assist Watertown in rendering safe the unexploded IEDs after the gunfight. Multiple police units continue to arrive in Watertown.
1:06 a.m. – First suspect is pronounced dead at hospital and identified by fingerprint. This leads to the identification of his younger brother as the second suspect.
1:12 a.m. – Watertown police designates the Arsenal Mall as a staging area and location for a command post.
1:30 a.m. Watertown police requests all responding officers report to the Arsenal Mall parking lot for staging, including two extra dispatchers to handle a surge in 911 calls.
1:57 a.m. – Watertown police sends an emergency alert message to residents asking them to remain in their homes because of an active incident and to report suspicious activity.
2:05 a.m. – The FBI releases enhanced photos of both suspects with front views of their faces.
2:30 a.m. – UCC is established at Arsenal Mall and decision is made to conduct house-to-house searches. MEMA initially coordinates resources and supplies to support care and feeding of officers at the staging area.
4;15 a.m. – MANG receives authorization from the MEMA director to deploy and arm military police in Watertown.
5:00 a.m. – MANG sends 21 armored High Mobility Multipurpose Wheeled Vehicles (HMMVEEs) and 120 armed military police to help establish an outer security perimeter in Watertown and to assist in house-to-house searches.
5:15 a.m. – Unified Command and partners hold a conference call, deciding to suspend MBTA service and shelter-in-place requests issued for Watertown, Newton, Waltham, Belmont, Cambridge, and the Allston-Brighton neighborhood of Boston. Amtrak train #2151 leaves South Station for New York City and Washington, D.C.
5:30 a.m. – Unified Command finalizes plan to conduct door-to-door searches for the suspect at large.
5:45 a.m. – Press conference is held to announce suspension of MBTA service and issue shelter-in-place requests.
6:21 a.m. – MEMA issues an emergency alert messages to smartphones about the manhunt in Watertown, the MBTA closure, and shelter-in-place request.
6:30 a.m. – MDPH issues an alert via the Health and Homeland Alert Network (HHAN) to hospitals to inform them of the shelter-in-place request, causing several area hospitals to activate their emergency operations centers.
7:15 a.m. – A suspicious person carrying a package is reported to the UCC as having been picked up in Watertown by a taxi. The taxi driver's name appears on the federal JTTF Terrorist Watch List, heightening concern since the destination is reported to be South Station—which serves MBTA and Amtrak.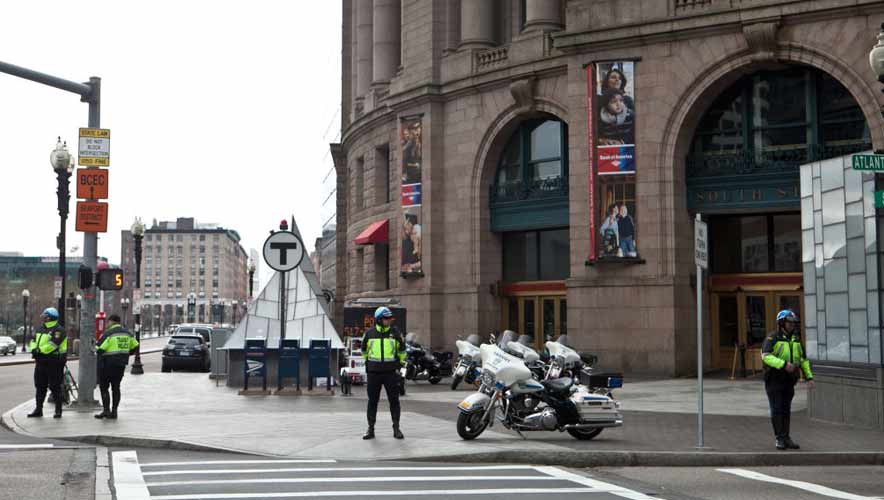 7:49 a.m. – Transit police lock down and secure all entrances and exits to passenger traffic at South Station.
7:59 a.m. – Press conference is held with officials providing update on the search, the murder of Officer Collier, and extension of shelter-in-place request to all of Boston.
8:15 a.m. – Taxi service in Boston is suspended.
8:36 a.m. – Amtrak train that departed South Station at 5:15 a.m. is stopped in Norwalk, Connecticut, by law enforcement and searched for the taxi suspect.
8:51 a.m. – An HHAN alert is sent to hospitals from MDPH to be on the lookout for the second suspect who may be injured.
9:00 a.m. – Amtrak train is cleared after no suspect is found on board. The taxi driver is found not to be a person of interest; the driver's name was misspelled and not listed on the terrorism watch list.
12:34 p.m. – BPHC sends message to hospitals that essential healthcare personnel are allowed to travel to work to relieve staff on duty.
2:00 p.m. – MANG provides three UH-60 Blackhawk helicopters to transport SWAT teams to the second suspect's dormitory at UMass Dartmouth. Unified Command cancels the Red Sox game for that night.
5:30 p.m. – MBTA resumes limited service.
6:03 p.m. – Press conference is held with update on the search for the second suspect and lifting of shelter-in-place request lifted.
6:25 p.m. – MEMA issues an emergency alert message to smartphones stating the shelter-in-place request is lifted.
6:42 p.m. – Watertown police receive a 911 call from a resident at 67 Franklin Street who reports an individual is bleeding and hiding in his boat, which is winterized and parked in his yard. Multiple police units, SWAT teams, and EOD teams respond, and a security perimeter is established.
6:54 p.m. – An officer fires a shot at the boat, followed by multiple officers opening fire. A senior law enforcement official orders a ceasefire.
7:05 p.m. – Movement is reported under the tarp covering the boat.
7:43 p.m. – Law enforcement decides to deploy flashbangs to coax the person out of the boat.
7:46 p.m. – Flashbangs are deployed, but the suspect does not emerge.
8:02 p.m. – An FBI Hostage Response Team is deployed to communicate with the individual and bring about his surrender. MSP Special Tactical Operations (STOP) Team deploys a Bearcat armored vehicle with a remote arm to pull back the tarp covering the boat.
8:41 p.m. – The suspect emerges from the boat and is taken into custody. He appears injured and is transported under guard to Beth Israel Deaconess Medical Center.
9:32 p.m. – Press conference is held to announce apprehension of the second suspect.
10:04 p.m. – President Obama holds a press conference about the capture of the suspect.
Sunday – 21 April 2013
2:00 p.m. – City of Boston holds a press conference to announce that the ad hoc memorial is being moved from Boylston Street to Copley Square. The Boston OEM director announces the plan for the restoration and reoccupation of Boylston Street when it is released to the city.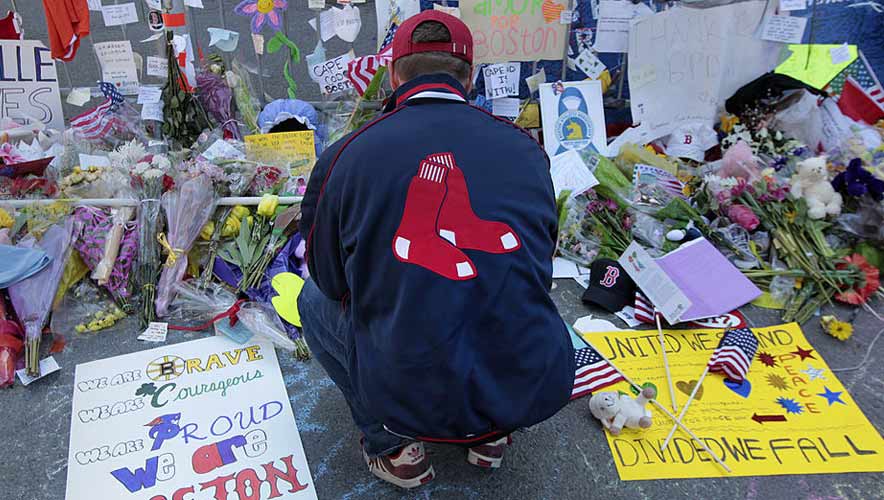 Monday – 22 April 2013
Noon – The One Fund begins registering victims, survivors, and families.
2:05 p.m. – Moment of silence is held to honor victims.
5:00 p.m. – FBI conducts flag lowering ceremony on Boylston Street to prepare to release the scene back to the city.
5:02 p.m. – FBI returns Boylston Street to the city.
5:03 p.m. – City agencies begin executing recovery plan, including cleaning streets and sidewalks, removing debris, and conducting safety checks of buildings.
Tuesday – 23 April 2013
10:00 a.m. – City provides access to Boylston Street to businesses and residents, along with assistance on insurance, loans, and facilities that conduct inspections needed prior to reopening.
7:00 p.m. – Survivors and families visit the bombing sites under city escort.
Wednesday – 24 April 2013
3:00 a.m. – Boylston Street is opened to the general public.
Noon – Memorial service is held for Officer Collier in Cambridge with U.S. Vice President Joe Biden in attendance.
Megan Gates is senior editor at Security Management. Connect with her at [email protected] or on LinkedIn.