'School Safety' Has a New Meaning
An opinion column in Trib Total Media, a news outlet covering southwestern Pennsylvania gives an apt description of the situation.
"A year ago, I was writing a column about school safety," wrote Lori Falce. "I had just attended orientation for my son, learning the ropes and checking out the rooms at the middle school he was excited to start. The safety issues were guns and active shooter situations, with a side note of bullying.
"What a difference a year makes. The coronavirus pandemic has changed the definition. Today the words 'school safety' mean something very different. We aren't worrying as much about the people who come into the schools as what they bring in their lungs. We don't fear the small bullets that could be fired as much as the small particles of disease they could breathe out."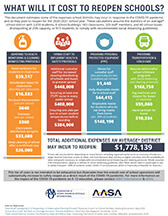 The Association of School Business Officials and the School Superintendents Association estimate that the average school district—defined as 3,659 students in eight buildings, 329 staff, and 40 school buses—would need to spend $1.8 million to prepare to reopen schools. That includes $40,000 in hand sanitizer; a single, no-touch thermometer per school; nearly $200,000 in personal protective equipment; and $450,000 for additional custodial staff for increased cleaning of schools and buses.
U.S. President Donald Trump has said he wants schools to reopen, however the U.S. federal government has provided little in the way of guidance on specifics of how to do it. That leaves U.S. states and localities to develop criteria on whether or not to reopen schools, what safeguards to put in place, and how to balance the needs of public health, education, and the economic consequences to individuals, businesses, and government expenses. USA Today recently gave a state-by-state synopsis of how each state is guiding it's local governments on when to reopen schools, when to delay and use online learning, and when to develop hybrid approaches.
NPR has put together a couple of resources, directed at parents, on what to consider about schools' reopening plans. A piece on what to look for in a school's reopening plan includes the following considerations: transportation policies, as in are bus capacities limited to 50 percent or less; screening for symptoms at entry; mask policies; ability to maintain social distance in everyday school activities, including meals; specific plans for how to proceed when students or staff present symptoms; ubiquitous hand sanitizer stations; and air circulation that maximizes inflow of fresh air. NPR journalists also answered parents' questions, serving as an FAQ on parental concerns.
Outside the United States, the World Economic Forum just released a study that cautions against reopening schools too soon.
"What we do know is that low-income countries face a very different set of circumstances from high-income countries—for example, a higher proportion of households that include both children and elderly people, difficulty testing for COVID-19 and enforcing social distancing in existing school settings, and the urgency of maintaining the livelihoods of working-age adults to prevent hunger and poverty," said David Lagakos, associate professor of economics at Boston University, and Emilie Yam, head of communications at the International Growth Centre. "Our study finds reopening schools too early in developing countries could undermine the gains made so far in containing the spread of the virus. When deciding to reopen schools, policymakers need to weigh these findings against the cost of keeping schools closed for a prolonged period."
The study used predictive modeling of Nigeria, Africa's most populous country. The report notes that if the only major precaution taken were to delay school opening until January 2021, it would save 175,000 lives.