Meet Gen Z: The Stressed, Indebted, and Idealistic Future of Work
Security Management has partnered with SHRM to bring you relevant articles on key workplace topics and strategies.
On a recent Friday, Brian Rose was looking forward to the weekend and feeling pretty good. The 23-year-old has a job he enjoys, an apartment near New York City and a great group of friends. Rose has no college debt and doesn't care that his employer doesn't offer health insurance because he's still covered under his parents' plan.
Still, he can tick off multiple reasons why his peers in Generation Z are the most stressed in the country, including ugly political discourse, climate change, and the quest to find a job that pays well and aligns with their values. Rose says that a male friend was recently asked to go to Saudi Arabia in place of a female colleague whom the company feared wouldn't be welcomed. That led to a discussion among his group about whether that was ethical.
Sponsored

Read this article to learn about new technologies and best practices that can help prepare and protect campuses from the potential threat of an active shooter.
"There are some real moral quandaries out there," says Rose, who lives in Hoboken, New Jersey, and works for a small consulting firm. He's also concerned about the effects that anti-LGBTQ rhetoric has on young members of the community.
"I don't worry about myself, but what about the kid in Stilwell, Oklahoma?" asks Rose, who is gay.
College debt, inflation, racial and gender inequity, political upheaval, the lingering effects of the COVID-19 pandemic, and recession fears plague Generation Z, so it's no wonder that many of them say they're facing mental health issues.
Generation Stressed
Members of Generation Z, defined as being between the ages of 10 and 25, report feeling more emotionally distressed than those of any other generation. One-quarter of Generation Z respondents rated their mental health as poor or very poor, according to a survey released by consulting firm McKinsey and Company earlier this year. That's almost twice the amount of Millennials and members of Generation X who felt the same way (13 percent each). Only 8 percent of Baby Boomers reported such feelings.
To be sure, every generation has endured traumatic events. But as digital natives, members of Generation Z are the first to be bombarded constantly through their cell phones with news, opinions, conspiracy theories, and falsehoods that they are left to decipher. Facebook, the iPhone, and Twitter all were introduced and gained traction during their childhoods.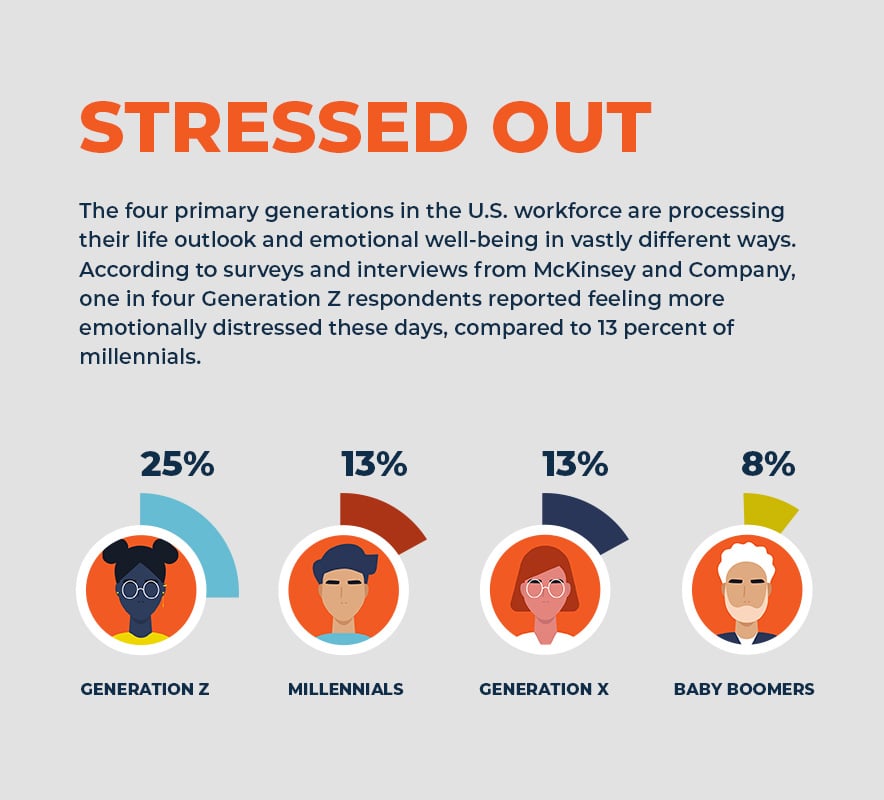 Employers are taking note of this generation's background and mind-set as they continue their march into the workplace. By 2030, the oldest members of Generation Z—those currently between the ages of 20 and 25—will make up 8.3 percent of the workforce, according to the U.S. Bureau of Labor Statistics. They are the most ethnically and racially diverse generation, and they say they want that reflected in the workplace. They also want good pay and a sense of purpose. They demand much, considering that 40 percent of them plan to leave their employers within two years, according to a study by Deloitte. (Only 24 percent of Millennials said the same.)
"The oldest in Gen Z have already seen a recession and a war on terrorism. They've seen politics at its worst. And now they've seen a global pandemic and are about to see recession again," says David Stillman, who wrote Gen Z @ Work: How the Next Generation Is Transforming the Workplace with his 23-year-old son, Jonah. "They are survivors."
Stillman says Millennials, who preceded Generation Z, were coddled by their parents. He maintains that Generation Z's parents were more truthful, telling their offspring, "You're going to have a really tough time out there, you have to work super hard," which he says created "the most competitive generation in the workforce since the Baby Boomers."
New Strategies
Companies are reimagining their recruitment strategies and benefits to address the sometimes-incompatible desires of Generation Z, figuring out how to give them work/life balance, less stress, and more flexibility while still providing competitive salaries and development opportunities. Employers are turning to TikTok and newer job sites such as Otta to find talent. They're bolstering mental health benefits, offering more flextime and remote opportunities, lightening workloads, and helping pay off college debt.
Earlier this year, YouNeedABudget.com (YNAB) began experimenting with placing job ads on TikTok, starting with a post for a social media coordinator.
"We are just going where [Gen Zers] are," says Chance Gurr, head of operations, who oversees human resources at the Lehi, Utah-based maker of budgeting software. "The platform lets us be more authentic, conversational, approachable, which resonates with that audience pretty well."
YNAB is already fully remote and offers flexible hours. The company recently began testing a four-day workweek. "There's something about having a clearly defined time that gives people the permission to take the extra time off," Gurr says.
He adds that Generation Z cares deeply about holding jobs they find meaningful, which prompted him to use a company Slack channel to post notes from customers describing how budgeting improved their lives.
"They're reminded why they're doing the really hard work," Gurr says.
Sponsored

Stop crime BEFORE it occurs with Speco Technologies' Digital Deterrent®. Check out our website!
Finding a Purpose
Indeed, 26 percent of Generation Z respondents say that having a sense of purpose at work is important, according to Deloitte. Need more evidence? Local hospitals and St. Jude Children's Research Hospital topped the list of places that members of Generation Z want to work, according to the National Society of High School Scholars (NSHSS), an Atlanta, Georgia-based nonprofit that provides various types of student aid. They beat out Spotify, Google, Amazon, and Apple.
Danny Leiser reflects that trend. The software engineer accepted a 20 percent pay cut to work at Forage, a payment technology company that allows individuals to purchase food from online grocers using their Supplemental Nutrition Assistance Program (SNAP) benefits, formerly known as food stamps. When Leiser quit the hedge fund where he worked for a year, he left behind a 401(k) match, onsite gym, and catered meals.
"I'm 24, so I'm OK," Leiser says. "The benefits were awesome, but also, my life without them isn't too bad."
Leiser says his role at the hedge fund wasn't exciting, and eventually, "my drive to get up in the morning and show up to work was a lot lower." He says he's energized by Forage's mission to help people access food more easily. "It's got a buzz around it," Leiser says.
Such remarks worry Danielle Lisenbey, chief executive officer of MedRisk, a King of Prussia, Pennsylvania-based manager of physical therapy claims for the workers' compensation industry.
"When you talk to someone of that age group and you mention the word 'insurance' or 'claims,' they look at you like, 'What are you talking about? That's not cool,'" Lisenbey says. "We don't do a good job as an industry explaining the impact we can have on someone who's probably at one of their worst moments in their life because they had a major injury at work."
To combat that, MedRisk has been beefing up its HR department to lessen the use of outside recruiting firms.
"We can articulate our message better and also create a bond between the recruiter and the person coming into the organization," Lisenbey says.
MedRisk has also raised pay and added more holidays and remote work. Even more changes will be coming after the new benefits expert who joined the company two months ago investigates what resonates with Generation Z. "We want to do a deep dive into this," Lisenbey says.
Debt Repayment
The competitive market for young talent pushed Computershare to offer up to $60,000 to U.S. employees earning less than $150,000 annually to pay back their student loans. Employees must stay a year and reach certain benchmarks to receive the award. Computershare set aside $600,000 for the program, and the number of recipients will depend on the individuals' debt. The Australian provider of services to companies listed on stock exchanges has about 1,000 employees in the United States.
The number of companies offering student debt repayment programs doubled to 8 percent in 2020 from 2018, according to Society for Human Resource Management (SHRM) research. Yet, 44 percent of Generation Z respondents expect their employers to assist them with college debt, NSHSS reports. A college student left school with an average of $39,000 in debt in 2020, the last year data was available, according to the calculations by the New York Fed economists. That's a 34 percent increase from 2015.
Current debt repayment programs allow companies to give employees up to $5,250 annually without any tax consequences for workers, but Computershare intends to do better.
"[The taxable limit] wasn't something that was going to catch people's eye and make them consider us as an employer of choice," says Lucy Newcombe, the company's global head of people and communications.
SM7 Newsletter

Find out your top 7 security-news articles,
delivered to your inbox, weekly.
Eliminating Stress
SmileClubDirect's attempts to attract and retain members of Generation Z include opening promotional opportunities and reducing workloads. Company guidelines dictated that employees needed to spend two years in a position before being promoted or switching departments. That's no longer the case, says Cheryl DeSantis, chief people and diversity officer at the Nashville, Tennessee-based maker of dental products.
"Our approach now is to foster people for their development as individuals, and some people are going to learn faster than others," DeSantis says. "We don't want to hinder employee development in any way."
SmileClubDirect is taking an unusual step to address employee stress: It streamlined over 200 corporate projects into four focused, key initiatives, including expanding its brick-and-mortar stores and product development. DeSantis says as the company was expanding, tasks kept multiplying and leadership realized it needed to prioritize its goals.
"That has taken immense pressure off," DeSantis says. "People feel like they can get their jobs done and still have the lives they want, that there isn't an insurmountable amount of work that they can never get ahead of. That's what creates this pit of despair."
Related Content

How the U.S. Army Is Changing Its Recruitment Strategy for Gen Z

Nearly three-quarters of Generation Z people recently surveyed claimed to be familiar with the Army—the highest amount of any generation. But it turned out they weren't well-informed.
Disillusion Mixed with Hope
Kaaliyah McDowell never wanted the stress of a corporate job, so she became a teacher and eventually wants to become a therapist.
"We need more Black therapists. I know that a lot of people will feel more comfortable having somebody who looks like them to talk to," McDowell says. This is also what drove her to teaching. "I know it's important for us to be in the community."
McDowell has become disillusioned, however. The 24-year-old sees no evidence of increased diversity and inclusion, despite the many pledges made after George Floyd's murder more than two years ago. She was amazed that her white colleagues said they were surprised to learn about the problems Black people face after reading the avalanche of articles that followed Floyd's death, considering most of the children at her Baltimore, Maryland, school are Black.
"People don't want to take the blinders off," McDowell says. "They are not OK with being uncomfortable."
McDowell says a white teacher asked how she could help students in the aftermath of Floyd's death. She told the woman to go to city council and school board meetings to talk about what the children need, knowing that a white woman would be taken more seriously than a Black woman with face piercings such as herself. "Help change the narrative. Be the voice for this," McDowell says she told her. The woman did nothing.
McDowell would like to further support the children she teaches by coming out as bisexual and giving students with questions somewhere to turn. She doesn't, though, because she's unsure of how her colleagues and the administration would react.
"I do feel like I'm hiding part of myself," McDowell says.
She adds that inflation also weighs on her mind, and she's already financially strapped from the combination of a low salary and having to buy school supplies. "I can't save anything," McDowell says. There are days when she thinks about quitting teaching and cobbling together a living through side jobs.
McDowell doubts that her generation—at least those in the older portion—are going to usher in a new era of diversity and inclusion.
"It will be the younger kids," McDowell says. "There are kids in elementary school coming out as trans. When you grow up like that you have to be more accepting."
Twenty-year-old Regan Moon thinks her peers will enter an overall more equitable workplace, in part because they're more open-minded than older generations. Working at an organization that espouses gender equality is especially important to the junior at Texas A&M University because she plans to become a lobbyist for the agriculture industry—a very male-dominated sector.
"I don't want to work in a situation where men are seen as better or more productive. That's very big for me," Moon says.
She is a competitive shooter—a male-dominated sport—and has had to negotiate that landscape. "It's an important challenge to me," Moon says. "I may be a woman, but I can do practically anything a man can do."
She adds that she hopes as she ages there will be more women in politics and C-suites. These job prospects aren't a top topic among her friends. "It costs a lot more money to live now," Moon says. "A lot of things are just changing, and I'm stressed, but most of that's just college."
Theresa Agovino is the workplace editor for SHRM.
© 2022 SHRM. This article is reprinted from SHRM.org with permission from SHRM. All rights reserved.