How to Maximize Your Time at GSX: Insights from Angela Osborne
Angela Osborne, CPP, PCI, PSP, knows her way around a GSX. She first attended the event in 2014 and has been a regular attendee since, gleaning lessons from a myriad of education sessions and developing in-depth connections across the security industry at networking events.
"While at GSX, I try to maximize all the opportunities available," she says. "When I started in the security field as a young professional, I had more flexibility to do this. Work requirements would come up, but they were a bit more manageable. Today, as a practice lead and VP, I manage a number of clients and high priority projects. I know when I go on the ground that a client emergency could derail my professional development plans. This is why I prioritize those areas that are most important to me."
Osborne, who is associate vice president of risk and emergency management solutions at Guidepost Solutions, LLC, carefully plans ahead for GSX—earning the biggest value for her time, as well as bringing lessons back to the rest of her team. Here's what she's eying to achieve on day one of this year's show—11 September 2023—and how you can learn from her experience.
Sponsored

At GSX 2023, Hanwha Vision is showcasing an array of new products and solutions in Booth #3123 in Artificial Intelligence (AI) Hanwha stands at the forefront of AI innovation and will demonstrate new uses of AI in PTZ and Q series cameras, delivering precise detection, robust search capabilities, elevated data analysis, and enhanced image quality. Also on display will be FLEX AI technology machine learning which helps our cameras continually learn to recognize key objects for more efficient operation.
A Day in the Life
After getting her Starbucks at her hotel (the lines at the convention center's cafes are usually very long, she warns), Osborne plans to start the day by attending the GSX General Session with Radosław "Radek" Sikorski, MEP, European Chairman of the EU-USA Delegation. She hopes that Sikorski will share some insights about the war in Ukraine.
The session doesn't start until 8:15 a.m., but Osborne plans on arriving with time to spare, just in case lines are long or the walk across the convention center to the session room is further than expected.
"Get there early," Osborne warns. "Do not chance it!"
Afterward, she has planned out four essential sessions that she wants to attend, plus some backup sessions in case those are full or too far away.

10:00 a.m. Osborne has three sessions highlighted in order of priority:


3:15 p.m.: Osborne has two potential sessions for this time slot, depending on how her afternoon pans out:



Many session presenters provide their speaker notes, slides, or other content after their presentations, Osborne notes. She collects as many of these documents as possible—even from sessions she didn't attend—so she can revisit them later and keep learning.
After the learning sessions, Osborne plans to attend the Women in Security/NextGen Happy Hour at Texas Spice at the Omni Dallas (pre-registration required).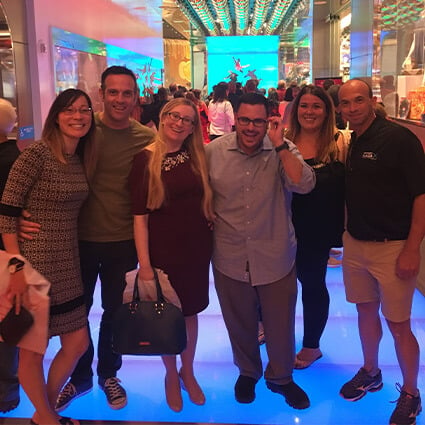 She also recommends leaving some time open on your GSX schedule for spontaneity and organic connections. At GSX 2018 in Las Vegas, Nevada, Osborne and a contingent of fellow young professionals kept the party going after a GSX happy hour and went to see a Cirque de Soleil show together, The Beatles LOVE, further cementing personal and professional friendships. Invitations to dinners, networking events, happy hours, and casual chats abound at GSX and other professional events, so make sure you take advantage of them, Osborne advises.
But if you're taking in the party scene, a word of caution: pace yourself, and stay hydrated.
There's an App for That
If you don't have the GSX app downloaded, you're missing out, Osborne says. The app has the most up-to-date schedule, map, and information about GSX, and it's an invaluable aid to maximizing your experience at the show, she adds.
In addition to planning out your key sessions and activities for the day, Osborne uses the GSX app to look for backup sessions nearby, just in case she has a work emergency or gets chatting with another attendee and doesn't have time to walk across the convention center to her next planned education session. This way, she has choices of which session to duck into along the way, saving her on travel time and potentially introducing her to a new topic.
"You might wander into something unexpected," she adds.
Speaking of spontaneity, one of Osborne's favorite places for a bit of unexpected education or GSX value is Career HQ—the ASIS center for professional development education and resources. Here, dedicated career coaches are available to talk career trajectories, discuss job search challenges, and review résumés. This area is located in the GSX Exhibit Hall at booth 1655, and it also includes education sessions on the Career HQ Stage. These are often bite-sized, 20-minute sessions that Osborne finds easy to fit into her schedule on the fly.
Pack Wisely
Osborne's preparation for a successful day at GSX starts the night before, when she packs her laptop bag with everything she'll need throughout the day. Beyond the typical laptop, charger, and business cards, Osborne also carries:
Extra battery pack for smartphones. Don't be the GSX attendee who's hunting for an outlet or missing out on a session because you have to charge your phone in the hall, she cautions.


Paper notebook. Technology occasionally fails—Osborne keeps a paper notebook in her bag just in case she needs to go offline and still jot down notes or reminders.


LinkedIn access. Long gone are the days where you will need to follow up and reconnect with people only after the show is done and you're sifting through business cards, Osborne says. Keep LinkedIn, email, or other professional connection tools handy and follow up promptly with a personal message to remind people where you met and why you want to keep in touch.


An extra pair of shoes. Especially if you're presenting or participating in formal meetings for part of the day and walking the show for the rest of the day, a change in footwear could pay off big time by day three of the show, Osborne says. Wondering exactly how much walking GSX might entail? Osborne says she skips her morning gym routine because she will get more than enough steps for the day just walking between sessions.


Refresh kit. Chances are you won't have time for a speedy trip back to your hotel room between sessions, exhibit hall time, meetings, and evening parties, so Osborne recommends planning ahead and bringing hand sanitizer, Kleenex, and oil-blotting sheets. It can be hot in conference center rooms, and it will be toasty in Texas, so oil-blotters can help reduce the shine on your face so you look pulled together and professional in photos and video.


Snacks. It's easy to get swept away with the excitement of GSX and miss out on your planned lunch break. Osborne usually packs a few snacks—and mints—in case she needs a boost.
Claire Meyer is managing editor of Security Management, the publication behind the GSX Daily. Connect with her on LinkedIn or via email at [email protected].