Book Review: Inside Abu Ghraib: Memoirs of Two U.S. Military Intelligence Officers
Inside Abu Ghraib: Memoirs of Two U.S. Military Intelligence Officers. By William Edwards, Jr., Robert P. Walters, and Paul Zanon. McFarland Books; https://mcfarlandbooks.com/; 225 Pages; $29.95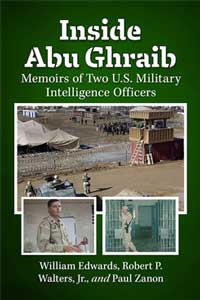 Inside Abu Ghraib outlines the lived experience by two military authors that speak plainly about the challenges of life in military service during war time. This book is an enriching read for security managers with an interest in leadership and planning. This account of war in the early months of Operation Iraqi Freedom is a fast-paced read that discusses the details of what happened on the ground in Iraq to secure Abu Ghraib to establish it as a U.S. base.
Both William Edwards, Jr., and Robert P. Walters have a confident voice and skillfully weave the strands of this complex story into a rich tapestry. The authors do a great job of detailing the storylines of the troops on the ground as well as capturing the daily life of the families back home. The book is also full of examples of leadership and detailed operational planning in an extremely difficult environment.
This is a very enjoyable read with many excellent takeaway ideas for family support, leadership skills, and overall how we treat individuals. This book offers insights on the aspects of deployments often overlooked in books focused on military operations. The writing is crystal clear, and the arguments are persuasive. The book provides enlightening observations that will benefit all security professionals who want to keep on top of our rapidly changing world. This book also provides stories from the wives and children of these two officers before, during, and after the deployment that make this book extremely memorable.
Security professionals need balanced and thoughtful books like this to keep focused on the larger global picture. Also, anyone teaching security studies should read this book as a supplemental course textbook, it would stimulate many interesting discussions and project ideas. It will appeal to security professionals at all levels.
Reviewer: Dr. Mark H. Beaudry, CPP, is an assistant professor at Worcester State University in the Department of Criminal Justice. He is a USMC (ret.) intelligence chief and anti-terrorism instructor. He is a member of the 2023-2024 ASIS Professional Standards Board and a frequent contributor to Security Management, book reviews, the Protection of Assets manuals, and many guidelines and standards. He has written four books and contributed chapters for 16 books. Beaudry also serves as an advisor for publishers to review book proposals and revisions, and peer review journals: Journal of Applied Security Research, Security Journal, and the International Journal of Cybersecurity Intelligence and Cybercrime. Beaudry is also co-chair for Cyber Career Pathways working group of NICE (National Initiative for Cyber Education).