Learn to Work the Room with ASIS Champion Mike Hurst, CPP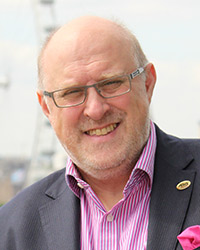 For Mike Hurst, CPP, GSX is a time to connect and reflect.
Hurst, director of executive recruitment and strategic consultancy firm HJA Consult, has been in the security industry since 1988. During that time, he has volunteered with ASIS International, including as chair of the UK Chapter and as a leader in the newly formed ASIS Mental Health and Wellness Working Group.
Hurst's career depends on connecting with people and staying on top of recent trends and challenges, so when the COVID-19 pandemic put a stop to most in-person activities, he was forced to adapt by using Zoom or Microsoft Teams calls for remote networking. But it's hard to replace the inherent value of meeting up in person, he says.
While first-timers at GSX may feel overwhelmed, Hurst says building a network in-person will reap long-term benefits. So how should you start?
Sponsored

XProtect® Hospital Assist is a remote patient monitoring solution that helps your staff work more efficiently while enhancing patient care.
Talk to people. This should come as no surprise, but conference attendees should be ready to introduce themselves and ask for help.
"Generally speaking, everyone is pretty approachable," Hurst says. "The more senior they are at ASIS, the more likely they are to want to help, because that's what they're volunteering for."
Come prepared. Bring your business cards—even if you do most of your business via text, many GSX attendees prefer to bring home tangible reminders of who they met and why.
If you have a hard time remembering all the people you met and who needed to hear more from you later, Hurst recommends jotting notes down on the back of each card with details and action points. This helps him keep requests and new connections straight.
In addition to packing wisely, prepare insightful questions you can ask other people at GSX to start a conversation. "What keeps you awake at night" and "What's your biggest security problem at the moment" are two good ones, Hurst says because they often reveal common ground between attendees. Conversely, have your own answers ready—if someone asks you why you are attending GSX, you should know what you want to get out of the event and be able to articulate it.
Play the long game. One of the most annoying elements to security events is when ambitious or overzealous sales professionals get pushy about their product or service, Hurst says. Instead, he advises that they should be persistent but take a "softly, softly approach," building up a relationship and dialogue over time with their new industry contacts. This enables their prospective clients to feel more comfortable with them while sharing more information about what would make their security program successful.
Sponsored

Milestone Kite™ is an ideal plug-and-play cloud solution for schools. Learn how it makes analytics for advanced, cloud-delivered VMS a realistic, affordable, and feature-filled option.
A good exercise to practice this approach: Have a conversation with someone about business without directly asking them what they do, Hurst says. This keeps the conversation light while approaching security topics from the side, which can reveal different themes and revelations.
Don't make assumptions. GSX attendees come from all sectors, countries, and backgrounds. Just because someone does not match your idea of what a security practitioner looks like does not mean they are not a clever and innovative peer with something to add to the industry dialog, Hurst cautions.
"Someone could be there in jeans and a polo shirt, and they could be the CSO," he adds. "Someone could be there in a suit and tie and be the site manager. Just treat people as people; don't make assumptions."
Want to meet with Hurst at GSX? Check out his session on Tuesday, 13 September, from 2:00 to 3:00 p.m.: "Security Minds Matter—Protecting the Mental Health and Well-Being of Your Security Team."
He will also be at Career HQ (booth 717) on Monday, 12 September, offering advice and guidance for security professionals seeking to advance to the next level of their careers.
Claire Meyer is managing editor of Security Management, the publisher of The GSX Daily. Connect with her at [email protected] or on LinkedIn.