Book Review: My Non-Political FBI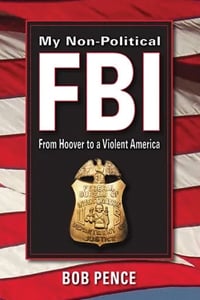 My Non-Political FBI: From Hoover to a Violent America. By Bob Pence. Fulcrum Group; fulcrumgroupbooks.com; 336 pages; $30.
My Non-Political FBI is a meticulously researched and carefully written autobiography by former FBI Special Agent in Charge (SAC) Bob Pence.
Pence describes his early days growing up watching newsreels of WWII bombings, hearing air-raid sirens, and being visited by block wardens. This instilled in him a respect for safety and security. As an adult, he enlisted and served as an officer in the U.S. Army. During this time, he weighed a career as a military officer or FBI agent. In either capacity, he knew he would devote his life to serving public safety. Within weeks of finishing up his tour, he received a letter of appointment from FBI Director J. Edgar Hoover and embarked on a rewarding 30-year FBI career.
Pence began his FBI career in Mississippi during the 1960s, investigating civil rights violations. He rose through the ranks before finally retiring as SAC of the Denver Field Office. His career touched on investigations of approximately 200 violations under FBI purview. In this book, Pence provides an insider's view of a wide range of cases that he either investigated or supervised.
My Non-Political FBI is a primer for FBI personnel and security professionals who want to understand how the Bureau's methods and mission have evolved from the 1960s to present day. Pence writes in a style that is self-effacing and at times mixed with touches of humor, but never wavering in his commitment to public service, safety, and adherence to the U.S. Constitution.
Following his retirement, Pence has engaged in public speaking, volunteered to develop best practices for assisting troubled youth, and consulted in public and corporate security across the globe.
Reviewer: R. Scott Decker, PhD, is a retired FBI special agent with experience in violent crime, terrorism, and physical security. His book, Recounting the Anthrax Attacks: Terror, the Amerithrax Task Force, and the Evolution of Forensics in the FBI, has won awards for nonfiction, true crime, and science and technology.