September/October 2021 ASIS News
Global Security Exchange (GSX) is among my favorite traditions. Community and collaboration are the hallmarks of the security profession. We all share a goal of making the world a safer place, and we are all committed to helping each other reach that goal. As an ASIS member for more than two decades, I can confidently say that community and collaboration are the pillars that keep me coming back to ASIS International and to GSX.
GSX is the culmination of those values. It's where we come together with our peers to share information about tried and tested solutions for the problems we share as security professionals and hash out plans of attack for the threats looming beyond the horizon.
Between attending world-class education sessions, witnessing new vendor technologies on display, and forging connections with colleagues whose collective experience can help you tackle whatever issues you're currently going through, it's almost impossible to leave GSX without a new, better approach to the way you do business.
I will be among those who will meet—safely—in-person at the Orange County Convention Center in Orlando, Florida, from 27–29 September. However, if you aren't able to join us in-person, the GSX Digital platform provides a comprehensive virtual experience, wherever you are.
In the midst of a pandemic the likes of which none of us have ever seen before, it didn't feel right for vital GSX discussions to be restricted to only those who are willing and able to travel. From the time the platform kicks off on 15 September, the GSX Digital experience builds on the success of 2020's entirely digital Global Security Exchange Plus (GSX+) to deliver GSX content and training anywhere in the world.
What's more, if you miss the "live" GSX dates this 27–29 September, you can still unlock GSX education from the comfort of your home or office. By registering for GSX Digital after the event, you can participate in encore events we have scheduled for the remainder of 2021 and view recordings of the best education sessions your security peers can offer.
GSX helps keep the lights on at ASIS International, allowing us to continue providing you with the year-round community and collaboration you expect from ASIS. If you plan to take part in this year's show, our 34,000-member association thanks you for your support.
As the first in-person GSX in a little more than two years, this year's GSX means a little bit more for many of us. It serves as the first opportunity in that time for us to reconnect with many valued colleagues and friends. Whether in-person or digital, whether live or time-shifted, I hope you are able to join us and benefit from the ultimate professional development event our profession can offer.
You can learn more about this year's event at GSX.org. Thank you.
By ASIS President John A. Petruzzi, Jr., CPP
Access the Latest Information Asset Protection Guideline
As an American National Standards Institute (ANSI) accredited standards developing organization, ASIS International is a world leader in developing standards and guidelines to serve the needs of security practitioners in today's quickly changing environment. ASIS members are entitled to exclusive access of these premium security management resources, like the newly updated Information Asset Protection (IAP) Guideline.
The IAP Guideline, applicable to organizations of all sizes and types, specifies steps that an organization can take to develop and implement an effective risk-based information asset protection program. It provides guidance on program development and maintenance and outlines management, legal, and security strategies organizations can employ to safeguard their information assets.
Earlier in 2021, ASIS International published timely revisions to its Physical Asset Protection Standard and Business Continuity Management Guideline.
Other published standards and guidelines provide guidance on a wealth of security management topics, including:
Risk assessment;
Workplace violence and active shooter prevention and intervention;
Supply chain risk management;
Security awareness;
Investigations;
Enterprise security risk management (ESRM);
Pre-employment background screening; and more.
ASIS members enjoy free e-book access for all ASIS standards and guidelines. Softcover versions are available for purchase at the ASIS Store.
In addition to its role developing standards, ASIS serves a key liaison role on two International Organization for Standardization (ISO) technical committees. Learn more at asisonline.org/Standards.
ASIS Celebrates Security's Best
Every year, ASIS recognizes the important work of ASIS members around the world with awards that celebrate their accomplishments and dedication to the security management profession. ASIS is honored to recognize the following outstanding individuals for their accomplishments during the past year.
President's Award of Merit: Dana W. Adams, CPP, and Jaime P. Owens, CPP
Bestowed by the president of ASIS International to an individual member for distinguished service, achievement, and/or contributions. Distinguished achievement includes significant contributions to the knowledge of the profession, literature of the profession, outstanding service to ASIS International, and/or service to other organizations affiliated with the security profession.
Women in Security Global Community Karen Marquez Honors: Lynda L. Buel, CPP
Honors an ASIS International female security professional who has consistently worked for the betterment of the security industry.
Young Professional of the Year Award: Angela J. Osborne, CPP, PCI, PSP
Honors an ASIS International member under age 40 who demonstrates a dedication to the security industry through strong leadership, teamwork, and innovation, while continually developing their knowledge and experience, necessary in this ever-changing industry.
Ralph Day Memorial Security Officer Heroism Award: Jacqueline Green, Sunstates Security
Recognizes outstanding service or acts in the security profession. This award is meant for those who perform a heroic act that involves circumstances where a private security officer risks his or her life to save another person. It is bestowed by the ASIS Security Services Community (SSC).
E.J. Criscuoli, Jr., CPP, Volunteer Leadership Award: Ronald Lee Martin, CPP
Celebrates an ASIS International member who has exhibited selfless devotion at the volunteer level, emphasizing significant contributions at the chapter and regional levels over an extended period of time.
Don Walker CSO Center Security Executive Award: Joe Olivarez
Recognizes a senior-level executive who demonstrates commitment to security management education, certification, and standards and guidelines for the executive management level of the security discipline in a given enterprise.
Roy N. Bordes, CPP, Community Member Award of Excellence: Omar Valdemar, CPP
Recognizes an ASIS member who has exhibited selfless devotion as a volunteer, emphasizing significant contributions at the community steering committee level over an extended period.
PCB Regional Certification Award: Abdullah Alshehri, CPP, PCI, PSP; Thamer Hussain Al-sufiani, CPP, PCI, PSP; Melvin Tze-Hui Cheng, CPP, PSP; Macky Diop, CPP; Daniel Jimenez; Tom Kipyegon, CPP, PCI, PSP; Jose Wilson Massa, CPP; Elroy Shirvington, CPP; Jason Michael Struck, CPP, PSP; Larry Woods, CPP, PSP
Recognizes certified security professionals who have made significant contributions to the enhancement and advancement of the CPP, PSP, PCI, or APP designation.
I.B. Hale Chapter of the Year Award: Jamaica Chapter; Lima, Peru Chapter; Phoenix Chapter; and United Kingdom Chapter
Recognizes outstanding chapters that provide security practitioners timely and relevant resources, thus helping promote excellence in the security management profession worldwide.
Chapter Communications Award: Ukraine Chapter, Jamaica Chapter, and Singapore Chapter
Encourages establishment and improvement of overall communications to chapter members via website, newsletter, social media, email, or other forms of communication.
Outstanding New/Revitalized Chapter Award: Philippines Chapter
Recognizes chapters that have exhibited outstanding motivation, excellence, and service in chapters that have been in existence for fewer than five years or have been recently revitalized.
Chapter Community Service Award: Middle Tennessee Chapter and New Delhi, India Chapter
Recognizes an outstanding community-based activity that complements and supports the goals and purposes of ASIS International while increasing chapter awareness within the local community.
PCB Organizational Award of Merit: KAUST Government Affairs & Security
Recognizes an organization displaying outstanding leadership and commitment to professional development of their own security professionals through certification.
For more information about ASIS awards and to view honorable mentions, visit asisonline.org/awards.
Young Professionals Corner
In this issue, ASIS checks in with Young Professionals Community Global Outreach Chair McLean Essiene, CPP, PCI, PSP, and Community Engagement Vice-Chair Mirza Sheraz Altaf, CPP.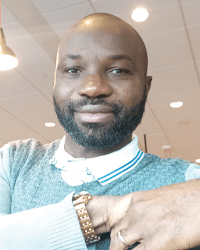 McLean Essiene, CPP, PCI, PSP
The ASIS Young Professionals Community provides a strategic entry point into an exciting career in the security industry. It grooms young professionals to be competent business leaders via strategic networking with peers and industry leaders, valuable mentoring under the guidance of established senior security executive ASIS members, and structured education via customized educational channels. Active participation and ongoing industry education—including board certifications—are critical for gaining experience and building confidence.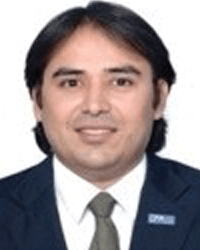 Mirza Sheraz Altaf, CPP
I initially thought that security is just a profession for those who retired from the military, police, and other armed forces. In reality, I've met people with backgrounds ranging from safety to information technology to engineering and more. I love this great mix of professionals in the security industry. Everybody has something different and unique to offer and share.