Do Your Job: What Zombies Can Teach Us About Crisis Response
"We're all in this together," has become the catchphrase of 2020 thanks to COVID-19. Whether the sentiment is sincere or sarcastic, the hard truth is that the coronavirus pandemic has made everyone's actions consequential: if you don't wear a mask or social distance, if you don't wash your hands or wipe—essentially, if you don't pitch in—you could be passing on the virus to others whether you know it or not.
"We're all in this together, so pitch in and do your job," is also one of the final thoughts from Max Brooks's bestselling novel, World War Z, which portrays survivors' personal accounts of a fictional Zombie War.
When a U.S. Navy admiral came across the book, he found that if you removed the zombies from the story, there was a credible, realistic scenario of global responses to a crisis. The admiral invited Brooks to speak at the Naval War College, which led to other speaking engagements with military and strategic groups—and eventually to fellowships at the Modern War Institute and the Atlantic Council.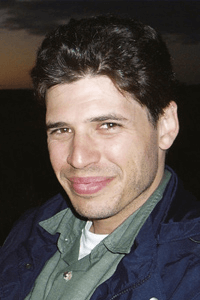 "Zombies are a great way to teach people about pandemics. There is something called the ego defense mechanism…. If your brain encounters something that's too scary, you instinctively pull away to protect your sanity—that's just human psychology," Brooks says.
The reality of a pandemic is not a page-turner that most will reach for on the bookshelf, so a story can create a bridge between facts and readers or viewers. In this instance, a zombie story can illustrate how infection and inoculation can work.
"And then before you know it, even though people think they're watching a zombie movie, they're learning about medicine, they're learning about logistics," Brooks explains.
His interactions with national security personnel, whether they were students or decorated members of the military, confirmed that storytelling is an asset.
"We have a story gap," Brooks explains. "We've lost the art of communicating with the public."
"You now have this grand canyon between the American people and those tasked with protecting it," he says.
Brooks views his ability to communicate with those outside of his "tribe" as an asset. "If you can tell a story, even something as fantastic as zombies—but you impregnate that story with actual facts—you educate through entertainment.... Even if it's a bigfoot story, you might be able to sneak in a little bit about the Defense Logistics Agency."
If you've read some of Brooks's other works, it should be no surprise that he looks back at previous methods that improved security to set a scene. And it is history he says he hopes the United States will revisit to reinvest in a well-rounded national security—specifically the idea that everything done by a nation contributes to its overall defense.
"We used to be really good at that, right up until the end of the Cold War," Brooks says. "As a nation, we understood that national security doesn't begin with troops on the battlefield, it ends with that."
Education, infrastructure, basic nutrition, and other contributing factors all feed back into national defense, building a healthier, more robust, and interconnected society.
"I can't tell you how many generals I've spoken to who are pulling their hair out because the kids that want to serve are either too fat or too sick, or whose brains literally can't absorb the knowledge because they've been raised on a diet of sugar and fat," Brooks explains. "We're cutting funds for all these other elements of our society that are connected to our national defense, so I think we need to get back to that model of thinking about how do healthy kids, educated kids, roads that work, belief in science—how does all that eventually keep us safe?"
Brooks encourages anyone looking to recruit new talent to educate others on what security realistically looks like to the public through a variety of media, partnering with storytellers to illustrate modern-day threats. If national security can find ways to educate on present-day threats, such as cyber-warfare, even in comic book format, then the public itself can at least become better educated about existing threats. "You should be willing to educate any way you possibly can," he says.
Reaching out to potential talent—especially former enemies or those misinformed about what national security involves—should be about asking them to operate on the modern-day battlefield.
"You can come on board and defend democracy, keep us safe, keep our rights safe, without firing a shot," Brooks says. "We're not asking you to go into villages and kill civilians and fire drone strikes. We're asking you to combat hacking hospitals or social media or turning elections—you can do that."
Without creativity from different sources and perspectives, especially those in the cyber and technology industry, and without effectively communicating with those sources, adaptation is unlikely to occur. "We're not going to find those new ideas if we keep talking to the same people over and over again," Brooks says.
Whether we call it chaos theory or a byproduct of the connections afforded to us from the Internet, Brooks says that the national security problems of the modern world may demand new and creative solutions. And supporting creative innovations is not an inherently easy task when it requires courage to speak the truth to those who assume they know better or disagree.
"We're in this new paradigm of fluid creativity, where the rules are constantly changing, and you can't stick to the model of just copying and falling in line," Brooks says. "You don't have to be a creative person, but if you recognize a good idea, you have to have the intestinal fortitude to risk your career and champion that because good ideas will die without the oxygen of support."
Beyond creativity, comfort with discomfort is another quality Brooks finds useful.
"My journey through the national security world is a constant challenge of trying to prove myself," Brooks recalls. He advocates that from an emotional and psychological point of view, discomfort in your surroundings—to the point that you feel like it's your first day at a new school—can be a valuable skill.
"We all know that feeling, you're out of your comfort zone. You have to listen, you have to observe, you have to adapt, because survival is at stake," Brooks says. But, he argues, that is when we're at our best, while our worst arises out of a lack of communication paired with the notion that we do not need to grow.
For more from Brooks, join his Game Changer session "Stranger than Fiction: Lessons from a Zombie Apocalypse and Beyond" on Friday, 25 September, from 9:00 a.m. to 10:00 a.m. EDT.