Book Review: Public Figures, Private Lives
By Christian West, Brian Jantzen, Ivor Terret, and Jared Van Driessche. AS Solution; available from ASIS; asisonline.org; 232 pages; $35 (member), $40 (nonmember).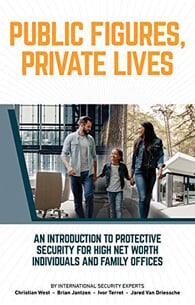 An engaging read, Public Figures, Private Lives lives up to its title as an introduction to providing reasonable security for wealthy and prominent individuals and their families. From the start, the book is designed to assist the reader in understanding why these individuals and businesses need enhanced security.
The authors, who exhibit their comprehensive knowledge of the subject matter, write in a style that makes it easy to navigate the book. They present valuable bulleted lists for clear and easy takeaways. As you might expect, the book takes the reader on a tour from the concept of executive protection measures to licensing and compliance, gathering intelligence, implementing a plan, managing a program, and identifying agents. Case studies illustrate the subject matter throughout the text and with a separate appendix.
Detail is provided on the four pillars of protection: physical security, technology, people, and procedures. The authors describe ways to balance these four elements to create an executive protection plan. The book also explains how to design a plan to protect a family at home and during travel. It delves into the details of hiring and training personnel, as well as evaluating the performance of staff and the program.
If the hope is to understand the intersection of private lives and the need for enhanced personal security for high net worth individuals, in what is becoming a growing practice area, this book will provide the reader with substantive information in a clear and easy-to-read format.
Reviewer: Daniel R. Pascale, CPP, is executive vice president with Margolis Healy and Associates and a physical security and emergency management subject matter expert. He is the former chair of the ASIS School Safety and Security Council and a past chapter chair.