Book Review: Media Relations
News Media Relations for Law Enforcement Leaders. By Gerald W. Garner. Charles C. Thomas Publisher; ccthomas.com; 230 pages; $34.95.​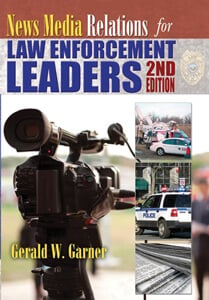 In a world of media spin cycles and fake news, it is imperative that law enforcement professionals not fall prey to mistakes made in the past. The Internet and social media have changed the rules of the game for everyone. Replying "No comment" is no longer acceptable. Police executives need to foster a working relationship with the media, and in that spirit, author Gerald W. Garner's second edition of News Media Relations for Law Enforcement Leaders​ will serve as a guide.
With more than four decades of experience in law enforcement to bolster his credibility, the author systematically outlines, in seventeen concise chapters, why it is crucial to work with the media rather than avoiding them. One chapter addresses the importance of selecting a public information officer who will ultimately be the voice of the department. Moreover, the author discusses how to avoid problems and maintain organizational survivability in times of controversy.
Examples of the best and worst news press releases, guidance on how to deal with reporters, and instructions on giving interviews at the scene significantly augment the subject matter. At the end of each chapter, the author provides a "Points to Remember" section to keep the reader focused on the salient topics. The information is pertinent, up to date, and presented straightforwardly.
As the book's title suggests, the targeted audience is law enforcement leaders. However, the information provided would help those in other fields who must also maintain an association with news organizations and are interested in representing their organizations professionally.
Reviewer: Dr. Brian L. Royster is an assistant professor at Saint Peter's University in the Criminal Justice Department. He is a graduate of the FBI National Academy 214th Session and the FBI Law Enforcement Executive Development Association Command Institute for Law Enforcement Executives.