Book Review: Critical Infrastructure
Critical Infrastructure: Homeland Security and Emergency Preparedness. By Robert Radvanovsky and Allan McDougall. CRC Press; crcpress.com; 318 pages; $99.95.
​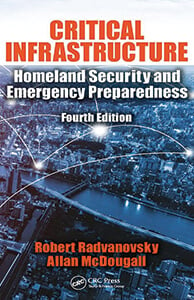 This comprehensive work does an excellent job of presenting the complex and evolving topic of critical infrastructure protection and assurance. In this fourth edition, Critical Infrastructure: Homeland Security and Emergency Preparedness examines past, present, and future critical infrastructure issues. The material is neither overly complex nor simplistic and is appropriate for a broad audience with a wide range of experience and knowledge of the subject.
As a reference document, the book provides an outstanding amount of information and background on critical infrastructure sectors, interdependencies, and regulatory issues, which is especially helpful to those new to the subject. As a professional development resource to those more familiar with the topic, the text offers a perspective that clearly illustrates the authors' expertise and background in physical security and cybersecurity. These perspectives provide a thought-provoking focus on the convergence of physical and cyber threats to critical infrastructure.
When delving into the convergence challenges to critical infrastructure protection, the authors progress from familiar physical security issues to an in-depth discussion of industrial control systems to threats inherent to distributed cloud computing environments.
The writing style is relaxed and easy to read with some humorous quips that help drive home points—some ironic and others serious. The book offers a pragmatic approach to understanding competing public and private sector interests surrounding critical infrastructure protection. The authors identify key facets that significantly impact why things are the way they are, and why they will likely continue that way. Far from just detailing problems and pointing fingers, the authors offer insight and analysis of solutions to address them.
The authors discuss climate change and the impact that it will have on critical infrastructure protection and assurance. By avoiding the political debate that swirls around the topic, they write effectively on implications that will need to be considered and planned for.
This book is recommended reading and a valuable reference for security professionals of all experience levels, in the public and private sectors, who want to understand critical infrastructure protection and the implications for national and homeland security.
​
Reviewer: Phillip Osborn, CPP, CISSP, is the president of ATIS Consulting, LLC. He is also a cybersecurity and critical infrastructure protection instructor for Texas A&M University.