Certification Profile: Garrett Packett, CPP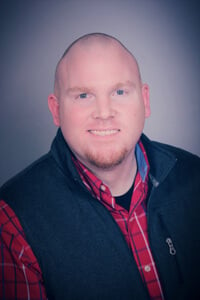 ​"Security management is a rewarding career," says Garrett Packett, CPP. "Since I was a child, I always saw the world in a particular manner. You are either one of the good guys or one of the bad guys. For me, the decision to be on the side of good came naturally."
Before beginning his career as a security professional, Packett worked for a decade with the Nebraska Department of Correctional Services. Wanting to translate his skills to the private sector, he joined Securitas Security Services in his Lincoln, Nebraska, hometown.
"Growing up in Lincoln, I've seen many companies come to town—and watched as they've thrived," he explains. "It's very rewarding to be in the position to help these companies protect their assets and keep our community strong."
Securitas introduced him to ASIS International and the Certified Protection Professional (CPP®) program early in his security management career. "Achieving this distinguished industry certification is of great benefit to both Securitas and our clients," he notes.
He began attending meetings of the nearby ASIS Omaha Chapter. "Having access to the vast resources and professional collaboration of ASIS gives an edge to anyone building a career in security management," he adds. He found a mentor in Gary Miller, CPP, PCI, PSP, and prepared to take the CPP exam by attending Miller's monthly review meetings.
Packett earned his CPP in May 2018. Since then, he notes that coworkers and clients approach him more frequently to consult his expertise when solving a problem.
"Preparing for the CPP exam greatly broadened my perspective of security management," he says. "I encountered aspects of security practice that I hadn't yet considered. This invigorating process drove me to research more and become a stronger security professional."
Now a branch manager, Packett oversees a team of 215 employees, covering a wide area of the state of Nebraska. While he manages a geo­graphically diverse client base, his team provides an equally diverse range of solutions—from gate security at collegiate football games to security services at local hospitals and construction sites.
Attending Global Security Exchange (GSX) in Las Vegas in 2018, Packett found immense value in being able to meet other professionals from all facets of security. "Stepping onto the exhibit hall floor was mind-blowing," he recalls. "The numbers of professionals and their areas of expertise were a lot to take in. I was able to draw from their experience and bring it back with me to improve my security operations."
He joined the ASIS Professional Development Council in April 2019, driven by the desire to strengthen the professional community that helped him advance his own career. "In the course of my work, I meet so many people who have tremendous potential," he explains. "Knowing how much ASIS has given me, I am certain that they would benefit as well."
"The security industry helps our society progress and thrive," he concludes. "With every advancement comes a vulnerability and the potential for sabotage and exploitation. It's up to the good guys to make sure that doesn't happen."
Profile by Steven Barnett, ASIS communications coordinator