Soft Target/Active Shooter Resources
ASIS International has made available the following soft target and active shooter resources, including white papers, webinars, book excerpts, and recorded conference sessions, for security professionals worldwide to help deter, prevent, and minimize future attacks.
Please share this page with those who would benefit from the information.
Featured Resources: Active Shooter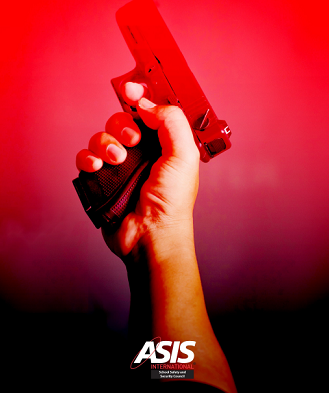 Active Shooter
White Paper, 2016
School Safety and Security Council
According to the FBI, the frequency and lethality of active shooter incidents in America is increasing. More than one in four (29%) of these tragedies has occurred at educational institutions. Schools and universities must be prepared to not only respond to these incidents, but to also prevent them.
This 59-page paper consists of thirteen articles by twelve authors, all members of this active council, and addresses different approaches to Active Shooter situations. It concludes with five appendices that reference a tabletop exercise, two Security Management articles, a guide from the U. S. Department of Education, and an ASIS International guideline.
Five articles deal with active shooters, phases of an attack, and K-12 schools as soft targets. Another four describe ways to gather proactive intelligence by using situational awareness to observe pre-attack indicators, behavioral threat assessment teams, behavioral cues, and target hardening of classroom doors through physical security enhancements. Others look into responses, including training for and the actions of emergency responders and the pros and cons of arming teachers.
Selection from Soft Target Hardening: Protecting People from Attack
Author: Jennifer Hesterman, Ph.D
This excerpt is a summation of security tactics that can be applied to soft targets, including pre-positioning vehicles, locks, alarms, visitor access and badges, CCTV, and public address systems.
---
Appendix D, Active Shooter
Author: Kevin Doss, CPP, PSP​​
This excerpt outlines a number of relevant planning strategies, risk management cycles, gap analysis results, physical security steps, and policies and procedures.
---
Additional Soft Target/Active Shooter Resources
Recorded Conference Sessions
Creating a New Culture in Response and Recovery (ASIS 2017)
What your organization does in the first hour of a crisis or event will shape the outcome forever. Response to and recovery from an incident, active assailant, act of terrorism, natural disaster requires a culture of preparedness and inclusion of the entire facility or organization in related activities. Your success and organizations reputation depends on it. Through an interactive exercise, participants will take some important steps in recognizing the preparedness and planning responsibilities their organization requires, from the CEO to the most recently hired employee. Culture of planning must be a base value of the organization, that is as important as their product or service it provides.
Protecting Facilities and Campuses from Active Shooter Threats (ASIS 2017)
Nice, Ohio State University, and Berlin all experienced active shooter incidents that caused mass casualties and chaos for civilians and law enforcement. Faced with these complex scenarios, security organizations must update their protection programs, emergency plans, and training to mitigate catastrophic events. Consider the DHS Active Threat Program, which includes strategic priorities and guidance such as training for civilians and law enforcement officers to enhance the awareness, preparedness, and resilience of an individual should an active threat incident occur.
One School's Journey to Target Hardening (ASIS 2016)
The speaker considers school safety and security to be his passion, principally because his family lives on the Harding University campus of 7,000 students, which also includes a pre-k to grade 12 academy and a retirement center. His talk focuses on the academy and finding a balance between "safe but accessible."
Securing a School's Extracurricular Activities (ASIS 2016)
The lack of security at extracurricular school events was self-evident to the speaker as he escorted his four high school age children to indoor track events at neighboring school districts. Impediments ranged from lack of parking instructions, specific entry points, signage, and supervision.
Active Shooter Procedures for Schools (ASIS 2015)
A key point of this presentation centers on the security community's responsibility for changing the cultural mindset in schools that "there will never be trouble here." The goal of school security professionals should be to "provide a safe and security environment in the company of those who are not sure about the concepts" but who may think they know the answers.
Webinars
Identify, Anticipate, Intervene - Steps to Prevent the Next School Shooting (2018)
Are you in a position to anticipate future safety and security challenges in your school district? Early identification, recognition of warning signs and resources for intervention are three key steps in preventing a school shooting.
Creating a Safe Culture on School Campuses (2016)
This 90-minute webinar examines the culture of violence prevalent in some school systems from K-12 up through the College and University level. Discussion centers on current safety problems, as well as addressing some possible solutions.
Bullying, Harassment, Hazing & Domestic School Violence (2015)
In her introduction to the topic, the speaker notes that bullying in schools is about students pushing students to the breaking point through a combination of verbal, social, physical, and cyber means. When parents learn that their child has been bullied, they may seek help from law enforcement. The better approach, the speaker says, is to take personal action by learning the signs, knowing state bullying laws, and getting involved in school function such as the PTA.
White Papers
Security of Soft Targets and Crowded Place-Resource Guide (2018)
This guide, from the National Protection and Programs Directorate, Office of Infrastructure Protection, provides an aggregate of soft target resources for categorized for use by everyone, businesses, government, and first responders. These resources include fact sheets, guides, videos, in-person and online training, websites, and more.
Recommended Best Practices for Securing Houses of Worship Around the World (2017)
Security and worship can be successfully blended for those who worship in your facility. No house of worship (HOW), whether a church, mosque, temple, or synagogue is exempt from crime, whether committed by an internal member, a stranger, or as a random act of terrorism. We must consider threats and be ready to respond in a quick, efficient, and effective manner.
Security Management Articles
Harden Soft Targets with PSIM
Security Management, October 2017​
How to Protect Your House of Worship
Security Management, August 2017​
Securing Sacred Spaces
Security Management, August 2017​
Soft Targets: What Security Professionals Can Learn From the Manchester Attack​​
Security Management, May 2017
After an Active Shooter
Security Management, May 2017
Responding to San Bernardino
Security Management, May 2017
Five Post Incident Concerns
Security Management, September 2016​​
Soft Target Trends
Security Management, September 2016​
School Security Trends
Security Management, September 2016
What the Pulse Nightclub Attack Means for Soft Target Security
Security Management, June 2016
Livestream Interview
Soft Target Hardening with Jennifer Hesterman, Ph.D
Join target hardening expert Jennifer Hesterman, Ph.D at ASIS 2017 to learn tips on strengthening security for vulnerable targets.
Security Cares and School Security with Paul Timm, PSP
Watch Paul Timm, PSP discuss practical tips for school security and the Security Cares commmunity education program at ASIS 2017.