Featured Resources: School Safety
The Handbook for School Safety and Security
School security is one of the most pressing public concerns today. Yet in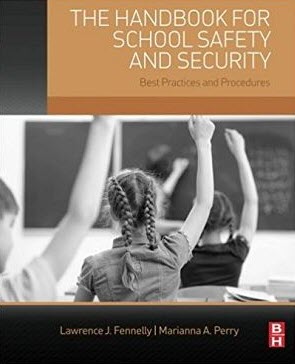 most schools there is little security expertise or detailed knowledge about how to implement or manage a security program.

The Handbook for School Safety and Security rectifies this problem by providing the salient information school administrators and security professionals need to address the most important security issues schools face. Made up of contributions from leading experts in school security. The Handbook for School Safety and Security provides a wealth of practical information for securing any K-12 school.

Purchase Handbook
School Safety and Security Community
This online community is open to all ASIS Members and aims to serve as a forum to identify best practices and emerging trends in educational institution security.
Hot Topics in School Security
Learn to better understand emerging threats and trends in school security, critical to effective strategic security planning and ultimately to making your schools safer.
Additional School Safety and Security Resources
School Safety Lessons Learned During the Pandemic
Interview
Paul Timm, PSP, discusses the challenges facing school districts this semester, including political entrenchment, fundamental social-emotional changes in classrooms, cross-department collaboration in physical security, and higher turnover and retirement rates in districts.
Security Snapshots, August 2021

Assigning Roles for Campus Security Awareness
Article
College and university campuses are characterized by specific characteristics that pose major challenges for security to prevent crime. The high student population, prevailing freedom, lack of guardians, and homogenous nature of the campus setting create an environment with many opportunities for crime to occur. A modified security model is therefore needed.
Security Management, September 2021
School Security
Book
Security author Paul Timm a nationally acclaimed school security expert explains how to make your institution a safer place. Throughout the book Timm emphasizes a proactive rather than reactive approach to school security.
Restructuring School Security Planning and Awareness
Article
As school districts attempt to normalize the school day after various lockdowns, remote schooling, and vaccination efforts, there is a desire and commitment to increase onsite education.
Security Management, November 2021
Extreme Violence
Book Review
Understanding and Protecting People from Active Assailants, Hate Crimes, and Terrorist Attacks.
Security Management, July 2021
Gaining Insights into Campus Security Trends
Article
The security team for the University of Regina in Saskatchewan, Canada, is learning outside of the classroom and making smarter moves thanks to new software.  
Security Management, July 2021
Summer Safety Projects to Prepare for the Rest of the Year
Webinar
Hear an outline of safety projects schools and organizations should consider undertaking over the summer to be ready when normal operations resume
On-Demand Webinar, Free for ASIS Members
Warning Signs of Violence Require Multidisciplinary Assessment
Article
As schools navigate reopening, school security professionals warn that information sharing is more critical than ever.
Security Management, November 2020
How to Better Initiate a Lockdown
Article
Jericho Union School District in Long Island, New York, adopts a solution to improve its security.
Security Management, September 2020
Classrooms in Crisis: Helping Students and School Staff Readjust
Article
Many school systems considered how best to reopen and weighed physical health and safety measures, but school psychology and security experts cautioned not to discount students' state of mind.
Security Management, August 2020
Designing Better School Lockdowns
Article
Should lockdown drills in schools be as commonplace as fire drills?
Security Management, July 2020
Traditional Lockdown Versus Multi-Option Responses to School Shootings
Webinar
While a majority of schools conduct active shooter drills, typically using a traditional lockdown approach, little is known about their effectiveness.
Webinar On-Demand, Free for ASIS Members
How an Oklahoma School District is Reducing Emergency Response Times
Article
A major debate was sweeping across the United States in the late 2010s: should school teachers be armed?
Security Management, May 2020
Best Practices: School and Campus Security
Mini eBook
This Security Management supplement includes a Q&A with Rebecca Bolante on the role threat assessment teams have in securing schools.
Security Management, July 2019
Can We Reliably Prevent the Next Workplace/School Shooting?
Webinar
We all know that there is no absolute (100%) violence prevention; however, we can get out in front of, and reliably prevent violence!
On-demand webinar, Free for ASIS Members
Solutions Post-Parkland
Article
This Security Management article distills results from several studies and initiatives that followed the horrific Parkland school shooting.
Security Management, April 2019
Resourceful Relationships
Article
SROs are involved in more than just law enforcement—experts say that role is a tertiary one compared to the education and relationship building that SROs participate in at schools across the United States, ultimately impacting the lives of students.
Security Management, January 2019
School Security Expert Panel
Video
This hour-long discussion with four experts from the council touches on all aspects of school security from perimeter hardening to training to active monitoring for prevention purposes.
GSX, September 2018
Identify, Anticipate, Intervene - Steps to Prevent the Next School Shooting
Webinar
Early identification, recognition of warning signs and resources for intervention are three key steps in preventing a school shooting.
On-demand webinar, free
Putting Multi-Option Active Assailant Response to the Test
Article
Chronicles one of the first attempts to empirically study active assailant response strategies.
Security Management, October 2019
Anticipating the Unexpected: Preparing Your Organization for Critical Incidents
Webinar
Learn planning strategies and best practices for emergency and business continuity planning. Presented by Joe Petroff, Health and Safety Coordinator at Michigan State University.
On-demand webinar, free with registration
Integrated Solutions for Protecting Our Schools in K-12 Education
Webinar
Learn about Denver Public Schools' integrated solution utilizing access control, video management, intrusion, and telecom.
On-demand webinar, free
Safety & Security During After School & Out-of-School Time
Webinar
It's challenging enough to mitigate the risks during the school day but after the bell rings, on the weekend and at off-campus school-sanctioned activities, it's even greater.
On-demand webinar, free
A Safety Strategy on Campus
Article
How a failed incident at Central Florida University led to sweeping security change on campus.
Security Management, June 2018
Panic Bars Provide Students with Shelter in California
Article
Cal State Fullerton install emergency buttons to secure facilities.
Security Management, June 2019
The Power of Awareness
Article
Community-wide threat assessment reporting system used to report threatening or suspicious activity.
Security Management, April 2019
Lessons in Violence Prevention
Article
A look at how active assailant situations are studied and new guidelines and procedures are generated.
Security Management, September 2018
Murder in the Classroom - A Practical Guide for Prevention
Book Review
A review of a book by security Robert D. Sollars. The prevention strategy outlined in the book targets parents, students, and schools.
Security Management, June 2019
See more resources on the Soft Target and Active Shooter security topics page.