Companies Adopting Artificial Intelligence are Concerned About the Risks
A primary concern for companies incorporating artificial intelligence into their business operations is assessing the risk involved. So says a new report from the Deloitte AI Institute, Thriving in the era of pervasive AI: Deloitte's State of AI in the Enterprise, 3rd Edition.
In a survey of more than 2,000 business executives, Deloitte found that, "As usage has grown, so has awareness of the various risks of AI—from unintended bias to determining accountability. What appears to have not grown enough is the adoption of specific actions to help mitigate those risks, even by the most skilled adopters." More than half of the executives surveyed reported that emerging risks slowed the adoption of AI in their organization.
The top risk, with 62 percent of executives citing it as a major or extreme risk factor, is cybersecurity vulnerabilities. This is followed by potential disruptions to business operations (58 percent) and possible consequences of using personal data without consent and new and changing regulations, both at 57 percent.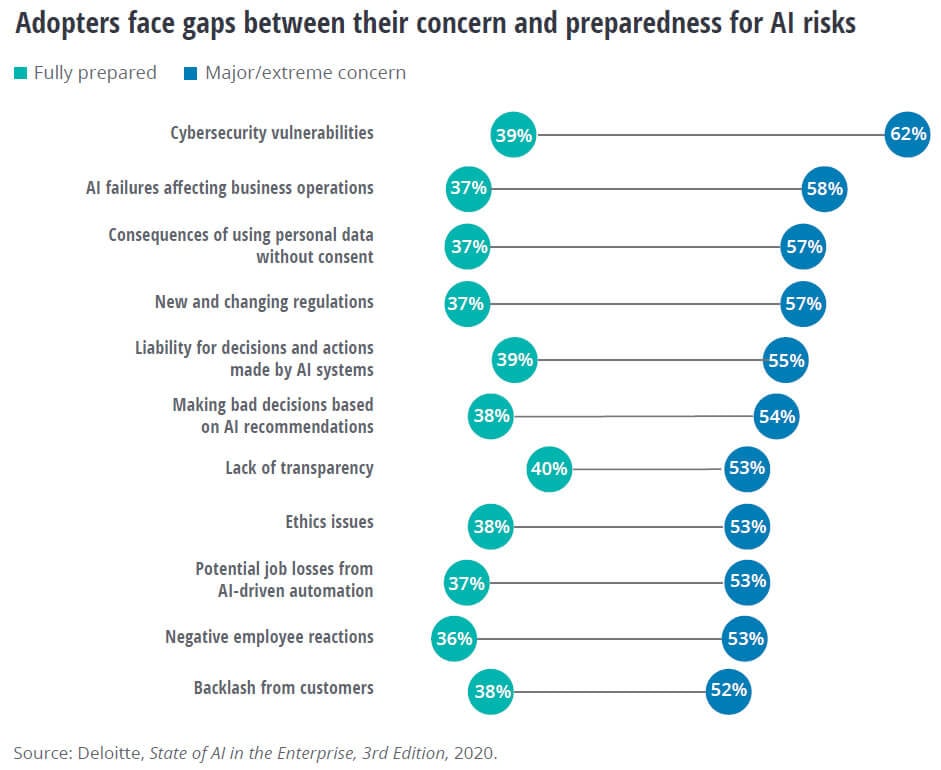 Executives also cited ethical risks, from safety concerns (24 percent) to transparency (19 percent) to potential bias in AI (14 percent). "As organizations become more invested in AI, it is imperative that they have a common framework, principles, and practices for the board, C-suite, and third-party ecosystems to proactively manage AI risks and build trust with both their business and customers," says Irfan Saif, principal and AI co-leader at Deloitte, as quoted in a press release on the study.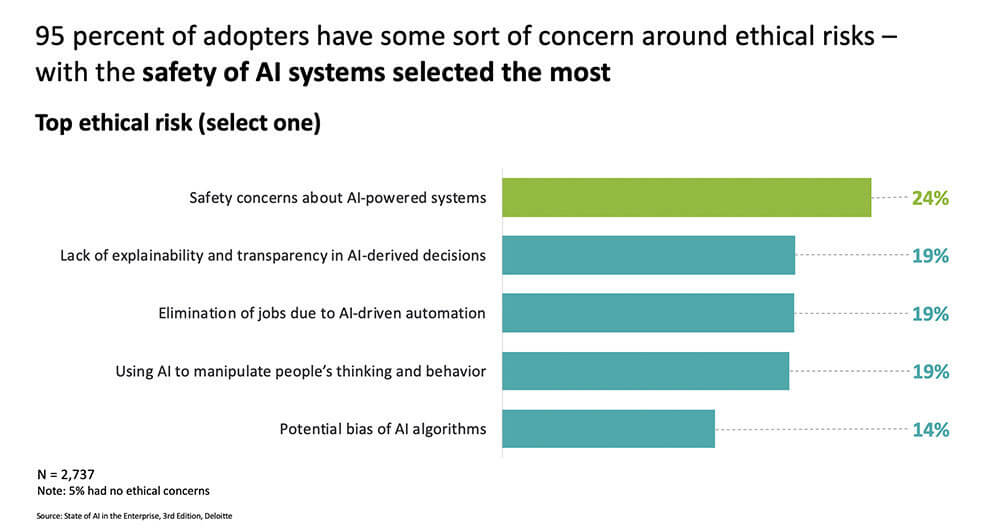 In addition to actively addressing risks associated with AI, the study noted that as using AI becomes more ubiquitous, gaining a competitive edge using AI becomes harder. The report dives deeper into two areas it says organizations will need to pursue in order to create that advantage: be creative in their AI approach, searching for solutions that go beyond efficiency related uses; and becoming more educated consumers, recommending that organizations take a centralized approach to AI technology and vendor selection.