The Realities of Launching a Security Startup
Many security professionals want to open their own business, become an independent consultant, take charge of their own life, pursue their aspirations, retire with a side hustle, or escape their 9-to-5 routine. Movies, articles, and social media portray overnight success stories where passionate entrepreneurs find instant fame, wealth, happiness, and success. It is natural to buy into this narrative, but many fail to understand that the road to success is long, lonely, and full of hardships—until they try it themselves.
Obviously, there are many unspoken misconceptions when it comes to starting a business. No matter how entrepreneurship is depicted, you will be in for many surprises when you embark on your own startup journey.
Within the security industry, we rarely hear about the harsh realities that consultants and entrepreneurs face when they establish their businesses. We do not see the steps that were taken to launch the startup, the unsuccessful ventures and partnerships, and the failed attempts.
It's time for a reality check—many professionals want to launch a business within the security industry, but they are hesitant due to lack of information, education, or resources. By recognizing the harsh realities that await entrepreneurs, you will not only be prepared to tackle the obstacles, but also to move forward and be resilient while pursuing your passion.
"When you think about a security start-up, clearly the founders must be passionate about their idea and execution as that needs to be the provider of motivation, especially when things do not go as planned," says Godfried Hendriks, CPP, 2020 president of ASIS International.
Building A Startup
Why are you starting a business? What is your biggest motivator? Have you done your research? These are the types of questions that you need to ask yourself before putting any effort into starting a new business.
Do not be afraid to face uncertainty and anxiety. Nobody has it all figured out; arguably, you do not need to have every detail mapped out to start, but you should understand what is driving you.
Once you have established your why, then it is important to begin figuring out the when and how of your business.
When is the best time to start a business? Where do you find the time? Is there even enough time to do this?
Many professionals might argue that due to their 9-to-5 job, they do not have the time to start their own business. However, assess what you are doing for six hours between 6:00 p.m. and midnight and how you spend your time over the weekend. This is the time to take the opportunity to strategize, achieve more, and potentially take the next steps toward business ownership.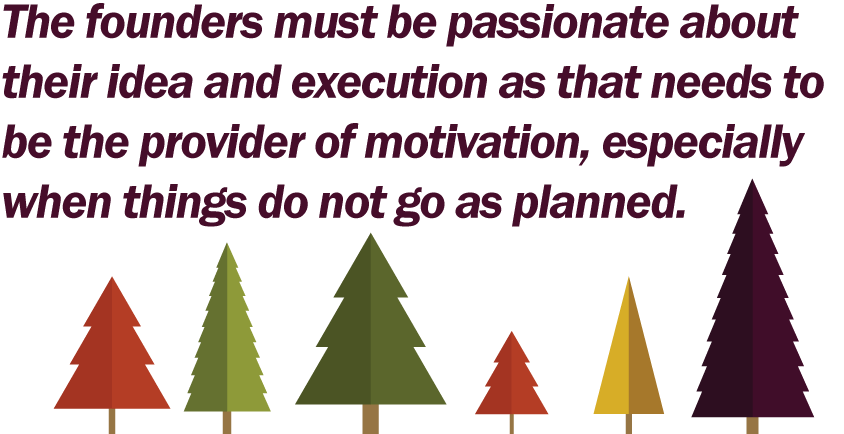 Before embarking on your new journey, research current industry leaders. See how—and if—you can deliver a service or product in a better, cheaper, and faster way. If the idea seems solid and legitimate, you are ready to begin drafting your business model canvas. It should include key partners, activities, resources, value propositions, customer relationships, customer segments, cost structure, and revenue streams. This canvas approach is typically less time consuming than a full business plan, and it helps to paint a clear picture of how an idea should be executed and next steps. Note, however, that a full business plan will likely be required to get approval for a business loan.
When starting your business model canvas, organize your thinking along three key lines.
Strategy. Conduct thorough market research within the security industry and a demographic of the potential clientele. Acquiring this information early will help you narrow down your targeted audience.
You can use tools such as trends.google.com to find which geographical area might be interested in your services. You can also conduct surveys, host focus groups, and examine how to leverage available public data. This research will tell you whether there is potential for business before you invest your time and capital.
From here, you can draft a rough idea of the brand identity for your business. You can generate organic traffic by creating a LinkedIn business page and having a minimum of five blog posts ready to begin engaging your audience. By writing blogs, you solidify your brand identity, can inspire others, and demonstrate your expertise. The value of becoming a thought leader will help you earn your audience's trust. Taking these steps will give you a much higher chance to convert followers into paying clients because they already know and trust your brand, and it will be easier for them to adopt your product. Taking the time to define your message and objective will help you properly approach your target audience.
Opportunity and resources. Will you be able to make money from this idea? What resources will you need to get the business off the ground, and can your professional or personal network help you? Do you possess the appropriate skills and knowledge for this venture?
Routines. From here, start to set priorities and build your action plan. How much time each week will you set aside to focus on your business? Make it a habit to plan your week every Sunday, outlining clear tasks and goals. Find ways to work even when you are unmotivated, plan your breaks, and start to create a support system to keep you going.
Other security professionals and consultants are excellent resources at this stage to share recommendations, pitfalls, and guidance. Malcolm Reid, CPP, managing director and cofounder of Brison, LLC, shares his three tips for starting a security consultancy.

"First, understand your target market and also your competencies, and bring those two concepts together," he says. "Second, always deliver above expectations. Clients would like to know that they received great value for their money spent. Finally, take the time to volunteer. It is said that 'in giving, we also receive.' Find the time to volunteer and give back to an industry association such as ASIS International, as well as community associations."
Value Proposition
Establishing your brand and website, designing a good product, and registering your business are unfortunately not the first things that should be done. In fact, one of the biggest challenges of your journey will be finding a product market fit and formulating a strong value proposition statement. Before investing your time and money, you should define your unique value proposition (UVP) and validate whether there is a market for it or not. To begin, you need to identify your target audience.
Clients. What type of client group are you targeting—is it business to consumer (B2C) or business to business (B2B)? Examine your audience's demographic, including gender, location, employment status, company size, and job role. When narrowing your targeted audience, be specific—just because you have access to millions of people on LinkedIn does not mean that your product is for everyone. What is the return on investment from purchasing your services? Security budgets are usually tight—you will need to be able to demonstrate the value of your product.
Competitors. Visit as many competitors' websites as you possibly can. Start with the most successful ones; they became successful because they did something right, so try to find out what it was. Validate how they reach their audience and what language they use.
From there, try to find gaps in the service offerings provided by your competitors. Have your competitors overlooked a niche market within the security industry?
Once you identify your target audience, you should determine your service's differentiators and create a list of potential leads.
For example, let's say that a hypothetical security firm has a service offering in the cybersecurity segment that enables ransomware and sensitive data protection systems. A well-defined, targeted audience would be CEOs of small- to medium-sized accounting firms. It is undeniable that accounting firms possess significant amounts of valuable personally identifiable information, and it is imperative they protect it.
Now, why would clients purchase the firm's service? If the company offers services to potential leads for $20,000 per year to protect data that is worth $500,000, they will not need a calculator to estimate the return on investment. It is not only the capital that the security firm protects here, but the service also saves clients from negative press that can lead to client churn and reductions in revenue.
This is a clear example of an effective value proposition. Remember, you need to make your value proposition easy to understand and be able to deliver it in a manner of seconds, not just in a 15-minute presentation.
To continue, pinpoint what makes your business unique and decide what will be a part of your value proposition. When writing your UVP, use terminology and language that your audience will understand. The main goal of your value proposition is to engage with your target market. Avoid technical jargon and buzzwords, and adapt your UVP to common language that your consumers use regularly, including on social media.
To help your UVP stand out, use a headline that highlights your value proposition. Organize your UVP with subheads and sections that describe what you can offer, who it is intended for, and why they should want it. Feature key points of your service or product, and don't forget the visuals—complement your UVP with a nice product image or demo video.
For your business to stay ahead of the game, you must invest a significant amount of time in understanding your customers' lives and the processes they follow daily. This will help you define your service and value proposition in a way that speaks to your clients' needs in their own language.
Asking good questions will help you generate data to transform your UVP into a product. Reach out to your prospects regularly, preferably weekly, to stay connected and get more information. If you already have clients, start with them—they know your product and you already have their trust, which means that they are more likely to give you their valuable time and insights.
Demand and markets change every day, and to stay competitive you must be able to identify the industry problems and solve them faster than anyone else.
Branding
Before selling your services or product, crafting a brand and a marketing plan that looks beyond your launch is crucial. This will ensure consistent promotion of your business, it will build up your following, and it will act as a way for your clientele to stay in touch with you. Solidifying a brand and marketing strategy, especially at the beginning of your venture, is as important as delivering a good service or product—and it will help with finding your first client.
The first step is to decide on a name for your business and create a logo and tagline that will help potential leads easily understand what your brand and service are about.
When starting the branding process for your business, spend time developing the right name for your venture—it should be short, memorable, and available; verify that the domain name has not already been taken online.
Your website will be your top lead generation resource, so invest in it accordingly. Get assistance with search engine optimization (SEO), so your website can be easily found online, and create a blog page on your site. Update it consistently, and reshare content on your LinkedIn business page.
You can easily leverage social media to promote services, engage potential prospects, and update your followers as frequently as possible. It is also important to be consistent with your logo, brand colors, font, document formatting, LinkedIn posts, blog posts, and company's website. Human beings remember things by association; phrases, images, and sounds can remind them of your business even when they are not looking at your marketing materials. For example, what does "Just Do It" remind you of?
Finances
Nowadays, even though many free resources are available online, getting a business up and running still requires a fair amount of capital. It is important to be honest with yourself and carefully evaluate before you begin if you have the means and resources to fund your startup.
Will you need to borrow money or take out a loan? What bank will you choose for your business? Do you have enough capital saved to support yourself and your livelihood prior to making a profit? Unfortunately, many businesses fail because they run out of cash prior to capitalizing. It is advisable to overestimate the amount it will take to launch your startup and estimate when your business will generate revenue.
For example, when Michael Gips, CPP, started his business, Global Insights in Professional Security, in November 2019, he was fortunate to have a modest nest egg after having worked continuously for more than two decades. Moreover, his startup costs were low. He already had an equipped home office from side consulting work, but he needed a logo and website. In each case he was referred to sole-proprietor startups who were trying to prove themselves.
"They both did a great job," Gips says. "The graphic designer's rates were so low that I more than doubled what he was asking. That engendered goodwill, and he later offered to design a magazine ad for me for free."
Gips also farmed out his accounting to a small firm run by a friend to do his books at a reasonable rate.
It is essential to set your prices early on in your development stages. However, it is important to understand all of your costs first. Consider the labor, materials, travel time, overhead, administrative costs, and your profit margin.
"If you charge by the hour, your rate has to reflect that up to half of your time is unpaid—marketing, wooing prospective clients, doing administrative tasks, and so on," Gips says. "And you are likely to underestimate your hours in your first estimates."
He advises startups to consider "invisible hours" such as meetings with the client, preparation time, and changing scopes of work.
There are many financial experts that can help and tools to use when estimating how much capital a startup will require, but a simple and immediate solution is to perform a break-even analysis. The formula is: Fixed Costs / (Average Price – Variable Costs) = Break-Even Point.
Use this formula to determine when your business will be profitable and what its minimum performance should be to avoid losing capital.
Legal Entity
Before you register your business with the government, it is important to pick a business structure and legal entity that best suits your service or product. There are five common business structures: sole proprietorship, partnership, corporation, limited liability company (LLC), and cooperative. The chosen business structure will affect your entire business, from documentation to how you file taxes, and it will determine your personal liability if something goes amiss.
Check the requirements in your country or area to correctly register your business because each location requires different information. Be sure to have your business name, purpose, structure, and other information about your company in hand.
Grow Your Business
Once you have solidified your value proposition, you can begin to reach out to others and find ways to grow your business. There are many paths forward here, including reaching out to other companies within the security realm and exploring collaboration prospects; hiring someone on commission to do cold-calling and cold-emails on behalf of your company; and partnering with charities, volunteer organizations, or groups to promote your products and services.
For instance, when Lee Oughton and his partners originally created Fortress Risk Management, they founded it as a security intelligence product seller. To grow, however, the team analyzed the market and created three pillars or standalone divisions: physical security and consulting, intelligence, and cyber and technology.
Once the divisions were established, they started to hustle for the business. The easiest part that the team used to drive business forward and grow was the small-ticket items in executive protection and secure transportation. Yes, this required a lot of operational expenses, but these services organically enabled a steady stream of revenue.
After this platform was built, Oughton and his partners identified the next growth areas and how they could achieve movement and resilience within the company.
Oughton says that yearly contracts on monthly payment terms, competitive margins, and global security operations center managed services—as well as the creation of new intelligence retainer programs and maritime security services—enabled Fortress to grow from a three-man team in 2017 to 144 personnel operating across 25 countries in 2020.
Before the business grows, however, it is inevitable that founders will make mistakes along the way. Arguably, a common mistake that first-time entrepreneurs commit is fixating on their personal goals and benefits from the venture as opposed to orienting around the client.
Instead of focusing on "me, myself, and I," the business should focus on the needs of the customer. Don't guess at what clients want; ask them directly. This will allow the business to reevaluate its services or products to better accommodate current and potential clients over the long term.
The Art of Not Giving Up
"Building a business can be a very lonely journey, especially for a solo founder and final decision maker," says Sebastian Cwiek, founder of BiiHive. "Often due to an enormous amount of work, we forget to take care of ourselves and make many sacrifices. To reduce the risk of a burnout, use basic tools such as business model canvas (BMC) and read The Lean Startup by Eric Ries. BMC will provide a fundamental roadmap, and the book will equip any founder with a methodology that can increase their chances of succeeding."
Embarking on the entrepreneurial journey can be tough. Once you start, you will find yourself becoming antisocial, due to the fact that you unintentionally (or intentionally) isolate yourself to make your vision a reality. As an entrepreneur, you will face pushback, negativity, and professional rejection. You might experience Imposter Syndrome—feeling like a fraud and unworthy. However, it is important to remember that if you truly believe that your ideas are unique and can benefit the industry, you should maintain your focus and keep pushing.
When things are difficult, leverage your network. It is crucial to reach out when you are struggling, because sometimes partners or friends cannot give you advice and do not understand what you are going through.
Building a security business from scratch requires a lot of effort, consistency, resources, networking, and the understanding that you will fail along the way. Due to the demands of the journey, you possibly might lose money; lose friends, the support of family members, or romantic relationships; start doubting yourself; be uncomfortable; see many doors being closed in your face; and need to deal with regular rejection.
Even though rejection and facing negativity is very discouraging, as entrepreneurs it is important to remember that if this is truly what we want to do it will be worth it in the end.
There are many things that you can do to not go through this journey alone. Start taking care of yourself—create a routine that will include social time, time for exercising, and time to eat a healthy meal. Join an entrepreneurial community and socialize with likeminded security professionals who are also on the quest of building their company. Network with security professionals outside your scope of expertise to broaden your network and expose yourself to new perspectives.
Do not be afraid to say "no" sometimes to stay focused on your chosen priorities. You can have the best idea out there, but if you do not take care of yourself along the way, you will not be physically or mentally able to finish your journey and enjoy the fruits of your labor.
Only the Beginning
At the end of the day, understand that you do not have the ability to control everything. There is a possibility of market collapses, governmental power shifts, natural disasters, a pandemic, and other unexpected situations. But do not let those be the reasons you quit.
Prepare for the start of your business thoroughly. To avoid disappointments and run a successful business, you must be able to adapt to its continuous changes and situations. It is also important to note that success is not an overnight thing—there is no quick fix. Successful entrepreneurs consistently keep researching, reading, and learning to inform themselves about upcoming trends to guide their business forward.
Suzanna Alsayed, MDEM (Master of Disaster and Emergency Management), is a trilingual emergency management and security specialist and founder of holistic security firm Hilt International Security and independent brand, design, and Web development agency Evolutz. She has more than seven years' experience in various roles within the public and private sectors, with expertise in facilitating multidisciplinary projects involving internal and external stakeholders.