Certification Profile: Nicholas Porter, CPP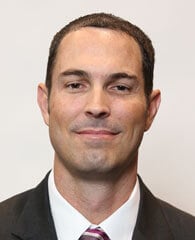 Nicholas Porter was a student member of ASIS International while earning his degree in Criminology from Florida State University. He graduated in 2001, and—following the terror attacks on 11 September of that year—he began his career as a special agent with the U.S. Department of State's Diplomatic Security Service (DSS).
His work entailed conducting criminal investigations into the violation of federal statutes pertaining to passport and visa fraud while also performing dignitary protective missions. Before long, DSS whisked him around the globe, as he served at U.S. embassies in Bangladesh, Brunei, Iraq, and Pakistan.
"I'd encourage Americans with a sense of patriotism and adventure to consider a career with the DSS," Porter notes. "Part security professional, part federal law enforcement agent, and part diplomat, special agents are constantly engaged in a multitude of initiatives that support the Department of State's core mission to advance American foreign policy."
Returning to the United States in 2016, he turned his attention back to ASIS International and the continued development of his professional competency. He joined the ASIS National Capital Chapter and earned his Certified Protection Professional (CPP®) designation, then a master's degree.
Porter now serves as assistant special agent in charge for the DSS Field Office in Houston, Texas. On any given day, his attention can be pulled between preparing a security detail for a U.S. Secretary of State visit to Houston, liaising with headquarters to monitor protests at foreign diplomatic consulates in the area, and coordinating with the U.S. Attorney's Office and law enforcement partners to discuss ongoing criminal investigations.
"Looking back on my career to date, I have mostly sought assignments that have a security management role," he reflects. "I often find myself working closely with corporate security executives, so joining ASIS and pursuing the CPP were a natural progression of my efforts to become a universally recognized expert in the field. As the gold standard certification for security management professionals, the CPP designation helps security executives instantaneously recognize my expertise."
He now oversees more than 35 special agents—and with this responsibility, he looks to provide his team members with some of the same professional development tools he has enjoyed himself.
"Through the Diplomatic Security Special Agent Association, my fellow CPP-certified DSS personnel plan to hold an information session in early 2020 discussing security certifications with all interested DSS personnel, not just agents," Porter shares. "With the addition of the early-career Associate Protection Professional (APP) certification, we will also encourage agents just beginning their DSS careers to consider this avenue for gaining knowledge outside of what they'd learn during the normal progression of their career."
"I highly recommend that individuals who are interested in obtaining their APP or CPP certification consult others who have earned their certification," he concludes. "It's valuable to translate the concepts of the certification to the competencies and duties you perform in your role."
Profile by Steven Barnett, ASIS communications Specialist