In need of a subject matter expert? Councils support ASIS' vast knowledge base. By focusing on specific security practice areas, councils offer channels to contribute your expertise, resources to increase professional effectiveness, and programming relevant to your sector of security management.
Interested in joining a council?
(Apply En Espanol)
Explore our councils advancing security in these key areas:
The Latest from ASIS Councils
Security on the Internet of Things: An ESRM Perspective

IT Security Council, 2018

According to the paper, "The uses of the IoT to build this Smart World are convenient and bring a new level of mobile management to every aspect of consumer and business activities. However, the IoT brings with it, not just convenient access for users of the things, but also convenient access for those wanting to exploit those things. More access points provide more opportunities for attackers to get in. More communication provides more online traffic to siphon information from. More control provides more ability to hijack that control."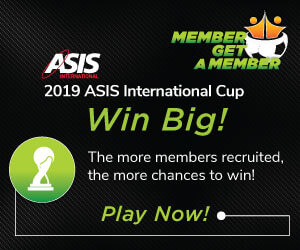 ASIS International Cup
Are you ready for a little friendly competition?
The ASIS International Cup member-get-a-member campaign challenges you to recruit new ASIS members and be rewarded with chances to win a wide range of great prizes.
By recruiting new members, not only will you help bring your colleagues the same access to valuable resources and savings, you'll compete to win the grand prize, a Global Security Exchange (GSX) event package!