Applying for Certification
Applying for the CPP, PCI, PSP or APP
You will need:
Your resume and an unofficial copy of your university transcript (if applicable).
The names and contact information for three references who can verify your work experience
The name of supervisor who can verify your employment
Payment for the application and exam fees
Step-by-Step Instructions Apply Online
---
Computer-Based Exam Fees
CPP, PCI and PSP
$335 ASIS members
$485 nonmembers
Retake fee: $225
APP
$200 ASIS members
$350 nonmembers
Retake fee: $150
If your application is approved and you fail to schedule and take the exam within the two-year eligibility (candidacy) period, you will forfeit both the application and testing fee.
---
Retaking the Exam
You may take the exam up to three times during your two-year eligibility year. There must be 90 days between each attempt. The fee to retake the exam is $225 for CPP, PCI and PSP. The retake fee for APP is $150.
If you fail the exam three times in your two-year eligibility period, you must reapply and pay the full fee.
---
If Your Application Is Denied
If your application is denied for any reason, you will receive a refund of your application fee minus a $135 nonrefundable processing fee.
See the Certification Handbook for submitting an appeal.
Qualified U.S. applicants may receive reimbursement for the certification exams through the G.I. Bill. An application is available at www.gibill.va.gov or call +1.888.442.4551 and request VA Form 22-1990.
---
Lifetime Certification (Retired)
ASIS offers lifetime certification to certificants who:
Hold a CPP, PCI, or PSP in good standing (e.g., not lapsed or expired)
Have maintained a single certification for 12 consecutive years preceding the date of application
Have retired (defined as complete cessation from any security-related employment or practice or representation of any such employment or practice) and have no legal, financial, or business interest with any form of security-related employment or practice, as defined by the applicable certification exam Domain
Have paid the recertification fee for the current term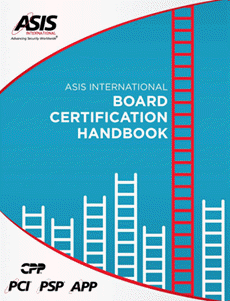 Certification Handbook
Review all the policies and procedures you'll need to follow to apply, study, and sit for each exam, including familiarizing yourself with the exam contents for each program.


Self-Assessment Guide
Assess your readiness for each of the certification programs. Use this tool to help you decide which exam is right for you and to set your study plans.