We are deeply saddened to hear of the recent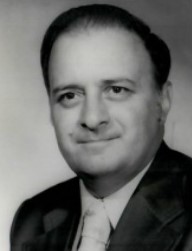 passing of Ernest (Cris) J. Criscuoli, Jr. A member of ASIS International since 1960, he was a renowned leader and former ASIS President (1974-75). He helped to lead ASIS from 1977-1994. His contributions to the global membership of ASIS International, and the profession as a whole, will live on for years to come.
Each year, the E.J. Criscuoli, Jr., CPP Volunteer Leadership Award is awarded to an ASIS International member who has exhibited selfless devotion at the volunteer level, emphasizing significant contributions at the chapter and regional levels over an extended period of time.
Ernest J. Criscuoli, Jr., CPP, (Cris) sole child of Ernesto and Philomena (nee) Coviello, was born August 25, 1930 in Revere, Mass.
He attended Revere High School, Revere, MA and Boston College earning in 1953, a BS Degree in Economics.
Shortly after graduating from college Cris enlisted in the U.S. Army and served as a Special Agent with the 108th Counter Intelligence Corps Detachment in the New York area, and was honorably discharged in 1956.
In 1958 he married Barbara A. Weaver and had 2 sons; Joseph E. (Grace) and Stephen David (Melliza).
During the next 21 years Cris held executive management positions in the field of Private Security/Safety with the U.S. Air Force, Curtis Wright Corp., and General Electric Space Division, as Manager of Security & Safety, King of Prussia, PA.
In 1960, Cris joined the American Society for Industrial Security (ASIS) a professional association. After serving in many volunteer positions, he was elected by the Board of Directors to serve as President 1974-75.
In 1977, he was offered the position of Executive VP of that organization located in Arlington, VA. This professional association has chapters all over the world and at least one chapter in almost every state in the USA.
In January 1994, Cris retired from ASIS and he and Barbara decided to relocate to Florida. They bought a home at Burnt Store Marina along with a boat (No Regrets) and became a member of the BSM Yacht Club. Cris and Barbara remained there until 2003 when they built a home in Punta Gorda Isles, FL. He was a longtime member of Sacred Heart RC Church, Punta Gorda, FL.
Cris is survived by his wife of 64 years; their two sons; three grandsons, Joseph R. (Elaine); their daughter, Natalie Jade and son Joseph Aiden; Michael T. (Meagan); and Spencer M.; and many nieces, nephews, and cousins.
In lieu of flowers, please consider a donation to the Cystic Fibrosis Foundation in honor of Cris' Great-Grandaughter, Natalie Jade Criscuoli. The link to use is: https://www.cff.org/donate
Notification may be sent to:
Joseph Criscuoli
[email protected]
12806 Silverbirch Lane
Laurel, MD 20708
arrow_upward