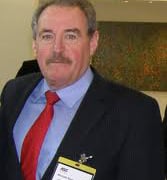 ASIS is immensely saddened to share news of the passing of Michael Alexander, who served as chair of the ASIS United Kingdom Chapter from 2010-2013. An ASIS member for 10 years, he was a very active volunteer for the UK chapter, having also served as its vice-chair from 2008-2009 and as its mentoring program chair in 2015.
The UK Chapter describes him as a "true security professional and staunch supporter of ASIS," and notes that his absence "leaves a huge void in the lives of family, friends and ASIS colleagues."
The chapter requests that in lieu of flowers, those wishing to express their sympathies donate to Sense, a charity dedicated to supporting individuals suffering from complex disabilities.
arrow_upward