The reviews are rolling in! Attendees from the ASIS International 63rd Annual Seminar and Exhibits (ASIS 2017), Sept. 25-28 in Dallas, Texas are taking to social media to post their thoughts about this year's event. Security​ professionals from around the globe shared their thoughts about the game-changing success that was ASIS 2017.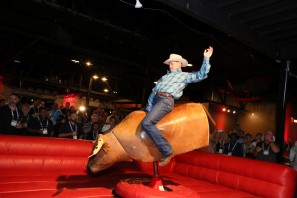 Shayne Bates, CPP, noted that "the exhibits are better, stakeholders from every dimension are happier, and education was well organized with really good content," in his post-Seminar thoughts.
Felix Giannini, CPP, posted to LinkedIn that he "made many new contacts, saw the future in many of the products exhibited, attended eye opening seminars and keynotes, learned tons of information to bring back to [his] professional practice, and [has] a new perspective on Dallas, a great U.S. city. We are all very lucky for being a part of the solution and for the brother and sisterhood we enjoy through this amazing organization."​
ASIS members Larissa Lindsay and Doug Powell served as "roving reporters", posting their thoughts about various events, exhibits, and education sessions to the ASIS Hub page. Lindsay observed that Texas hospitality was "in full swing," and that innovations on the show floor demonstrated "advances in security that are as exciting as the industry is moving forward with new technology."
Want to join the conversation? Share your ASIS 2017 experience with us for a chance to be featured alongside our roving reporters on the ASIS Hub!
arrow_upward