​​​​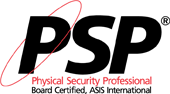 ASIS board certifications have long been recognized worldwide as the mark of excellence in security management. On 1 December, ASIS will launch an exciting new resource for those preparing to take the Physical Security Professional (PSP®) certification exam in 2018—the opportunity to enroll in a live online study group.​​​
The PSP Virtual Study Group is a new, eight-week online program that focuses on the key topics covered in the exam's recommended reference materials. Led by a highly qualified team of expert faculty, the study group will participate in live discussion, practical exercises, and review the complete reference set for the PSP exam.
The program includes a series of eight two-hour sessions taking place approximately once every two weeks, kicking off at 3 PM EST on Friday, 1 December, 2017. Recordings of each session will be made available to registrants for playback on-demand.
All instructors for the program are PSP-certified and include Andrew Barker, John Bekisz, Jr., Don McInnes, and H. Lee Neutzling.
For more information and to view the full schedule, visit the PSP Virtual Study Group ​registration page.​
arrow_upward