Frameworks for Workplace Debates Help to Build Trust
The Truth About Trust
Distrust is now the default. Nearly six in 10 people surveyed by Edelman for its 2022 Trust Barometer said that they tend to distrust things until they see evidence of trustworthiness. This undermines debate and collaboration, the report found. Sixty-four percent of U.S. employees surveyed said we are at a point where people are incapable of having constructive and civil debates about issues they disagree on.

The Exception to the Rule
Business is the most trusted institution right now, with 61 percent of survey respondents considering private industries trustworthy, followed by NGOs (59 percent), government (52 percent), and media (50 percent). But the standout here is "my employer"—77 percent of respondents trust their employer, and that's a relationship that organizations are keen to keep strong.
Sponsored

Check out this guide to help you assess your school's safety readiness for the upcoming year.
Who Do You Trust?
When it comes to trustworthy individuals, employees tend to look locally, placing their trust in people they know or interact with.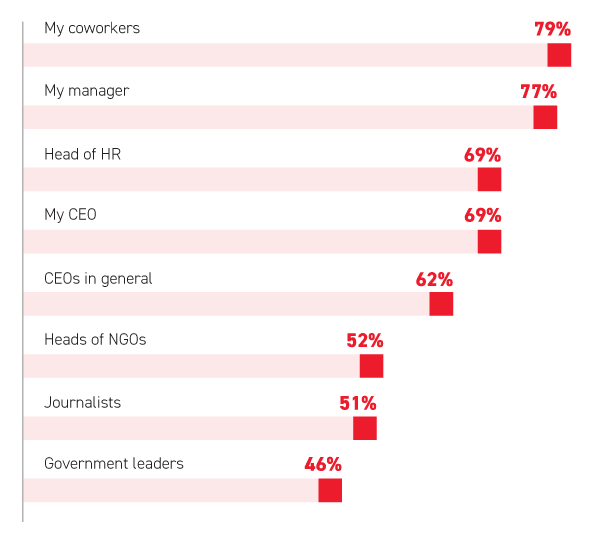 How to Earn Trust

Employers that were trustworthy sources of information about contentious issues had a 6.5 percent higher likelihood of being trusted. The quality of information mattered to employees even more than fair pay, Edelman found.
Other markers that improve the likelihood of trust:
Employees feel comfortable voicing opinions—even when they differ from the boss's views.
Employer pays a fair wage to all employees.
Employees understand and support the organization's greater purpose.
Management always tells employees the truth.
Meaningful progress on environmental and climate change.
Benefits of Trust
| | | |
| --- | --- | --- |
| | I trust my employer | I do not trust my employer |
| Advocacy: I would recommend this organization and its services to others. | 82% | 35% |
| Engagement: I am proud of my organizations and support its initiatives. | 78% | 34% |
| Loyalty: I want to work for this organization for many years. | 80% | 36% |
| Commitment: I feel motivated to perform at my best. | 83% | 45% |
The Non-Partisan Workplace
54 percent of employees said their employer is doing well on keeping partisan politics out of the workplace, according to the 2022 Edelman Trust Barometer Special Report: Trust in the Workplace.
This does not mean social issues do not arise in the workplace. When opposing political viewpoints do come up, employees are more comfortable discussing them with coworkers than neighbors, the survey found.
Job Seekers Push for Societal Impact
U.S. employees said they were more likely to work for a company if it openly supported addressing:
| | |
| --- | --- |
| Healthcare Access (71%) | Human Rights (71%) |
| Economic Inequality (66%) | Racial Justice (66%) |
| Climate Change (63%) | Gender Inequality (63%) |