Helping the Herd: Denver Zoo Conducts First Full-Scale Active Shooter Drill
Asian elephants are one of the largest mammal species on the planet. At birth, they can weigh 200 pounds and will drink more than four gallons of milk a day. At around age 14, male elephants in the wild will leave their mothers and join a group of other male elephants—a bachelor squad—that they will spend a great portion of their lives with before beginning to spend more time alone.
They will form attachments to other male elephants in their group and adhere to a hierarchy that serves to reduce conflict over the resources in their ecosystem. They also continue to grow until age 25 when they will weigh between 7,000 and 13,250 pounds and eat for about 16 hours a day. Along with creating a rich life, these habits also mean that male elephants require a great deal of space to thrive—one of the reasons they are not typically housed together in captivity.
But where many zoos saw an enormous challenge, the Denver Zoo saw an opportunity to create a space where multiple male elephants in different life phases could cohabitate. Located in downtown Denver, Colorado, the zoo opened in 1896 with a small collection of caged animals before becoming the first zoo in the world to feature animals at eye level in their natural habitats without bars or fences separating them from humans. The zoo now spreads across 84 acres and is home to more than 3,000 animals from around the world, living in unique habitats designed to support their natural instincts.
"We knew we'd have a younger elephant as well as older ones, so we had to think about how could we build a building that can have a 50-year-old and a 5-year-old? A building where as they mature and go through their hormonal cycles, where they're big and powerful, they can still be together?" asks Leslie Chenaille, director of guest safety and operations at the Denver Zoo.
Sponsored

XProtect® Hospital Assist is a remote patient monitoring solution that helps your staff work more efficiently while enhancing patient care.
That thought process led to the creation of the Toyota Elephant Passage, which features two miles of interconnected trails on 10 acres of terrain where a rhinoceros, Malayan tapirs, and five male Asian elephants live. It has six yards, five of which can open into each other, and five pools of 1.1 million gallons of water for swimming. It is one of the largest and most complex elephant habitats in North America.
The habitat has been open for 10 years now and encapsulates the innovative approach that the Denver Zoo takes to creating exhibits, designs, and experiences for the animals in its care and its guests who visit, Chenaille says.
That innovation has seeped into how the zoo approaches safety and security, from investing in new video equipment to access control systems to—more recently—designing and conducting an active shooter drill with local first responders. This investment is not surprising, given the zoo's location.
"I've lived in Colorado my whole life. I witnessed Columbine as it happened, and the Aurora movie theater shooting," Chenaille says. "We've had a lot of big shootings. I felt we needed to test our infrastructure and make some of those connections with our first responders."
Setting the Stage
When Alex Jadrich, manager of public safety, security, and emergency management, joined the zoo's security team in January 2021 after seven years at Disney, he was looking forward to continuing to work in a joyful environment. The zoo "bridges what I was experiencing at Disney as a happy, fun type of environment to also the serious manner of having live assets and a large campus" to protect, he says.
Jadrich reports to Chenaille, as well as the senior director of operations, the chief operating officer, and the CEO, and he oversees a team of entry level security specialists, lead security specialists (shift supervisors), and two security coordinators. They are responsible for key control, staff access control, perimeter control, guest behavior, and containment of the animal exhibits, as well as special projects to keep up with the changing needs and footprint of the zoo.
Jadrich leads the crisis management team, which he says is "about making sure every individual is able to handle a crisis and the incident command that might arise—whether it is an active shooter event or an animal escape event."
In Jadrich's previous role at Disney, the security team ran full-scale active shooter drills. But at the Denver Zoo, this exercise history did not exist. And given its location in the downtown core of Denver, Jadrich recognized that parts of the zoo were soft targets.
So, he pitched the idea internally to conduct an active shooter drill at the zoo with local law enforcement and first responders. Chenaille was almost immediately onboard.
"Unfortunately, it's a reality of our world," she says of active shooter incidents in public spaces. "I felt we owed it to our zoo guests and staff to ensure their safety in this situation."

After presenting the concept to the zoo's CEO and the board of governors, who approved of the plan, Jadrich set a timeline of one year to design the drill, coordinate with first responders, and hold the exercise.
Designing the Drill
To kick off the effort, Jadrich assembled an internal stakeholder design team that included executives from animal care, guest experiences, and operations to provide input, support, and help in creating and designing the final drill.
Then, the team reached out to Denver's Office of Emergency Management to connect with local commanders, chiefs, and captains in charge of agencies that had jurisdiction over the zoo and would collaborate with the team on the drill.
"From that first meeting with those leaders—from Denver Police, Fire, Health, and the FBI—there was immediate support," Jadrich says. "Our local agencies aren't given the opportunity and space and properties to do these full-scale trainings. They usually don't work in a unified space. So, they were grateful that we were providing one."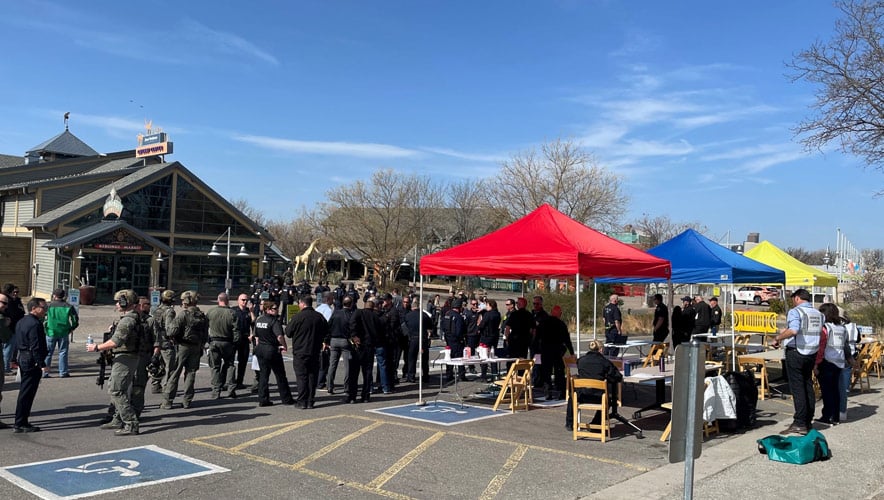 With all the players on board, the design team began developing a scenario to build the active shooter drill around. It decided to use the unique environment of being a zoo as the leading component.
"We wanted to include a component of an active shooter coming here, causing chaos, and taking hostage an employee—an animal keeper—with the intent to release animals into the public," Jadrich says. "From there we tied in the animal terrorist group, the Animal Liberation Front, active in the past, and we designed the drill around it wanting to free animals from containment."
Then, using that scenario, the design team conducted a tabletop exercise in September 2021 with internal and external stakeholders.
"We wanted to make sure we could talk through things in a tabletop forum and learn some things prior to doing the full-scale exercise," Jadrich adds.
That tabletop exercise led to an understanding about access control needs for first responders, such as how they might get into an area of the zoo that uses an electronic proximity card system instead of a hard key system.
The exercise also helped the design team finalize the necessary stakeholders for participating in the drill and others that needed to be informed about it—such as the Denver mayor and the Colorado governor—because they would be notified if a real incident occurred.
"That helped us think through the brand damage and what that might look like—what our process of communication would be to the public and to our staff," Jadrich says.
Meanwhile, Chenaille says she was engaging in regular discussions with zoo staff about why conducting this active shooter drill was important for the entire team while also respecting the fact that it might be difficult for staff to participate in the drill.
Sponsored

Milestone Kite™ is an ideal plug-and-play cloud solution for schools. Learn how it makes analytics for advanced, cloud-delivered VMS a realistic, affordable, and feature-filled option.
"We have survivors of mass shootings on staff who chose to opt out," Chenaille says. "We weren't going to force anyone to do something that made them uncomfortable."
At the same time, the zoo also focused on providing access to mental health resources to staff—both before and after the drill.
"We know we're in a mental health crisis, so we wanted to recognize that this could spur something later—especially as more shootings have happened in the United States," she adds.
Setting the Stage
In the lead-up to the drill, Chenaille worked to provide Jadrich and his team with all the resources they would need to exercise it. They also worked on fine-tuning some of the details.
One of the major considerations in creating the drill was how the animals would respond. The planned scenario had a gunman firing a shot near the entrance to the zoo, which was near the lions', hyenas', and penguins' exhibits.
"We weren't so concerned about the penguins," Chenaille explains. "But when you have giant predators, you worry that you could scare an animal and create a situation—whether that be an animal runs and gets hurt or creates an emergency where they get into areas they shouldn't."

To better understand how the animals might react, the security team held a practice session. The group came in after hours and fired off a blank gunshot near the lions' and hyenas' enclosures. "And they slept," Chenaille says.
Another consideration was ensuring that the ammunition used for the drill—blanks—was properly handled to guarantee that no live rounds were accidentally used. This became top of mind following a fatal accidental shooting on a movie set in October 2021, involving a prop gun and a live round introduced into the blank ammunition used on set.
As a safeguard, the design team created a procedure where an initial safety check would take place at the police precinct and then a visual and physical blank round verification would be conducted. Additionally, a witness would watch blank rounds be loaded into the shooter's rifle—clearly marked with red tape around the magazine and barrel. All other firearms on site would be verified cleared, with no blank rounds fired other than those by the individual playing the role of the drill gunman.
Finally, the design team focused on ensuring that the message was out to the community that the zoo would be closed on the day of the active shooter drill, as well as providing messaging to staff via an internal document on what to expect with the drill.
In the last 24 hours before the drill, the team prepped its incident command post and made sure everyone was ready to go for the following day, 26 April 2022.
Drill Day
To make the drill seem more realistic, 17 staff volunteered to be crisis actors—pretending to play members of the public who normally would be at the zoo in the morning to see the animals. These staff members signed liability waivers before participating and then arrived on drill day to have their makeup done to help set the tone, Jadrich says.
The first responder agencies and stakeholders observing the drill also arrived that morning. Jadrich did a safety walk-through to make sure everything was set, and then it was time to start.
A Denver police officer posing as the terrorist gunman arrived at the zoo in a vehicle, driving up to the security bollard infrastructure. He then exited and fired off blank rounds at the crisis actors in the main entry plaza near the lions, hyenas, and penguins.
The posing gunman then walked through the main gate to the zoo, made his way to the Pahali ya Simba building, where a guest viewing area for Predator Ridge is located, and took a member of the animal care staff hostage with the intent to gain access to release animals.
Meanwhile, a security alert went out, and local law enforcement—including Denver's SWAT team—responded to the zoo to negotiate with the gunman and stop further violence from occurring. Then, medical response teams provided triage and aid to the crisis actors injured by the drill gunman.
The team ran the drill three times, with the incident commander rotating each time to give multiple first responders the opportunity to participate in the training. The animals were—surprisingly—unfazed by the blanks fired. They were, however, very interested in drones that law enforcement used to surveil the scene, Chenaille adds.
The design team then held a hotwash debrief immediately after the third drill to allow participants to provide feedback while the experience was still fresh.
"We included every stakeholder—crisis actors, first responders, and other internal and external folks that were involved," Jadrich says. "We wanted everyone to have a forum where they could constructively provide feedback to everyone."
One of the main takeaways was the external agencies—fire, EMS, and police personnel—were able to identify some gaps in their processes for responding to the shooting that they might otherwise not have known about because of the scale of the drill.
SM7 Newsletter

Find out your top 7 security-news articles,
delivered to your inbox, weekly.
Additionally, the staff volunteers shared that the experience was enlightening on how law enforcement responds to an active shooter. In these situations, police officers generally do not provide first aid or information to individuals who might be injured or on the scene. Instead, their focus is to engage and eliminate the shooter.
"One of the things we had to help the crisis actors understand is that the police are there to address the threat," Jadrich says. "Things like that were brought up, and we were able to help them understand some of the roles first responders were taking in the drill."
The experience also highlighted the need when planning a training scenario to create a large drill space for the scene for first responders to move through.
"When we were building the drill—the scene and the space for it—we thought it would take two hours for first responders to triage," Jadrich says. "We quickly realized that first responders and law enforcement, when responding in a real time situation, were very quick to take out the bad actor and save lives."
Forward Thinking
The drill provided a "huge security training opportunity" for the team and was an "eye-opening experience" for the zoo staff, Chenaille says. It also showed how the zoo can continue to move its standards forward by understanding what its weaknesses are, addressing vulnerabilities, and identifying the resources required to fix them.
Since holding the drill in April, the Denver Zoo has received requests from other zoos in the area for guidance on crafting their own training scenarios. Chenaille says one of the most important things to keep in mind when responding to these requests is to understand what their true goals are in holding a training exercise.
"Our goal was focused on first responders having access to do this," Chenaille says, explaining that 80 percent of the actual drill was carried out by first responders, with 20 percent conducted by Denver Zoo staff in the form of security support and crisis actors. "You have to pick your goal, then know your steps, and get your staff on board—then you can go to your first responders."
Along with sharing the Denver Zoo's experience, Jadrich also recommends that security practitioners at zoos—and other facilities—take advantage of U.S. federally funded opportunities for training from the Federal Emergency Management Agency (FEMA) and the U.S. Department of Homeland Security (DHS).
"FEMA and DHS have incident command training, and then there are other courses they provide where you can invite facilitators out to have training onsite to develop internal training and knowledge," he adds.
Jadrich also recommends using the relationships already established. For instance, the local Office of Emergency Management Personnel was able to provide the Denver Zoo with documentation from FEMA about planning, implementing, and documenting after-action reports for emergency drills.
"All those items were things we could use, and we didn't have to create them," he says. "It was a timesaver in the sense of putting everything together on paper."
Additionally, the exercise acted as a conversation starter on what existing drills the zoo conducts that first responders should be more engaged in—such as animal emergency drills, called Code Reds.
"That's when a dangerous animal gets into a place it shouldn't be—a moat, over a fence, on a main path," Chenaille says. "One of the things I want to do, especially in light of the active shooter drill, is bring our first responders into that. This drill showed us why that's important and that we have partnerships now to do it."
The active shooter drill has also opened the door to planning drills for bomb threats, fire situations, and hostile vehicle scenarios, Jadrich says.
"We absolutely want to do this again in the future," he adds. "We found that by working with these agencies, we really built those relationships to make the zoo as safe as it possibly can be."
Megan Gates is senior editor at Security Management. Connect with her at [email protected]. Follow her on Twitter: @mgngates.