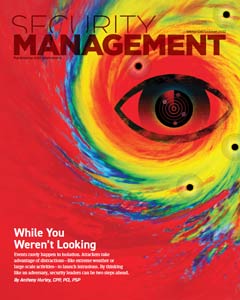 September/October 2022 | COVER STORY

Many organizations have gone to great lengths to secure their facilities, whether that is a single building or an entire compound. But as adversaries' capabilities advance and attack planning cycles accelerate due to the increased availability of open-source information, the days when an organization's physical security program started at the perimeter fence are behind us.
This new era requires security programs and initiatives that prevail both inside and outside of the perimeter. Security professionals need to think like an adversary, constantly envisioning how a current event—whether planned or unplanned—could be used to an attacker's advantage.