Former Japanese Prime Minister Shinzo Abe Assassinated at Campaign Rally
A gunman assassinated former Japanese Prime Minister Shinzo Abe at a campaign event in Nara, Japan, on Friday morning in a shocking act of violence in the country with some of the most stringent firearm control laws in the world.
Authorities arrested a suspect on the scene, Tetsuya Yamagami, 41, who previously served in Japan's Navy. Initial reports from the Associated Press (AP) and Japan's national media outlet, NHK, suggest that the gunman may have used a homemade firearm to carry out the attack.
Sponsored

Read this article to learn about new technologies and best practices that can help prepare and protect campuses from the potential threat of an active shooter.
Abe was in Nara to campaign for Kei Sato, a member of the Liberal Democratic Party running for re-election ahead of Japan's parliamentary election on Sunday. Abe was giving a speech in front of a train station when two gunshots were fired, appearing to strike him from behind and causing him to collapse. Security guards ran to aid him while other guards tackled the suspect. Abe was then airlifted to a hospital in Nara, where he was pronounced dead.
"Nara Medical emergency department chief Hidetada Fukushima said Abe suffered major damage to his heart, along with two neck wounds that damaged an artery," the AP reported. "He never regained his vital signs."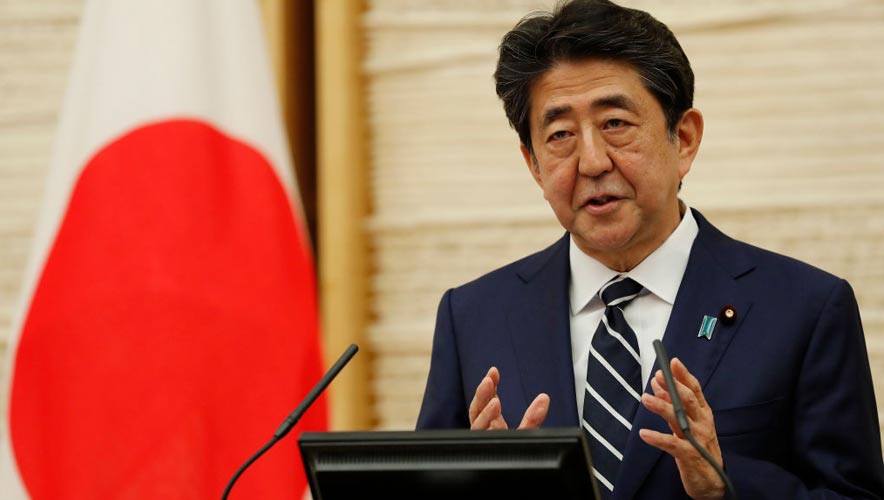 Current Japanese Prime Minister Fumio Kishida said the government will tighten security for cabinet members and others in the lead-up to Sunday's election. The government will also review the security situation surrounding Abe's assassination, but Kishida confirmed with the AP that the former prime minister had the "highest protection."
"This attack is an act of brutality that happened during the elections—the very foundation of our democracy—and is absolutely unforgivable," Kishida told reporters.
Firearms in Japan
Authorities are still investigating the motive behind the attack, but The New York Times confirmed that police had seized "multiple handmade guns" from the suspect's home and a computer and books. The suspect is also communicating with investigators and said he did not have "any grudges against Abe's political beliefs."
The attack is the first assassination of a current or former Japanese leader since 1936, when Army officers attacked the prime minister's residence in Tokyo, killing Home Minister Saito Makoto, Finance Minister Takahashi Korekiyo, and Army Inspector General of Military Training Watanabe Jotaro. Other politicians have been injured since that time, including the mayor of Nagasaki in 2007 who was shot and killed by a member of the yakuza, but none on the national level.
Sponsored

Stop crime BEFORE it occurs with Speco Technologies' Digital Deterrent®. Check out our website!
"Post-war Japan prides itself on orderly and open democracy," Reuters reports. "Senior Japanese politicians are accompanied by armed security agents but often get close to the public, especially during political campaigns when they make roadside speeches and shake hands with passersby."
The shooting was a shock, especially because firearm ownership is extremely difficult in Japan. Individuals must first attend a gun safety course and pass a written exam. Authorities then conduct extensive background checks on the individual and his or her associates.
Once those are completed, police officers will then visit the individual's home to ensure that the potential firearm owner has a three-lock locker attached to a wall to store a firearm in. If the individual passes that test, he or she is then required to attend a full-day training course to learn the basics of shooting at a shooting range, handling firearms, and hitting a target. Then, individuals can apply to own a firearm.
"With stringent restrictions on firearms, gun violence is often associated with the yakuza, the Japanese criminal network," according to The Washington Post. "Last year, 10 shootings were reported in Japan not involving accidents or suicides. They led to one death and four injuries. Of the incidents, eight were linked to the yakuza, according to the police agency."
Abe's Political Impact
Kishida was Abe's protégé, one level of influence that the former prime minister continued to hold on Japan and its Liberal Democratic Party despite no longer holding the prime minister's office. Abe served in the role in 2006, 2007, and from 2012 to 2020 when he resigned due to health issues. Abe was also a member of a political family. His grandfather, Nobusuke Kishi, served as prime minister from 1957 to 1960 and his father, Shintaro Abe, served as a foreign minister and leader in the Liberal Democratic Party.
During his time in office, Abe focused on countering China's growing influence and reforming Japan's economy through his policy of "Abenomics." He succeeded in pushing through a major legislative agenda in 2015 that allowed Japan's military to conduct authorized overseas combat missions with its allies in the name of "collective self-defense."
SM7 Newsletter

Find out your top 7 security-news articles,
delivered to your inbox, weekly.
After the United States withdrew from a major trade agreement for the Pacific Rim countries, Abe worked to keep the 11 other parties in the deal to enact it without America's membership.
"During his tenure, Abe reformed immigration policy, female labor-force participation climbed, and the Japanese economy unexpectedly returned to healthy growth," NPR reports. "He ultimately failed to achieve his most cherished political goal, and that of his party: to revise Japan's pacifist, post-World War II constitution. Abe proposed revisions would strengthen the government's emergency powers, while downplaying the role of human rights. Abe felt the political values imposed by the U.S.-backed constitution were alien to some of Japan's traditions, such as reverence for the emperor."
Tributes to Abe have poured in from around Japan, as well as from leaders around the world who worked with Abe during his time as prime minister. Canadian Prime Minister Justin Trudeau said he was shocked and that the "world has lost a great man of vision, and Canada has lost a close friend."
Australian Prime Minister Anthony Albanese also called Abe a "great friend" and commended him in a condolence message for elevating Australia and Japan's bilateral relationship to a Special Strategic Partnership to create a legacy that endures today.
In the United States, President Joe Biden said he was "stunned, outraged, and deeply saddened by the news" of Abe's death, and former President Barack Obama said he would always remember "the work we did to strengthen our alliance, the moving experience of traveling to Hiroshima and Pearl Harbor together, and the grace he and his wife Akie Abe showed to me and Michelle."
Close protection measures for politicians and other public figures is a primary point of focus in our July/August 2022 issue of Security Management. To learn more, read "Building a Methodology for Proactive Close Protection."
High-profile individuals face a range of threats from stalkers to online harassers to physical attacks. Close protection specialists are incorporating a variety of methods to mitigate them, but very few involve drawing a firearm. https://t.co/SMsCIS2zjQ

— Security Management (@SecMgmtMag) July 6, 2022