ISC West 2023 Product Showcase
What can you expect to see at ISC West 2023? Check out this product showcase from Security Management for a preview.
Facility Awareness

Honeywell's Pro-Watch Intelligent Command is a Web-based interface that offers organizations wider situational awareness of their security system. The integration of video and access control solutions gives actionable intelligence to support rapid decision-making with incidents and associated workflows configured in the system, allowing for standard operating procedures to be monitored. The platform's map user interface features interactive elements that enable users to manage and monitor all integrated video, access control, and intrusion solutions across sites. www.security.honeywell.com to learn more. Stand 8037.
Key Management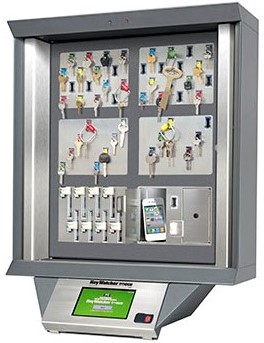 Morse Watchmans, Inc., announced that its signature electronic key management systems have customizable modules that secure all facility keys and assets, including wallets, cell phones, laptops, and small weapons. With offices located in the United States and United Kingdom, the manufacturer's products are represented by global authorized dealers. Visit www.morsewatchmans.com to learn more. Stand 15109.
Video Analysis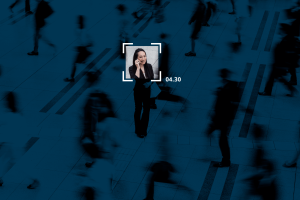 Milestone Systems' XProtect Rapid REVIEW is a forensic analysis solution that allows users to quickly review, search, and analyze. Integrated into XProtect, the platform lets users review hours of video within minutes, and focus on people and objects of interest, enabling information to be turned into evidence and action. Visit www.milestonesys.com to learn more. Stand 18053.
Fusion Camera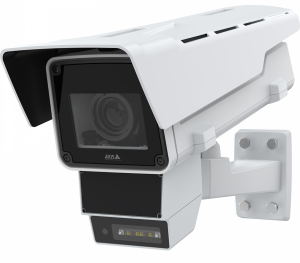 The AXIS Q1656-DLE Radar-Video Fusion Camera offers deep learning-powered object classification based on the fusion of video and radar technologies. The camera delivers improved scene intelligence and accurate detection. Additionally, with the combination of radar and video in a single device, a user only requires one cable drop, one IP address, and one video management software license, which translates into lower installation and lifetime costs. Visit www.axis.comproducts/axis-q1656-dle to learn more. Stand 14051.
License Plate Recognition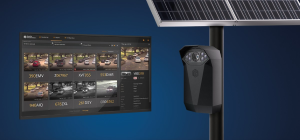 Investigators can now have clear vehicle evidence plus solar-powered automatic license plate recognition (ALPR) technology. Genetec announced its AutoVu Cloudrunner, a cloud-based vehicle-centric investigation system that detects and analyzes vehicle identification data. The system uses data collected by the new Cloudrunner CR-H2—a solar-powered ALPR camera. The CR-H2 can identify vehicle color, type, and behavior analytics, including estimated speed and direction. Investigators can narrow their search using a variety of vehicle characteristics, even when a license plate number is unknown. Visit www.genetec.com to learn more. Stand 20045.
Access Control
Designed Security Inc.'s ES9000 was designed for building lobby environments where higher security, high speed throughput, and interior aesthetics are priorities. Its IP-based optical turnstile with swing gates provides both a visual and psychological barrier that communicates to pedestrians that authorization is required before entering a secured area. These gates can monitor a high throughput traffic flow of up to 60 people per minute per lane while optical sensors and gates ensure only one person enters for every authorized identity credential used. Visit www.dsigo.com to learn more. Stand 20117.
Video Analytics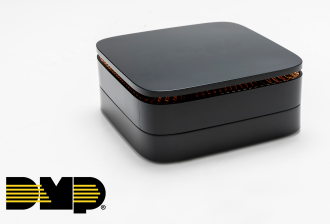 Introducing the XV-24 with AlarmVision the latest in video products from Digital Monitoring Products (DMP). The XV-24 with AlarmVision turns customers' cameras into a crime deterrent tool, giving them peace of mind that their property is being actively monitored. AlarmVision's patent-pending technology seamlessly integrates cameras, analytics, and the XR series control panels in one platform to create smart motion detectors that trigger panel responses and alarms in real time. Visit www.dmp.com to learn more. Stand 23089.
Fire Alarm Communications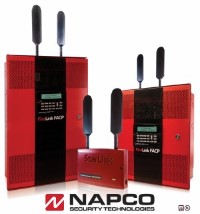 Napco's new FireLink XL255 FACP is an all-in-one cellular fire alarm solution with an award-winning design that streamlines commercial fire alarm installations incorporating smart cellular/IP communications within an expandable addressable fire alarm system. Using StarLink cellular alarm communications on today's cellular networks, it quickly reports emergency conditions, saving time and budget-dollars compared to communications dependent upon unreliable or undedicated landlines. Visit www.napcosecurity.com to learn more. Stand 12031.
Access Control

Genetec's Synergis offers a way to modernize a facility's access control system. Its open architecture minimizes the amount of hardware that needs to be replaced when users need to update their legacy system. Visit www.genetec.com to learn more. Stand 20045.
Tailgate Detection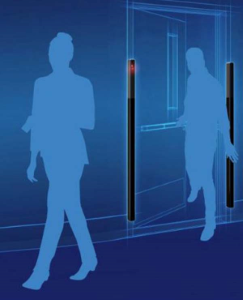 Detex offers panic hardware for restricted secure areas, including building entrances, manufacturing facilities, office entrances, and any area where entry demands control. The Tailgate Detection System offers compatibility with most access control technology, can be retrofitted to various environments, and offers an integrated door prop alarm for extra security. The solution can support entry points where access needs to be limited to one identified entrant at a time. Visit www.detex.com to learn more. Stand 20117.
Guard Stands

Bullet-resistant security Stands were developed in collaboration between Par-Kut and the end user. These guardhouses feature ballistically protected walls, glass, and doors, and they are detailed to complement the existing architecture of the surrounding site. Factory assembled, these Stands have exterior trim below the window line, plus a decorative parapet around the top that conceals the rooftop A/C unit from pedestrian view. As with all other Par-Kut buildings, the bullet-resistant Stands feature factory installed electrical systems and are pre-finished in the user's color of choice. Visit www.parkut.com to learn more.
Touchless Calls

Hanwha Vision will be showcasing its touchless TID-600R Network Intercom Station at ISC West. With a touchless call system, users present their palm within six inches of the station to initiate a call. It also features a 2MP sensor, echo cancellation, noise reduction, and a built-in tamper switch and relay for standalone door access. Users can program audio messages that play when the device is approached or when a call begins. It can integrate with various solutions, including video management, access control, SIP phones, or PBX servers. Visit www.hanwha.com to learn more. Stand 14025.
Electric Fencing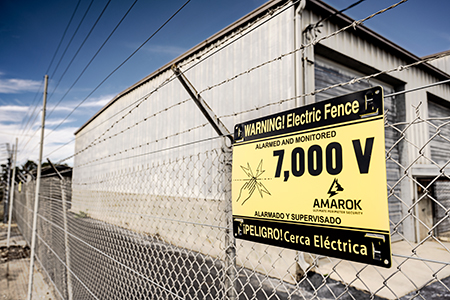 AMAROK's flagship full-perimeter solar-powered electric fence has prevented theft for 98 percent of the company's customers post-installation. The Electric Guard Dog Fence can complement a physical security system, helping stop theft before it happens, and is virtually maintenance-free. Visit www.amarok.com to learn more. Stand 26117.
Weapons Detection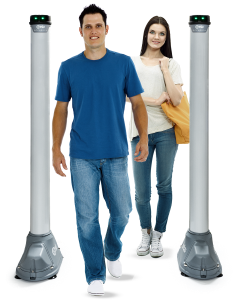 CEIA's threat detection and screening systems help eliminate guesswork for security screening setups. OPENGATE is a weapons detection system designed for screening people with their backpacks, purses, bags, and other personal belongings. This system helps security personnel detect a large variety and number of metal threats—including high caliber assault weapons. Weighing only 25 pounds, the system can be set up in less than one minute. OPENGATE can be used both indoors and outside. Visit www.ceia-usa.com to learn more. Stand 6103.
Corporate Reconnaissance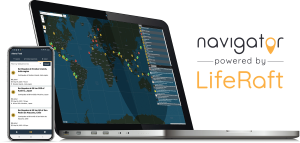 LifeRaft's intelligence platform, Navigator, helps users identify and validate threats across a broad range of mainstream and niche open-source channels available online. Corporate security teams can automate the collection and filtering of social media, Deep Web, and Darknet sources with customized search criteria, geofences, and curated intelligence feeds. The platform also supports validation of open source intelligence (OSINT) with global event mapping, safety scores, identity resolution, and threat monitoring. Visit
www.liferaftinc.com to learn more. Stand 25125.
Incident Management

Resolver's corporate security software can support security teams in managing incidents, investigations, risk assessments, security operations, and threats. The end-to-end, centralized platform offers flexible data, analysis, and reporting solutions that allow for more strategic and risk-aware actions. Users can collect, link, and track critical investigation data to help evaluate security risks and threats. Visit www.resolver.com to learn more. Stand 20125.
Security Management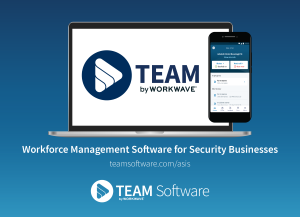 TEAM Software's solutions offer security businesses a way to improve workforce management, service delivery, and back-office operations. The organization's integrated software approach supports customers looking to protect their margins, provides insight into operations, and can assist in streamlining processes. Visit www.teamsoftware.com to learn more.
Video Analytics

Pelco's Calipsa is a cloud-based video analytics platform that offers businesses additional support for security systems with AI-powered analytics for real-time and forensic analysis. The platform, which is entirely cloud-based, requires no additional hardware. Capable of integrating with existing motion-only cameras, the Calipsa applies its deep-learning functionality to provide human detection, vehicle detection, and more. Visit www.pelco.com to learn more. Stand 13062.
Robot Dogs

Yellow is the first-of-its-kind security robot dog specifically designed to provide quick response times and protection. With artificial intelligence and 5G technology, Yellow can detect suspicious elements, recognize them, and generate an alert to a Prosegur Security Operations Center (SOC). The robot can complement an existing on-site security team while the SOCs can perform intelligent data processing and remotely manage security services and business processes. Visit www.prosegur.us to learn more. Stand 14099.
Video Cameras

The analytics-enabled Avigilon H6SL camera line offers next-generation video analytics that can detect critical events and provide users with situational awareness of a site. Available as a bullet or dome form factor, these cameras can be installed in a wide range of indoor and outdoor settings, applicable to educational, commercial, government, retail, and hospitality facilities. Visi www.avigilon.com/products/cameras-sensors/h5sl to learn more. Stand 14059.
Adaptable Fencing

Ameristar introduced an industrial-strength security system that can be installed on either ground or concrete and removed and reused at a later date. The Gridlock solution, designed for rapid installation, features talon brackets that increase tamper resistance and allow for various directional changes. The mesh panels include three v-fold ribs that provide rigidity and also allow for self-nesting when in storage. Visit www.ameristarperimeter.com to learn more. Stand 8075.
Autonomous Guarding

EvoGuard by ADT Commercial is a new line of intelligent autonomous guarding solutions and services aimed at supporting corporate security programs. EvoGuard uses artificial intelligence and augmented reality with autonomous humanoid robots by Halodi Robotics and indoor drones by Indoor Robotics for surveillance. They can be deployed in various commercial areas. The solutions are slated for commercialization in 2023 and can be tailored for enterprise-level and high-security environments. Visit
www.adt.com/commercial to learn more. Stand 20007.
Security Workstations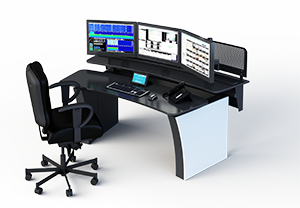 Winsted's new Vue workstations can be configured for all security applications and come in static or height-adjustable models. These workstations offer different widths and connecting cabinets for accommodating multi-operator solutions. While the stations have an open architectural design, customers have the option of a closed version with doors in the base. Monitor mounts can be adjusted horizontally and vertically to allow for ergonomic viewing. They also come in five different color options, four different worksurfaces, and with a customer care guarantee. Visit www.winsted.com to learn more. Stand 14109.