Certification Profile: Mark Cole, CPP, PCI, PSP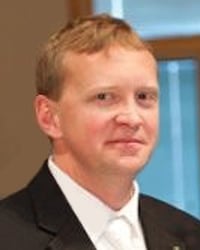 While studying for a criminal justice degree from the University of Wisconsin Oshkosh, Mark Cole spent his summers working for a commercial printing firm. Today, this firm is a major printing and marketing enterprise with approximately 15,000 employees. But when Cole worked there in the 1980s, he identified an opportunity—one that would allow himself to carve out a long-term role in the organization. The company did not yet have a dedicated security management function.
Decades later, Cole has remained with the corporation, applying his expertise as the organization's corporate security manager. With 18 direct reports, he collaborates with facility managers to oversee physical security at more than 30 print facilities, logistics sites, and sales offices.
"Security management provides the opportunity to assist in managing day-to-day activities but also provides direction to leadership and others in times of crisis," Cole says. "I gain satisfaction in knowing I can assist people and provide direction in times of need."
Sponsored

XProtect® Hospital Assist is a remote patient monitoring solution that helps your staff work more efficiently while enhancing patient care.
As the organization's security function grew, one of Cole's security colleagues introduced him to ASIS International. He decided to become involved to take advantage of ASIS resources, including webinars, reference materials, collaboration, certification programs, and vendor access at the yearly Global Security Exchange (GSX) event.
Motivated to grow his security know-how, Cole pursued the ASIS Certified Protection Professional (CPP®) designation, and he achieved his certification in 2016. But he didn't stop there—by 2019, he had added the Physical Security Professional (PSP®) and Professional Certified Investigator (PCI®) certifications as well, to complete the ASIS Board Certification Triple Crown.
"Obtaining the triple crown validates that you have the highest level of knowledge for a security management professional. Reviewing reference material and obtaining the certifications is a great refresher for industry standard security, in addition to learning new material and how it's applied," he says.
"Part of the allure of security management is that what you may be working on changes rapidly depending on what situations arise," he adds. "You pivot quickly to address situations 24/7. It provides substantial satisfaction when you de-escalate situations by removing the emotion and assumptions to work with the facts."
Profile by Steven Barnett, ASIS Communications Specialist