ASIS News: Change Ready in Ever-Changing Times
Global Security Exchange (GSX) is the security profession's flagship event for staying ahead of tomorrow's threats. Subject matter experts from around the globe will convene at GSX 2022 in Atlanta, Georgia, 12–14 September, to discuss best practices and the latest techniques for combatting new risks.
Each day of GSX 2022 kicks off with timely general session presentations from acclaimed speakers. This year's lineup includes:
Monday, 12 September | Everybody Can Change the Word
Mateo Salvatto | Head of Innovation, ORT Schools, CEO of Asteroid Technologies, and Social Influencer
Tech entrepreneur and social influencer Mateo Salvatto will share his journey transitioning from an average high school student into one of Argentina's most respected tech businessmen through the creation of Háblalo, an app that helps more than 250,000 people globally who have hearing loss and verbal communication disabilities. Through an emotional series of stories of people challenged by their communication abilities who are often taken for granted, Salvatto will demonstrate how his passion for robotics and technology led to a series of developments that can help empower people with varying capabilities—and convince us that changing the world is easier than we may think.
Tuesday, 13 September | Validating Security Controls—Taking "We Think" to "We Know"
Jake Williams | Executive Director of Cyber Threat Intelligence for SCYTHE
We all have security controls in place that we hope are detecting or blocking threat actor behaviors. But do they succeed? Which behaviors? How do you know? If one of your security controls fails, will the activity still be detected? Traditionally, security control testing has been performed by red team operators, but unfortunately, these are point-in-time assessments. Ideally, the red team would be involved in revalidating the control with every software update or configuration change, but this is often cost prohibitive. During his session at GSX, Williams will help define the value proposition for security control validation and provide advice on how to operationalize and scale the practice.
Wednesday, 14 September | A Pathway to Courageous Conversations
Derreck Kayongo | Former CEO, Center for Civil and Human Rights
Has anyone ever calculated the total cost of discrimination in the workplace? Kayongo will tackle the subject head-on by sharing how his organization grappled with the issue. He takes his audience through an examination of how diversity and inclusion problems can impact your corporate bottom line. From long-term harm to your brand and weakened stock prices to negative perceptions within the security community, Kayongo illustrates how our upbringing and unconscious biases can become a net negative to organizational growth.
Beyond these presentations, the GSX education lineup features more than 180 sessions that will provide in-depth looks at issues facing the security profession, including deep dives such as:
10 Disciplines of Effective Cybersecurity Leadership
Beyond Academics: Lessons Learned from ESRM Implementations
COVID Crimes and Related Investigations
Decoding Digital Transformation and Increasing Security Leaders' Trust in Technology
The Metaverse, NFTs, and the Future of Security in a Virtual World
GSX sessions can improve the practice of security professionals at any stage of their careers, covering topics such as access control, asset protection, remote workforces, workplace violence, cybersecurity, business continuity, crisis management, and resilience.
All-Access Pass registrants can earn up to 22 CPEs toward their recertification whether they attend GSX in-person or via the digital experience. Digital attendees will be able to access online GSX session recordings through 31 December 2022.
Registration for GSX 2022 is now open. Register today at gsx.org/register.
New Senior Security Executive Standard
Every organization has an obligation to protect its assets, whether they are tangible or intangible. To support this responsibility, organizations often appoint and empower a senior security executive to develop and implement a strategic security framework that identifies, evaluates, and manages security risks in a manner that contributes to the success and resilience of the organization.
As an American National Standards Institute (ANSI) accredited standards developing organization, ASIS International is a world leader in developing standards and guidelines to serve the needs of security practitioners in today's quickly changing environment.
In 2022, ASIS published timely revisions to its Senior Security Executive (SSE) Standard using the collective expertise of global subject matter experts.
This standard provides organizational guidance on the establishment of an SSE role for creating and leading a holistic protection of assets program. As the most senior individual tasked with managing the organization's security function, the SSE role has various titles in the industry, including:
Chief security officer
Vice president of security
Head of global security
Director of corporate security
The SSE Standard addresses how to position this role within an organization and outlines responsibilities, key competencies, and critical success factors related to the SSE function. Leveraging the enterprise security risk management (ESRM) approach—which addresses the full scope of security risk management practices—this standard is applicable to organizations of all sizes and types across all sectors: private, public, and not-for-profit.
ASIS members enjoy free e-Book access for all ASIS standards and guidelines. Softcover versions are available for purchase in the ASIS Store.
In addition to its role in developing standards, ASIS serves a key liaison role on two International Organization for Standardization (ISO) technical committees. Learn more at asisonline.org/Standards.
ASIS Governance Update
ASIS International continues moving its global governance strategy forward, and important activities are taking place to select board leaders for 2023. 
In May and June, ASIS sought candidate interest forms from members interested in serving on the nominating committees for its global board of directors, European regional board of directors, and North American regional board of directors.
From 29 July through 1 September, ASIS will issue another call for candidate interest forms—this time, from members interested in serving on the boards themselves. Two candidates will be selected to serve three-year terms on the global board of directors. One candidate will be selected to serve a three-year term on the European regional board of directors. Three candidates will be selected to serve three-year terms on the North American regional board of directors. Each of these terms will begin in 2023.
To learn more about the skills and competencies required for serving on an ASIS board and to submit your candidate interest form once the submission window has opened, visit asisonline.org/globalgovernance.
Young Professionals Corner
Each issue, Security Management gets the perspective of young professionals who have climbed the volunteer ranks within ASIS International.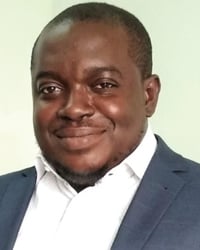 Bryan Roberts, CPP, ARVP, ASIS Region 11, and ASIS Young Professional Community Steering Committee
"Young professionals can stand out in the industry by learning and acquiring the proper skills to participate and be effective in their roles, availing themselves to be mentored by seasoned professionals, and volunteering when possible in industry-related organizations and activities. ASIS International opened me to a world of possibilities filled with an experienced, intelligent, and talented network of professionals always ready to assist," Roberts says.