UN Watchdog: More than 2 Tons of Natural Uranium is Missing from Libya Storage Site
Two-and-a-half tons of natural uranium is missing from a storage site in Libya, a United Nations watchdog said early Thursday, 16 March.
The International Atomic Energy Agency's (IAEA's) Director General Rafael Mariano Grossi said the regulators realized the uranium was missing after conducting a delayed inspection of the region on Tuesday. The IAEA then informed member states of the situation on Wednesday, Reuters reports.
Inspectors "found that 10 drums containing approximately 2.5 tons of natural uranium in the form of UOC (uranium ore concentrate) previously declared by (Libya)…as being stored at that location were not present at that location," according to the IAEA statement reviewed by Reuters.
The watchdog plans to carry out an additional investigation to determine how the uranium was removed from the site and where it is now.
"The loss of knowledge about the present location of nuclear material may present a radiological risk, as well as nuclear security concerns," according to the IAEA statement obtained by Reuters.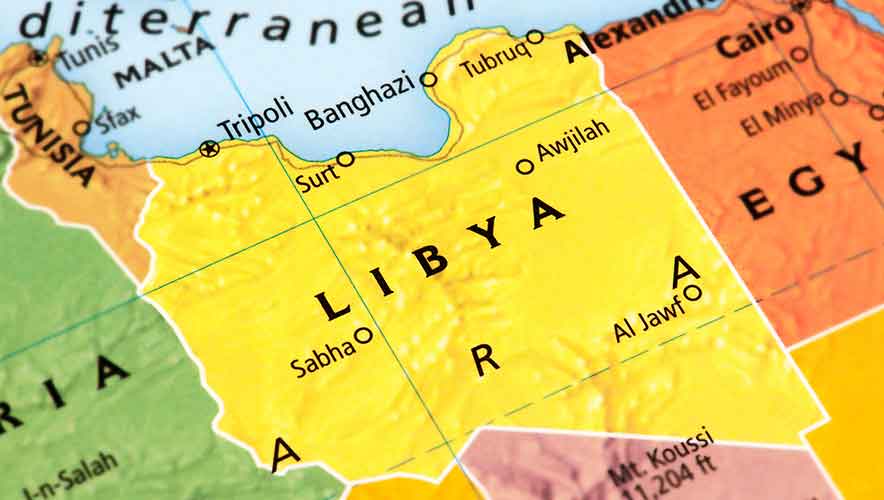 The missing uranium could not be immediately used to create bomb fuel or energy production because it would need to be enriched first—a process that generally requires the metal to be converted into a gas and put through centrifuges.
"However, each ton of natural uranium—if obtained by a group with the technological means and resources—can be refined to 5.6 kilograms (12 pounds) of weapons-grade material over time," the Associated Press reports. "That makes finding the missing metal important for nonproliferation experts."
Libya had centrifuges that could enrich uranium in the early 2000s. But in 2003, then leader Muammar Gaddafi renounced the nuclear weapons program. Gaddafi fell from power in 2011, and control of the country is now split between an interim government in the west and military strongman Khalifa Haftar in the east, The Guardian reports.
The lack of a cohesive government and unified security forces in Libya could allow militant organizations to regain a foothold in the country, according to a security situation update from Garda World on 1 March.
"The security situation in Libya will likely remain unstable through at least late April, primarily due to intermittent fighting and armed clashes between various rival militia groups across the country," Garda World assessed. "Competing governmental institutions, as well as geopolitical rivalries, have profoundly complicated the security situation in Libya. Kidnapping incidents, political assassinations, criminal activity, and clashes between opposing militia groups are the most severe problems."
Thefts and missing nuclear or radioactive material tend to indicate vulnerabilities in the security and control systems at facilities, temporary storage sites, or in transportation structures, according to analysis from the IAEA.
The IAEA maintains an Incident and Trafficking Database (ITDB) with information supplied from 142 members (including Libya) about instances of nuclear and other radioactive material (including uranium, plutonium, and thorium) out of regulatory control. The radioactive materials are classified in terms of their potential to cause harmful health effects (Category 1 to Category 5); unirradiated uranium 235 and 233 would be considered a Category 1 material.
The incidents IAEA tracks in the database are divided into three groups:
Group I: Incidents that are, or are likely to be, connected with trafficking or malicious use.


Group II: Incidents of undetermined intent.


Group III: Incidents that are not, or are unlikely to be, connected with trafficking or malicious use.
In 2021—the most recent year that numbers are available for—members reported 120 incidents involving Category 5 to Category 2 materials to the ITDB, which did not provide a breakdown of how many incidents fit into each group. Between 1993 and 2021, however, the ITDB confirmed 3,928 instances with 320 in Group I, 1,034 in Group II, and 2,574 in Group III.
"Globally, the recovery rate for Category 1-3 radioactive sources is higher, compared to the Categories 4 and 5 radioactive sources," the ITDB says in a fact sheet. "This can be attributed to the concerted effort made by the authorities to recover such sources. However, these dangerous sources comprise only around 13 percent of the total number of stolen sources. The majority of incidents relating to Categories 4 and 5 radioactive sources do not have a follow-up report confirming their recovery. Thefts of these sources that are unlikely to be dangerous comprise around 87 percent of the total."