As Tensions Rise Near Zaporizhzhia Nuclear Power Plant, Families Flee and Officials Call for Ceasefire
Some families in southeastern Ukraine are leaving the area around Zaporizhzhia, where Europe's largest nuclear power plant is based, while others remain despite Ukrainian authorities' warnings of a likely Russian attack.
The Zaporizhzhia nuclear power plant is operated by a Ukrainian staff but under the control of Russian military forces due to the ongoing war in Ukraine. Zaporizhzhia has six nuclear reactors, two of which were operational as of 7 August, and it provides approximately half of Ukraine's electricity. The plant is also of strategic importance to Russia because it is located 200 kilometers (125 miles) from Crimea, which Russia annexed in 2014.
Earlier in the war, Zaporizhzhia was shelled on 4 March and caught fire, but responders were able to extinguish the flames and no essential equipment was impacted. Russian forces assumed control of the plant after the incident. Later reports to the Nuclear Energy Agency (NEA) found that two of the four high voltage offsite power lines to the plant were damaged, with another on standby, but that the plant's off-site power could be provided by one power line and diesel generator as a back-up power source.
"Ukraine's nuclear operator, Energoatom, reports that its staff continue to operate the facility, but under extremely stressful conditions," according to the NEA. "Additionally, the nuclear safety regulator SNRIU has indicated that it is no longer in a position to oversee nuclear safety at the site…recent reports to the [International Atomic Energy Agency] have underlined that staff are operating the facility under extremely stressful conditions, which continue to deteriorate still further, according to recent reports in the press and elsewhere. The NEA is closely monitoring the situation."
On Thursday, Energoatom said the area around Zaporizhzhia was struck five times by military actions. Reuters reports that Russia's defense ministry said the shelling "partly damaged a thermal power plant and splash pools that form part of the reactors' cooling systems."
Following the damage, the International Atomic Energy Agency (IAEA) Director General Rafael Mariano Grossi reiterated previous demands that all military activity around Zaporizhzhia cease. He also briefed the UN Security Council about the "worsening nuclear safety and security situation" at the plant, emphasizing that there is an urgent need for the IAEA to send an expert mission to Zaporizhzhia to carry out nuclear safety, security, and safeguard work. The IAEA has not been able to access the plant since before the war began.
Meanwhile, some Ukrainian families have made the difficult decision to leave the area—many unable to take their male relatives with them due to military service restrictions.
"It was a hard decision to make," said Serhii Aroslanov, 46, who spoke to The Washington Post about sending his family via bus to Bulgaria and then on to Germany. "They are leaving because of the threat to the plant."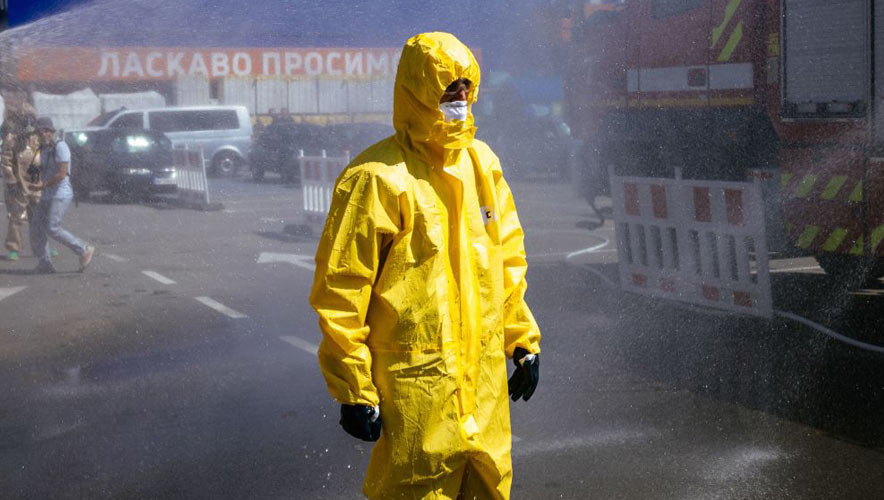 The impact of military activity at and near nuclear power plants has been top of mind since Russia invaded Ukraine earlier this year. Ukraine suffered the world's worst nuclear accident in 1986 at Chernobyl, which resulted in radioactive material being spread across Europe, the evacuation of 350,000 people, and more than 600,000 registered as recovery and emergency workers as part of the response.
Zaporizhzhia's reactors are safer and will not burn in the same way as Chernobyl's did because they use enriched uranium and are moderated by water—not graphite, according to analysis from Chatham House, a policy institute that is part of the UK's Royal Institute of International Affairs.
"Modern reactors in Ukraine, like Zaporizhzhia, are also surrounded by a secondary containment system—a hard concrete shell designed to withstand explosions and a crashed airplane," the analysis said. "However, it is unclear as to how effective the would be against attacks as the thickness of the containment wall in this design of reactor is traditionally 1.2 meters thick, and a thickness of around 2 meters is required for new construction projects."
Another potential point of vulnerability are the plant's spent fuel ponds where used fuel is kept underwater to cool and radiation levels dropped before moving to a final storage location.
"If coolant is lost from the ponds, either by a direct hit which breaches containment structures or by a meltdown of the core due to losses of power, the stored fuel will heat up," the analysis explained. "If the temperature rises above 900 degrees Celsius, the cladding around the zirconium cladding will ignite, leading to the spread of radioactive material."
In a briefing this week, Ukraine's Defense Minister Oleksii Reznikov said Russia could be planning a "large-scale terrorist attack" on the plant to blame on Ukraine in a false flag operation, The Washington Post reports. Russia, however, has accused Ukraine and the United States of plotting to trigger an accident at Zaporizhzhia.
These statements from Russia are a cause for concern said U.S. State Department spokesperson Ned Price in a briefing to the press on Thursday.
"They're cause for concern because they fit squarely within the Russian playbook: accuse others of what it is you have done or what it is you intend to do," Price explained. "We have seen before both February 24th, before the start of Russia's invasion of Ukraine, but also since that Russia has engaged in a number of false flag operations. And typically, what they have done…is to level statements along these lines to accuse others of planning or conducting the types of operations that they have either undertaken or plan to undertake."
France, the United States, and the United Nations have called for a demilitarized zone around Zaporizhzhia. But Russia has rejected the proposal and refused to return the plant back over to Ukrainian control.
UN Director General Antonio Guterres visited Ukraine this week and met with Ukrainian President Volodymyr Zelensky, during which they discussed the global food crisis and the situation at Zaporizhzhia.
"Particular attention was paid to the topic of Russia's nuclear blackmail at the Zaporizhzhia [nuclear power plant]," Zelensky wrote on Telegram following the meeting. "This deliberate terror on the part of the aggressor can have global catastrophic consequences for the whole world. Therefore, the U.N. must ensure the security of the strategic object, its demilitarization, and complete liberation from Russian troops."
U.S. Department of Defense officials estimate that approximately 200 Ukrainian troops per day and 70,000 to 80,000 Russian military members have been killed since Russia invaded on 24 February.
More than 12,000 civilians have been killed or injured in that time frame, according to the Office of the UN High Commissioner for Human Rights. The office, however, says the true figure is likely to be much higher because information from areas with "intense hostilities" has been delayed or unable to be corroborated. These areas include Mariupol, Izium, Lysychansk, Popasna, and Sievierodonetsk. And more than 6 million Ukrainians have registered as refugees in Europe.