How to Get Real Results with Virtual Training
Security Management has partnered with SHRM to bring you relevant articles on key workplace topics and strategies.
Leaders at Micron Technology worried as a new virus spread through Asia in the fall of 2019, knowing that a worldwide pandemic would imperil the company's manufacturing process.
Micron makes its semiconductors using equipment purchased from multiple vendors that typically send their own employees to service the machines, so as to protect their intellectual property. A travel ban would derail that system.
Luckily for Micron, the Boise, Idaho-based company had already started to explore how it could enhance its operations through tools and technology most typically associated with gaming, such as smart goggles and immersive headsets.
Sponsored

Read this article to learn about new technologies and best practices that can help prepare and protect campuses from the potential threat of an active shooter.
The company spent four months negotiating agreements with its vendors to allow Micron employees to work on the proprietary machinery. Employees wore special goggles that transmitted images of the equipment back to vendors' experts in real-time so everyone could assess the situation simultaneously. The technology also allowed the experts to superimpose images and directions on the machines to guide Micron workers through the maintenance process.
"The disruption when it came to COVID—being unable to travel, being unable to get the right field service support on the ground—pushed us into accelerating [the adoption of new technology] much faster than we thought it would be," says Ning Khang, Micron's director of smart manufacturing and AI, who is based in Singapore.
The pandemic hastened many companies' push to "extended reality," a realm made up of three types of experiences. Virtual reality is a totally immersive experience that requires individuals to wear headsets that transport them to a completely virtual, 3-D digital environment. Augmented reality takes place in the real world, but smart goggles allow outside elements to be superimposed or integrated onto a physical space. (For example, the experts guiding Micron employees could highlight and point to different parts of the machines.) The third type, mixed reality, is a combination of the two.


Related Article

Virtual reality technology allows candidates to experience what it would be like to work in certain jobs or at specific organizations. Once the employees are hired, the employer can use VR to provide training in near-real-life situations.

"Recruiters can now use virtual reality goggles as a means of testing a candidate's skill set in a virtual environment," said Carlos Ledo, assistant general counsel and HR consultant with Engage PEO. "This evaluation in the metaverse allows employers to get a better assessment of a candidate's ability to perform critical job functions."

The pandemic showed companies like Micron that they couldn't take cheap, easy travel for granted. At the same time, the price of extended reality devices fell and continues to fall—though they are still expensive—making them more palatable to companies. AR devices are expected to fall about 5 percent annually in price through 2027, eventually costing an average of $650, according to ABI Research, a New York City-based tech consulting company. Moreover, the introduction of 5G is fueling interest in such technology because the new network provides a more suitable platform for the devices.
A Growing Market
"There isn't an industry that isn't thinking about [extended reality] right now," says Eric Abbruzzese, research director at ABI Research, which forecasts that more than 27 million enterprise smart glasses will be shipped by 2027, growing 63 percent year-over-year.
In fact, shipments of headsets for commercial use are expected to grow at more than double the rate of those in the consumer sector this year, according to International Data Corp. It predicts shipment growth in the commercial sector will outpace increases in the consumer sector until 2026.
Recent investments in the extended reality market reflect its potential. Just last month, Google confirmed press reports that it had acquired Raxium, a company that makes display technology that could be used in smart goggles and VR headsets. It didn't address the reported $1 billion price tag. Earlier this year, Google also reached a deal that embeds Verizon's videoconferencing platform, BlueJeans, on its smart glasses. Meanwhile, the investment arms of consulting company Accenture and business software manufacturer Workday purchased an undisclosed stake in Strivr, which makes immersive training technology.
Sponsored

Stop crime BEFORE it occurs with Speco Technologies' Digital Deterrent®. Check out our website!
Strivr chief executive Derek Belch says interest in the company's products has soared since the pandemic started pushing businesses into looking for new ways to onboard and train employees. He expects revenues to hit over $25 million this year, and they could double in 2023.
It isn't just the pandemic that's triggering demand. "Look at the labor shortage," says Vishal Shah, general manager of XR and Metaverse at Hong Kong-based Lenovo Group Ltd., which partnered with Micron on its augmented reality efforts. "Ten thousand Baby Boomers are retiring every day. Millennials aren't as well-trained. How are you going to bring [them] up to speed and provide them with the right tools?"
---
Test Out a VR Office
Fully VR workspaces may not be in the immediate future, but interactive experiences in the VR space are available now. Test out a simple VR rendering of an office desk setup below.
---
Potential Pitfalls
Still, there are companies sitting on the sidelines, with some waiting for equipment prices to drop further or having misgivings about whether employees will embrace extended reality technology. Security is also a major concern. Use of the tools and technology provides another avenue for hackers to gain access to sensitive information. Others worry about what will happen to the recordings of employees who are observed during training.
"The perimeter of security threats is only getting more complicated," says Camille Mendler, chief analyst, service provider enterprise, for Omdia, a technology research firm based in London. "If you extend conductivity, you're extending security risk."
It's not an easy decision, but during the pandemic, companies had fewer in-person options and were forced to embrace virtual means of interaction. Going forward, businesses are balancing the security risks against the time and money that can be saved by using extended reality.
Khang says Micron saved 3,000 production hours by embracing the new technology but declined to say how many chips that equals. "For us, time is money," he says, adding that Micron won't risk security just to save money. Nor does he believe the technology will replace all onsite vendor visits.
"Now AR is our first line of defense," Khang says. "It is not a one-for-one replacement."
Motion sickness is also a concern for some users. A 2020 poll of about 300 respondents by industry publication VR Heaven found that more than half (57.8 percent) said they experienced motion sickness in VR at some time. Women were more than three times as likely to be affected, with 22.6 percent of female respondents saying they frequently experienced motion sickness with VR, compared with 7.2 percent of men. More than two-thirds of those users who did experience motion sickness were able to overcome it in time, however.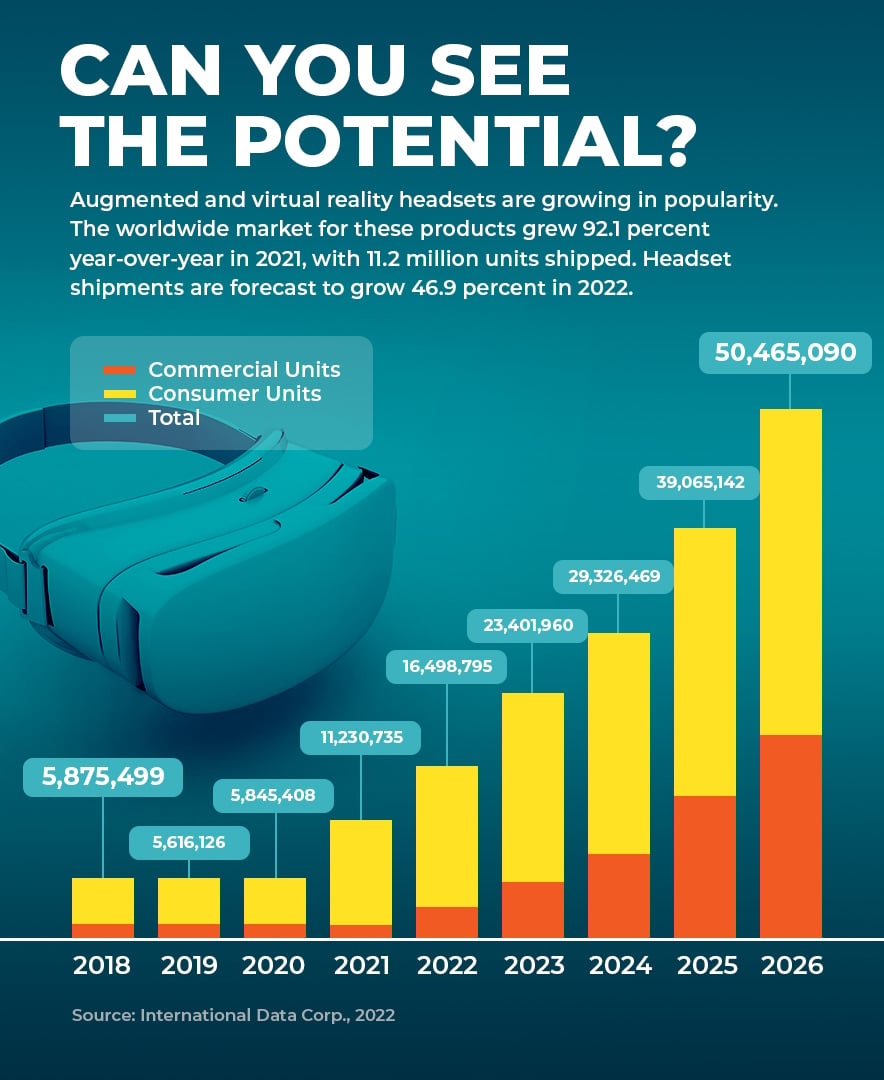 Considerable Benefits
Many believe that augmented reality will be the real game-changer for business because it has more practical uses and doesn't necessarily require purchasing pricy equipment.
"It's easier to scale. It's more flexible," says Marc Durocher Jr., an Auburn, Massachusetts-based associate director of new products/process innovation—network engineering and operations at Verizon. He says Verizon technicians can use their smartphones to send images of worksites back to experts who can help them complete a job.
Verizon also uses virtual reality technology. For example, individuals wearing headsets can feel what it's like to work on poles towering above the ground or in manholes far below it.
The experience has pushed some people to walk away during their training period. "People think jobs sound good on paper," Durocher explains. "But then they say, 'No, this isn't for me.' It's a lot cheaper to have people walk away before they start the job."
The savings from extended reality can be substantial, says Chris Campbell, senior visualization manager at St. Louis, Missouri-based McCarthy Building Cos. McCarthy has been working with design firms for several years to create virtual renderings of buildings it constructs. The three-dimensional presentations have allowed clients to make changes before construction has started.
"The power of virtual reality allowed you to get to a human scale before you ever put a shovel in the ground," Campbell says. He added that one hospital client made 112 changes to a design that would have cost $500,000 if the alterations were made after construction started.
Now McCarthy is developing a virtual safety program to point out potential hazards on construction sites for its crews. "This would be just a more interactive opportunity for a new way of giving the same information," Campbell says. "The information may stick a little better."
SM7 Newsletter

Find out your top 7 security-news articles,
delivered to your inbox, weekly.
Advances in Training
Companies say employees have responded positively to virtual and augmented reality experiences, and some businesses report that workers retain more of what they learned. Two years ago, PwC released results of a study that compared the effectiveness of different training methods for a course on inclusive leadership. Those who were taught through virtual reality were four times more focused than those who took computer-based training. They also completed the training four times faster than those who learned in a classroom and 1.5 times faster than computer learners.
Virtual reality isn't typically used to hone soft skills such as improving leadership or communication, though more companies are considering it. Instead, it's a conduit to developing physical skills like repairing a piece of equipment or learning the most effective way to stack boxes in a warehouse.
For example, Los Angeles-based Farmers Insurance has been using virtual reality to help teach claims adjusters what to look for as they move through a home. It also has model homes that serve the same purpose. During the pandemic, it started sending out more headsets because trainees couldn't travel to the model homes.
"The technology allowed us to continue our commitment to a hands-on training experience," says Jessica Decanio, head of claims training for Farmers. Decanio adds that trainees using the headsets generally learned more quickly than those who didn't.
UPS has a specific way it expects its drivers to load, unload, and drive its vehicles, and virtual reality has made it much easier to discern who is following those instructions. The headset allows instructors to observe trainees' eye and head movements. Instructors will also learn if a student is having a particular challenge in a certain area where more practice may be needed. The headset allows trainees to repeatedly perform tasks until they're more comfortable.
"Repetitions improve quality," says Andrew Hafford, UPS's U.S. Operations Training XR Developer based in Gilbert, Arizona. "Trainees have double the on-road experience they would have had. It maximizes the ability to be safe on the road."
Indelible Impressions
Virtual reality's ability to let individuals practice has helped make John Jordan a fan of the technology. "They [trainees] can practice as much as they want all by themselves," says Jordan, head of Bank of America's internal onboarding, education, and professional development organization, The Academy.
Bank of America stands out from other users of virtual reality because it's leveraging the technology to help teach management skills to those overseeing bank branches. It started the pilot program about two years ago but escalated development during the pandemic.
"The immersive situation is so much more memorable," Jordan says. "You are shown the angry customer. You can feel the discomfort."
In one instance, there's a scenario which shows two tellers making mistakes, and trainees are prompted to spot the errors and decide whether corrective action is immediately warranted. In a later module, trainees are given potential scenarios for addressing the teller's miscues, and then are told whether the approach they selected was correct or why it was wrong. It also gives trainees the chance to have a conversation with the tellers that can be reviewed later by both the candidate and the instructor.
"All of this is geared to helping them practice difficult things," Jordan says. "Never before have I had people say to me, 'I can't wait to do this training.'"
Theresa Agovino is the workplace editor for SHRM.
© 2022 SHRM. This article is reprinted from SHRM.org with permission from SHRM. All rights reserved.