Book Review: Active Shooter Response Training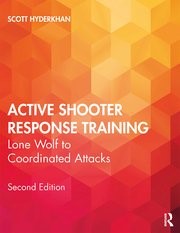 Active Shooter Response Training: Lone Wolf to Coordinated Attacks, 2nd Edition. By Scott Hyderkhan. Routledge; Routledge.com; 244 pages; $69.95.
The second edition of Active Shooter Response Training: Lone Wolf to Coordinated Attack takes all of the information provided in its first release and provides law enforcement agencies, private security teams, security professionals, training organizations, police leaders, and corporate security leaders with expanded information about training for active shooter response.
Active shooter situations are unpredictable and evolve quickly. In many active shooter events, a law enforcement response is required to stop the shooting and mitigate harm to victims. However, active shooter events are often over within minutes, sometimes before law enforcement arrives on the scene. In these events, private security teams have played active roles in the response to major incidents, and the successful prevention of an active shooter event lies with a wide range of public and private entities working and preparing together.
This manual runs the security professional—law enforcement and private security alike—through preparation, response, and individual and team tactics based on proven military training doctrines. The author, Scott Hyderkhan, and a collective of other expert contributors not only cover active shooter response but provide valued training information from risk analysis, logistic planning, medical care and evacuation, and post-incident investigation.
This manual offers more than just what's available between its covers. This book includes (for a fee) a collection of more than 20 companion training videos online. The video training takes the contents of the manual and provides the reader a "Tell, Show, and Do" format of instructional videos.
The manual draws out various scenarios applied to varying environments, outlines multiple options based on team size and response availability, and highlights the vital safety considerations that any professional needs to constantly consider with respect to active assailant events.
This manual is a good training resource to have on hand for law enforcement and security agencies, departments, and leadership.
Reviewer: Michael White, CPP, CRM (Certified Risk Manager), is the founder, president, and principal consultant of the Michael White Group International, where he uses his expertise in forensic security, risk management, and emergency management to assist private organizations, government entities and high-profile public figures in mitigating risk. White is an active member of the ASIS Physical Security Community Steering Committee and has contributed to ASIS standards and guidelines.