Marketplace: Mass Transit Surveillance, Intercoms, and More
What new security solutions have entered the market this month? Security Management collected a selection of new or updated solutions that you should be aware of.
Transit Bus Recording Platform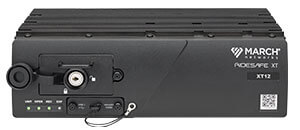 March Networks unveiled its new RideSafe XT IP NVR, a purpose-built transit bus recording platform. Buses are often equipped with legacy recorders and standard motion-sensor timers, which are powered by the bus battery and are slow to initialize and record unusual activity. The RideSafe XT solution delivers a sleep mode capability enabled by artificial intelligence (AI), switching to low-power mode and recording directly to the NVR's SD card. This can help transit agencies mitigate the risk of damage with around-the-clock coverage. Learn more at www.marchnetworks.com.
Interactive Security Operations Centers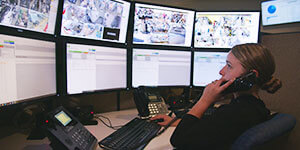 Interface Systems expanded its offerings by integrating the i3 International cloud-based video management and analytics platform into Interface's interactive security operations centers (iSOCs). Now, iSOCs can leverage real-time surveillance feeds or access recorded footage, enabling operators to search for footage, gather video evidence, verify alarm events, and provide security escorts when customer store locations open and close. The integration also enables iSOC staff to access microphones and speakers deployed at customer sites to hear and speak to associates. Learn more at https://interfacesystems.com/.


PoE Two-Door Controller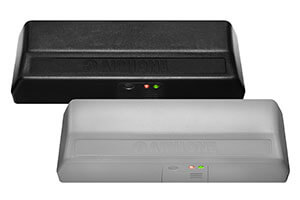 Aiphone introduced a new power over ethernet (PoE) two-door controller to its AC Series access control portfolio. The new AC-2DM-B controls and unlocks the door it is mounted near, including another door within 500 feet. It can store up to 100,000 user credentials locally and up to 50,000 events. To enhance security, an integrated infrared motion sensor can be used to allow immediate egress, and an onboard LCD status screen shows users if access is granted (green) or denied (red). Learn more at www.aiphone.com.
Door Entry Intercom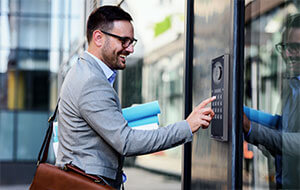 Zenitel launched two new door entry intercoms: the Turbine Extended Intercoms TEIV1+ and TEIV4+. The TEIV1+ simplifies a visitor's experience with PIN-based access control and easy-to-use scroll and direct call functions. The TEIV4+ is designed to provide convenient access with a card reader of the user's choice, and the device can house leading access control card readers like HID and Elatec. Learn more at www.zenitel.com.
Forensic Search and Alert Platform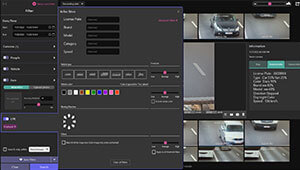 i-PRO Co., Ltd., upgraded its data-driven forensic search and alert platform Active Guard with support for Vaxtor automatic license plate recognition (ALPR) and make, model, and color (MMC) vehicle identification. The Vaxtor software runs on the edge when installed within i-PRO AI-enabled cameras, and Active Guard v1.7 delivers ALPR and MMC data, together with other AI-based attributes, into popular video management systems, providing a single, unified experience for operators, enabling them to spend less time searching through footage for important events. Learn more at i-pro.com.
Timeclock Integration

Iris ID announced Iris ID IrisTime Management Service (iTMS) Cloud, which is designed to automate integration between time clocks and human resources management systems (HRMS). When paired with the IrisTime iT100 Time Clock, the solution provides users with an iris and face fusion solution for capturing employee data. This system helps reduce costs and eliminate human errors when employees are punching in or doing related tasks such as entering job transfers or hours worked. The solution can be especially useful for small and mid-sized companies that do not have the bandwidth to manually monitor and analyze employee records. Learn more at www.irisid.com.
RFID Tracking for Textiles

HID introduced three new tag models in its LinTRAK RAIN RFID ultra-high frequency (UHF) family for linen management in hospitality, healthcare, and other commercial industries. The tags offer compactness and reliance, providing an unobtrusive option to blend into linen items without compromising their robustness. Two of the options—LinTRAK C10S and C15S—are MR-conditional and suitable for use in medical environments. Patients with LinTRAK-tagged linen or gowns can safely undergo MRI scans. Learn more at www.hidglobal.com.
Multiviewer Solution
RGB Spectrum released new features for its QuadView IPX and SuperView IPX multiviewers, which consolidate diverse data sources onto a single screen to enhance situational awareness and improve workflow efficiency. The QuadView model is a high-performance 4K multiviewer that enables users to display up to four video signals in customizable layouts on a single screen. The SuperView can display up to seven video signals on a single screen. Learn more at rgb.com.
Security Site Planning Web Tool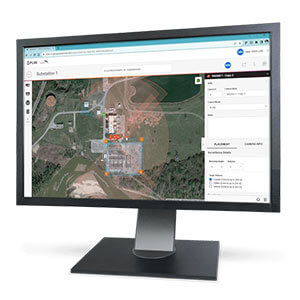 Teledyne FLIR introduced an enhanced version of its professional security site planning Web tool, Raven. The new system includes real-time collaboration capabilities between Raven users, as well as a suite of controls to simulate mounting height, rotation, range, and image detection to enable accurate placement and performance of hardware in real-world conditions. Using satellite imagery via Google Maps, Raven lets users place any number of FLIR cameras in highly accurate, coordinate-controlled locations. Learn more at www.flir.com.