Book Review: Code Black: 50 Lessons in Crisis Management for Effective Leadership
Code Black: 50 Lessons in Crisis Management for Effective Leadership. By Glenn C. Schoen. Independently published; 160 pages; $19.99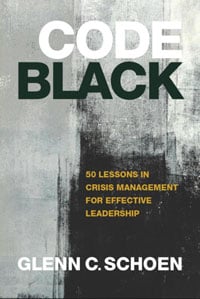 Code Black: 50 Lessons in Crisis Management for Effective Leadership could not have been published at a better time. It discusses fundamentals of crisis management, security management, risk management, and how businesses and government agencies deal with conflict in today's turbulent times. Author Glenn Schoen highlights various topics, including the COVID-19 pandemic's effect on society, individuals' perception of security and safety, employees' sense of workplace safety, economics, and the supply chain crisis.
The book includes lessons learned, pictures, and graphs to illustrate and enhance Schoen's writings.
"It is important to keep a crisis's characteristics in mind as every organization facing one is likely to have to deal with them in some fashion," Schoen writes. "Comprehending, accepting, and preparing for this larger seven-point context is the first key to successful crisis management." This is an underlying factor in any organization's emergency management plan and one that cannot be discussed enough. Schoen explains that the emergency planning process needs to be at an organization's core.
Whether crises are manmade or because of natural disasters, they are occurring more frequently and with greater intensity, straining resources and challenging community and organizational resilience. How does society plan for and alleviate risks and hazards and manage the response and recovery efforts when an emergency or disaster strikes? There is not an easy answer to this puzzling question. Schoen suggests that crises have seven characteristics, each offering a context for managing them. He goes on to explain how these characteristics lay the foundation to manage a crisis.
Preparing for the inevitable in government, business, and industry is an essential part of crisis management and business continuity. Schoen provides examples that allow the reader to think about how to prepare for the unexpected and how small problems can escalate in a hurry.
"Prepare for crises in any risk category rather than just focusing on priorities," Schoen adds. "You never know what, in the end, is the thing that will come to bite you, which is why it may become a crisis in the first place."
Reviewer: Kevin Cassidy is a professor in the security, fire, and emergency management department at John Jay College. He also lectures at Slippery Rock University in Slippery Rock, Pennsylvania.