How Large Unrest Events Can Distract You: A Guide on Wading Through the Noise
January 6, 2021, saw one of the most shocking political riots in American history and a large amount of the world turned their eyes to the United States to watch as the events unfolded. For samdesk, this was also the largest group of riot related events we had ever alerted on in a single day for a single location.
Over the span of just a few hours, more than 12,500 relevant posts, in the form of social media chatter, official briefs, and news articles were grouped by Samdesk within 14 major crisis alerts. On top of this, more than a dozen other crisis incidents not directly related to the riots, including shootings, stabbings, explosions and evacuations were alerted to clients in relation to the DC area and U.S. government buildings.
What else happened on January 6, 2021
Did you know that someone was stabbed at the Trump hotel in Washington that same day? Or that an explosion occurred in Mount Vernon Square, shortly after 6 p.m. in DC? How do you wade through 12,500+ social media posts and news articles to find and separate such events? How can you quickly determine what is an accurate claim or just hearsay within that chatter?
With so much content getting shared in such a short frame of time, it can be easy to lose sight of emerging critical events that may arise within the same time frame. Emergencies shouldn't take a back seat, or become accidentally overlooked because another critical incident is unfolding. Using traditional reporting and social crawling methods is challenging at the best of times, but trying to discover a crisis outside of that one loud event becomes nearly impossible.
We've broken down the timeline of events that unfolded on January 6, 2021, exploring the riot-related alerts alongside the other local emergencies that happened in tandem that day.
The timeline of events during the US Capitol Riots
1:17 p.m. (EST)
Samdesk first alerted clients to the unfolding situation within 6 minutes of a suspicious package being found near the Capitol. This suspicious package triggered an evacuation of two buildings (Madison building and Cannon building) in the Capitol Hill area, which would later be tied to the riots.
3:18 p.m. (EST)
Over the next two hours, angry protests turned into violent chaos, as a mob of people broke through barriers and charged into the Capitol building. Shortly after 3 p.m. (EST) Samdesk picked up reports of a woman being shot inside the House Chamber.

3:19 p.m. (EST)
The situation quickly escalated with an armed standoff between rioters and police. The Samdesk platform picked up the weapon threat as a barricade was created within the chamber and police attempted to prevent the rioters from entering.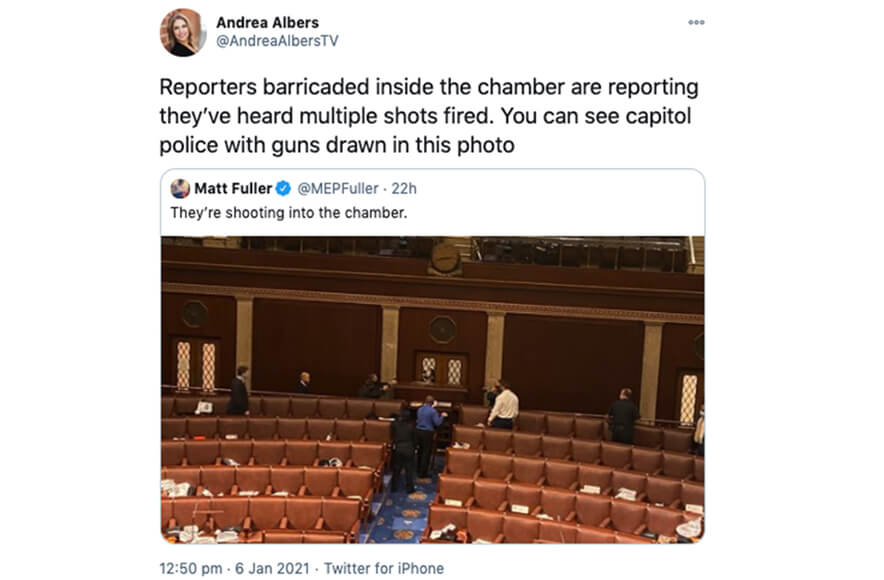 3:50pm-4:15 p.m. (EST)
Just a few blocks away from the riots at Capitol Hill, two evacuations took place at government buildings due to bomb scares. The Samdesk platform was able to detect the two events and classify them correctly as separate events, even though they were strikingly similar and happened within minutes of each other.
Samdesk's artificial intelligence eases the challenge of manually sifting through the different events happening around Washington, DC, and provides users with a clearer line of sight of exactly what is happening, and where.

4:08 p.m. (EST)
At the same time as these evacuations were taking place, the National Guard was deployed and Samdesk alerted the troops en route to Capitol Hill.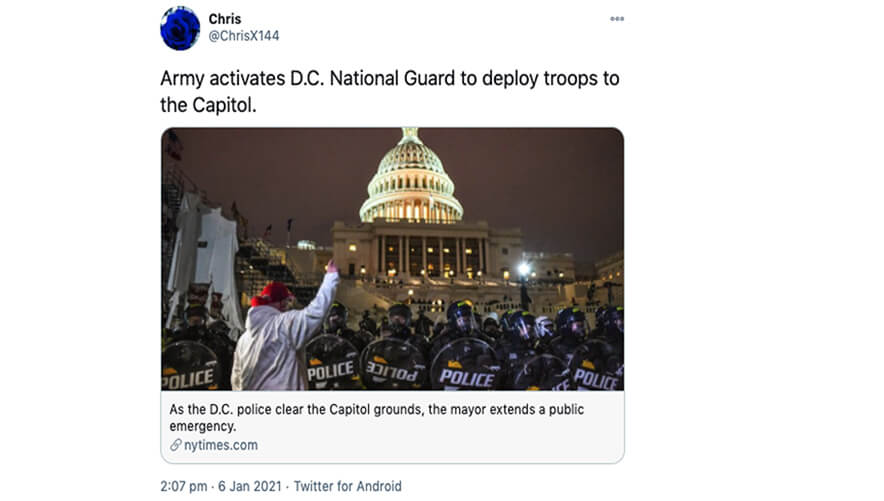 6:22-6:59 p.m. (EST)
While almost all the media coverage was focused on the U.S. Capitol riot, samdesk alerted clients to seven other capitol building lockdowns across the country and two other disruptive events within the DC area: a stabbing at a Trump Hotel, and an explosion in Mount Vernon Square. Both these DC-based events were triggered solely by social media chatter as opposed to official sources or media. This means that even if someone was following minute-by-minute mainstream breaking news, they may have missed these two events entirely.
16:22 Stabbing at Trump Hotel in Washington

How AI-powered crisis alerts can help you
Discovering all of these emergencies with manual methods would have been like finding a needle in a haystack, as many US news outlets didn't rereport on these final two events until after 8 p.m. (local time). This resulted in over an hour of crucial time lost before most people were even aware of what was going on.
By providing grouped alerts, including all relevant social posts and news articles, the samdesk platform ensures that our customers don't have to manually crawl through social media or continue to hit refresh on news sites. The speed of our alerts empowers our users to make quick decisions when it matters most, and our user-friendly platform allows our clients to monitor unfolding events with ease and corroborate crucial information within minutes of receiving the alert.