A Society of Belonging: An Interview with Malcolm Smith, CPP
Malcolm Smith, CPP, started his security education early. When he was 12 years old, living in a neighborhood south of Johannesburg, South Africa, he learned how to assess risk to navigate between rival gang territories to run his business selling apples and peanuts at the local movie theater. In 1983, he joined the military and spent 18 years serving before pursuing his diploma in security risk management to become a private security professional in the early 2000s.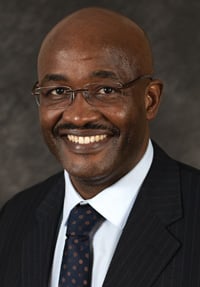 Smith credits his CPP certification for getting his foot in the door as a corporate security practitioner. The first questions the recruitment consultant asked him were if he knew ASIS, if he was a member, and if he was certified, Smith recalls. From that point on, Smith has been climbing the corporate security ladder across enterprises and regions. He currently works as head of risk management for the Qatar Museum Authority in Doha, Qatar, and he will take his seat as the new president of the ASIS Global Board of Directors in January 2022.
This interview has been edited and condensed for clarity.
What sort of value has your membership and your CPP brought to you since you got that first corporate security role?
MS. I can give so many examples, but if I take one—just being able to tap into members is invaluable. When I was then the group head of safety and security for Nedbank, one of the four biggest banks in South Africa, the bank would send a group of top performers somewhere across the globe every year, spend a week just spoiling them, and we would have to conduct a risk assessment of the countries that they would visit.
One year, they were doing four countries at once, and I'm thinking I'll have to send my team to conduct risk assessments of each country within a limited time. Well, I got the ASIS directory, went to the countries I needed and found two to three security directors, and I emailed them all at once to ask for help. The response was immediate.
We established the threat environment in those countries and discussed issues, and that's how I compiled the risk reports for the events team. We made an informed decision; they deployed the 150 top performers to those countries, they had great fun, and they returned without any incident.
That time I had the directory, but the great thing about ASIS is now we have Subject Area Communities and ASIS Connects, so I can establish people's credibility quickly and connect with them right away. They are always willing to help. I've never had anyone say, "Excusez moi, I cannot help."
Your career has taken quite a track across many different countries, but at its root you are going to be the first ASIS international president from Africa. What does that mean to you and to the ASIS membership?
MS. I'm really humbled and honored to be elected by the board and the membership to sit as their president in 2022. To me it means a lot—I've been the first of many things in my career, but this is the pinnacle of being the first.
Now it brings also big responsibility, because I believe I need to showcase that ASIS has really made a difference when it comes to diversity, equity, and inclusion (DE&I). The journey that ASIS has walked so far when it comes to DE&I, it's now visible. I have traveled to more than 50, 60 countries on business; in Africa alone, I have 33 countries as my responsibility, and as global head, I had more. And I've seen how, as an African, you can make a difference.
In terms of being included as a volunteer leader, it started in 2011 or 2012 when I got an invitation to join the international strategic planning committee.
Invitation creates inclusion. I was invited to contribute. Then, when Dave Davis, CPP, called me into a room and said, "You know what, Malcolm, why don't you consider joining the board? Your input around the table makes a difference from an Africa perspective. ASIS is thinking global, and we need these kinds of voices around the table."
Since 2017, I have been sitting on the board, bringing that global—and also African—perspective to the table. I'm very proud of it, too.
Where else are you seeing DE&I being advanced within ASIS and where do you see room for improvement?
MS. In 2022, we're implementing regional boards for two regions, North America and Europe. The four others (Latin America, Middle East, Asia, Sub-Saharan Africa) are currently named as regional advisory committees, and there's a challenge there to bring them up to regional board status. I'm looking, of course, at leadership development for ASIS members.
We now have our mentorship program, and this is now key for developing leaders for the future. Regional advisory committees need a strong leadership pipeline to govern and drive those committees and get them ready to be boards. Maybe it will take three to five years, and this is where that same invite needs to go out: "We want you around the table."
Are you participating in the ASIS mentorship program?
MS. I personally am a mentor to two people. I'm still looking to become a mentee to someone because it's really a two-way street here.
One of my mentees is in Mozambique. We had our first call and I asked him afterward what value he derived from the conversation.
He said, "Malcolm, you know what? I have now seen what direction I need to take to further my career in corporate security." He just left the military as a colonel about a year ago, he got his first job, but he's not happy in the role. He needs to expand, and we have had that conversation. I told him how I got to where I am today and shared some advice. And for him, he walked away with some immediate value.
This notion that mentors are always the old, experienced kind of individual, that's not true. Mentorship is who you can learn from. I can learn from anyone, it does not necessarily need to be someone that's older and more experienced. Of course, you can choose many mentors for the different areas that you would like to upskill or to learn more and to grow—but that's the beauty of mentorship. You don't need to have just one mentor.
In 2020, associations worldwide were hard hit by the COVID-19 pandemic and its resulting challenges. What will your approach be to making ASIS financially stable, while still pursuing new opportunities?
MS. Wow, I'm telling you 2020 was one heck of a year, but in 2021, we became fit. As an organization, ASIS has become resilient. We have gone through so much since March 2020, when COVID-19 really hit and we had to rethink the way we do business. We had to innovate. We had to have more empathy. We've learned a lot.
When it comes to the financial state, we had to tap into our reserves, but we also looked for efficiencies. We looked at how to do business differently. We looked for other opportunities, how we can reshuffle our portfolio. It's all about virtual learning, virtual content, and we really changed some gears to ensure that the society exists for the next 60-plus years.
Now that brings us, and specifically me, to look at what I see as two keys for success that I would like to see accomplished in the long run.
First, I see the society back with a healthy balance sheet, taking 2019 as our baseline. We will continue what we're doing, but we fine-tune the way we integrate our strategy and our risk management—particularly around board governance and oversight, managing financial risk, liquidity risk in the credit market, reputational risk, and human risk.
The second thing is to see that we are a society of belonging. This is what really makes a difference and will feed into the financial risk management side. When we have inclusive leaders across the board—from the global board to local volunteers—there is value that members derive from being invited to participate. It's all about relationships, it's all about engagement, it's all about really getting and strengthening our collaborative leadership, because ultimately that will retain members.
That's why I'm still here—I've been retained through a sense of belonging. I felt that this is where I belong. If we have that, then you see membership growth because more people get invited, share their voices, are allowed to do more, and be in their own uniqueness while collectively we deliver on our purpose as a security profession.
What lies ahead for security as a profession, and how can ASIS help security advance worldwide?
MS. We've always been seen as advancing purely physical security. But in the ASIS mission statement, we say we advance the security profession as a whole, meaning cybersecurity and physical security. About 10 or 12 years ago we really looked at convergence, and then we dropped the ball there. But it is clear that there's consolidation.
We can now see positions where the company wants a CSO who oversees physical, as well as logical security. I've also seen roles where physical security professionals are reporting into a CISO. The two are so blurred—cyber and physical security—that they have merged, and we are now taking the step to showcase that when we say ASIS is advancing the profession, it means advancing both.
Claire Meyer is managing editor of Security Management. Connect with her on LinkedIn or email her at [email protected].