ASIS News, January/February 2022
Meet Your 2022 ASIS Leadership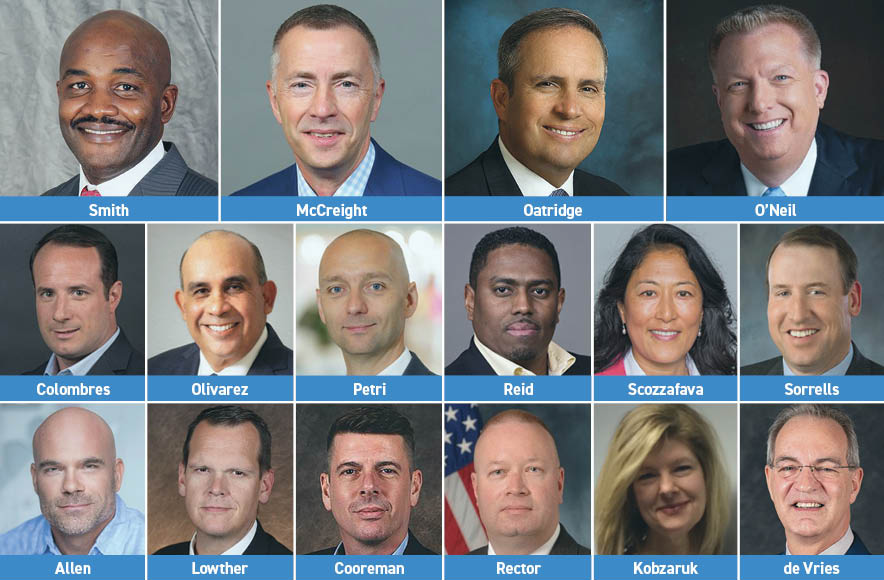 As the calendar flips to 2022, ASIS welcomes a new collection of security leaders to its global leadership structure. In addition to seating new appointments to its global board, this year ASIS has also seated its first-ever regional boards of directors in North America and Europe.
In 2022, Malcolm C. Smith, CPP, of Qatar rises to the role of president, while Timothy M. McCreight, CPP, of Canada assumes the role of president-elect and Cy A. Oatridge, CPP, of the United States rises from his role as ex-officio director to serve as secretary and treasurer on the Global Board Executive Committee.
Learn more about the members of the executive committee:
President
Malcolm C. Smith, CPP
Head of Risk Management, QM Authority
Smith is a South African citizen with more than 30 years of international working experience in security and risk management. He has held several senior management roles in the public and private sectors. An ASIS member since 2004, he has been a regional volunteer leader within ASIS for more than a decade.
Learn more about Smith, his career, and his priorities for ASIS and the security profession in his in-depth interview with Security Management online at asisonline.org/MalcolmSmith2022.
President-Elect
Timothy M. McCreight, CPP
Managing Director—Enterprise Security, Canadian Pacific Railway
An ASIS member since 2001, McCreight has served in recent years as the global sponsor for enterprise security risk management (ESRM) and digital transformation within the association. With more than 35 years of experience in the security industry, McCreight is recognized as one of North America's leading ESRM evangelists.
Secretary/Treasurer
Cy A. Oatridge, CPP
CEO, Oatridge Security Group
Oatridge has been an ASIS member since 1994, and in 2019 he served as president of the ASIS Foundation Board of Trustees. With more than 25 years of security management experience, he started his own protective service company in 2003.
Chief Executive Officer
Peter J. O'Neil, CAE, FASAE
CEO, ASIS International
O'Neil assumed the position of CEO of ASIS International in January 2016. Prior to joining ASIS, O'Neil served as CEO of the American Industrial Hygiene Association. He has served in several executive volunteer leadership positions during the past 10 years with the U.S. Chamber of Commerce and various association management organizations. He is an author and frequent presenter, facilitator, and speaker at conference events. 
Continuing as at-large directors from the 2021 global board are Pablo Colombres, CPP, of Brazil; Joe M. Olivarez, Jr., of the United States; Axel Petri of Germany; M. Brian Reid, CPP, of the United States; Chiko Scozzafava of the United States; and Eddie Sorrells, CPP, PCI, PSP, of the United States. Also serving on the global board in 2022 are ex-officio representatives from ASIS volunteer groups:
Brian J. Allen, CPP, of the United States, representing the ASIS Foundation Board of Trustees (voting member).
Scott A. Lowther, CPP, PCI, of Canada, representing the CSO Center Board (voting member).
Werner J. Cooreman, CPP, PSP, of Belgium, representing the Professional Standards Board (non-voting member).
Joseph Lee Rector, CPP, PCI, PSP, of the United States, representing the Professional Certification Board (non-voting member).
New to the Global Board in 2022 are Donna M. Kobzaruk and Erik de Vries, CPP, PSP—the chairs of ASIS's first Regional Boards of Directors.
North American Regional Board of Directors
Chair: Donna M. Kobzaruk, USA
Vice Chair: Mark J. Folmer, CPP, Canada
Secretary/Treasurer: Craig S. Russell, CPP, USA
Maria G. Dominguez, CPP, USA
Richard L. Duncan, CPP, USA
Marti Katsiaras, PSP, Canada
Rachelle Loyear, USA
Loye A. Manning, CPP, PSP, USA
Leonard Moss, Jr., CPP, USA
Susan E. Munn, CPP, Canada
Jason M. Sikora, CPP, USA
Jeffrey A. Slotnick, CPP, PSP, USA
European Regional Board of Directors
Chair: Erik de Vries, CPP, PSP, The Netherlands
Vice Chair: Stephanie M. Bergouignan, CPP, France
Secretary/Treasurer: Torsten Wolf, CPP, Switzerland
Christina Alexander Alexandropoulou, Greece
Samuele Caruso, CPP, Italy
Radek Havlis, CPP, Czech Republic
Glenn Cornelis Schoen, The Netherlands
Andrew Williams, CPP, UK
The seating of new North American and European Regional Boards of Directors is the next major step in the association's transition to a global governance structure that allows ASIS to better serve its members at the local, regional, and global levels.
The members of the new regional boards were selected in two stages: half of each regional board's members were appointed by the global board, and the other half submitted their candidacy and were selected by a nominating committee composed of the 2021 ASIS Global Board Nominating Committee and select volunteers from each region. These volunteers will form full Regional Board Nominating Committees for their regions beginning in 2022.
Global Board of Directors Nominating Committee
Chair: Godfried Hendriks, CPP
Pablo Colombres, CPP
Werner J. Cooreman, CPP, PSP
Melissa A. Mack, CPP
North American Nominating Committee
Jason Caissie, CPP, PCI, PSP
Lisa Pryse Terry, CPP
Robert E. Johnson, Jr., CPP
European Nominating Committee
Eric Davoine, CPP
Russell Penny, CPP
Feride Yildirim, CPP
In 2023 and beyond, ASIS will establish regional boards to support members in every region around the globe. When fully implemented, each regional board will assume a seat on the global board.
To learn more about ASIS global governance and the Global Board appointment process, visit asisonline.org/GlobalGovernance.
All ASIS Webinars Now Free to Members
ASIS International's industry-leading educational offerings—developed by security professionals for security professionals—are relevant to the work ASIS members perform every day. That's why ASIS is happy to share that, new in 2022, all ASIS webinars are available to members free of charge.
With content delivered by security experts with proven expertise in their field, webinars allow attendees to build their security knowledge and earn CPEs throughout the year. Conducted live and available on-demand afterward, webinars span a range of topics—including enterprise security risk management (ESRM), physical and operational security, information security, the integration and convergence of physical and cybersecurity, and more.
This new change to webinars demonstrates ASIS's commitment to enhancing the value of an ASIS membership. Beyond webinars, members can also strengthen their security practice with free digital access to all ASIS Standards & Guidelines—including the recently released Workplace Violence Prevention & Intervention Standard, the Enterprise Security Risk Management Guideline, the Information Asset Protection Guideline, and the Business Continuity Management Guideline.
To view the ASIS webinar catalog, visit asisonline.org/webinars. To learn more about ASIS Standards & Guidelines, visit asisonline.org/standards.
Young Professionals Corner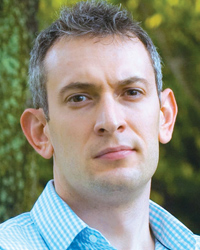 In this issue, ASIS checks in with Young Professionals Community Content Creation Steering Committee member Justin Laden.
"Emerging and young security professionals can help experienced professionals stay on the cutting edge of new and developing products and technologies that will radically alter the security field in the coming years," he says. "Additionally, young professionals can also assist with disruptive and developing trends that may have an outsized impact relative to their current profile, especially those that relate to social media and technology."
ASIS Europe 2022: A Meeting of Minds
ASIS Europe–From Risk to Resilience is renowned for two key elements: experts on the stage and a vast pool of expertise in the audience. In 2022, we will bring these elements closer together than before for an unmissable in-person event in Prague on 22–24 May, with supplementary online events taking place 28 April and 12 May. Learn more about ASIS Europe and registration options at asiseurope.org.