Book Review: Handbook of Loss Prevention and Crime Prevention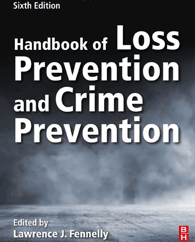 Handbook of Loss Prevention and Crime Prevention, 6th Edition. Edited by Lawrence J. Fennelly. Butterworth-Heinemann; Elsevier.com; 544 pages; $94.95.
A comprehensive and up-to-date resource for security professionals, the sixth edition of Handbook of Loss Prevention and Crime Prevention draws on the expertise of more than 25 prominent contributors for its 44 diverse chapters. Among the important topics covered are physical security measures, crime prevention, threat and vulnerability assessments, audit reports, active shooters, school security, information security, and workplace violence.
The final chapter, "Ten Risk Factors," synthesizes the handbook's information in terms of how to ensure the effectiveness of a facility's security operation, including the importance of security policies and procedures, protecting against identity theft, safeguarding passwords, the impact of law enforcement–focused intervention on crime rates in local communities, and the role of design instruments against crime in target hardening, reducing the payoff, and environmental management.
Regarding future trends, the authors see the increasing use of security technologies such as robots, biometric scanners, and the application of the enterprise security risk management (ESRM) approach, which "ties an organization's security practices to its mission and goals using globally established and accepted risk management principles."
This book is highly recommended as an authoritative reference for corporate security managers and as a textbook for courses on these subjects. Readers will find it to be a trusted resource to help make sense of today's most pressing domestic and international security issues.
Reviewer: Joshua Sinai is a professor of Practice, Counterterrorism Studies at Capitol Technology University. He is an adjunct faculty at Southern New Hampshire University's Criminal Justice Department, where he teaches a distance learning course on global terrorism. Sinai also serves as a consultant to TorchStone Global, a firm that provides security consultation to corporate and family clients. He is a member of ASIS.