Book Review: Business Continuity Planning: Increasing Workplace Resilience to Disasters
Business Continuity Planning: Increasing Workplace Resilience to Disasters. By Brenda D. Phillips and Mark Landahl. Butterworth-Heinemann; Elsevier.com; 194 pages; $68.00.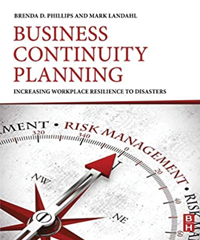 Businesses are faced with a myriad of evolving threats from natural, civil, or technological disasters. They can do one of three things with the threat: accept it, mitigate it, or transfer it. Business Continuity Planning: Increasing Workplace Resilience to Disasters provides readers with a structured framework on how to ensure that chaos caused by a disaster does not become a crisis. It is suitable for every organization—from a home-based business to a Fortune 100 company.
This book goes into amazing levels of detail about emergency response and mitigation, as well as essential tools and resources needed for business continuity planning. Restoration of services, system interdependencies, and maximum tolerable downtime are often omitted from discussions regarding business continuity, but the authors provide a well-considered explanation of displacement management.
During planning, business continuity leaders should address as many scenarios as they can think of. It is very unlikely that most businesses planned for a pandemic coupled with lockdowns and quarantine mandates. Meanwhile, riots and civil unrest occurred in many parts of the United States, causing further disruption. If nothing else, 2020 was a spectacular test of business continuity plans and provided good cause to rewrite them. Business Continuity Planning offers a roadmap to do so.
The book follows an all-hazards business continuity planning approach. This means preparing an organization for any disaster scenarios that may occur, from the most minor to a major catastrophe. The authors explain at length how good business continuity plans need to be in place for the loss of any dependencies that could test whether your organization is ready to respond to an incident.
Business Continuity Planning is a foundational read for any individual tasked with the preservation of life, property, and business operations. The book serves as a core curriculum for entry to mid-range emergency and business continuity managers.
Reviewer: Joseph Sordi is senior vice president at Strategic Security Corp. He has held roles as vice president of operations, general manager, and program manager, overseeing 17 federal government contracts and spearheading a large contingency operation of private sector integrated security solutions. He is a 20-year veteran of the New York Police Department.