Book Review: U.S. Emergency Management in the 21st Century
Edited by Claire B. Rubin and Susan L. Cutter. Routledge; Routledge.com; 290 pages; $44.95.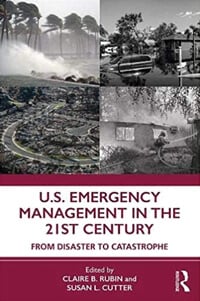 Superstorms have impacted populated areas more frequently since 2000 than in previous recorded periods. U.S. Emergency Management in the 21st Century provides an in-depth review of recent hurricanes, tornadoes, and wildfires in the context of larger analysis of policy and population. While not specifically dissecting the issues of global warming, the book provides revealing data on how changing weather patterns and population growth have affected the severity of storms and their impact on people and property.

Editors Claire B. Rubin and Susan L. Cutter collectively have 75 years of experience in emergency and disaster management. They discuss how policy changes have affected disaster response and expectations for future policy, preparedness, and planning. Contributing authors offer first-person perspectives along with extensive data about the response efforts to each referenced disaster and the lessons learned.

This book is well-researched and includes data from news reports and interviews. It is useful for the new practitioner in the emergency management field, as well as individuals looking to round out their skills. For example, an expert in response operations can learn more about policy and funding programs and their use in recovery operations.

The book goes into detail about policies affecting response efforts and grant applications, as well as the political influences on those efforts. Because it includes research on Hurricane Sandy's impact on New York City and analysis of Midwestern tornadoes, the book provides a perspective on a large urban response effort compared to responses in rural areas. Using events from 2010 to 2019 as examples, the authors and contributors explore the future of disaster recovery and community resilience.

Reviewer: Bill Scott, CPP, PgMP (Program Management Professional), PMP (Project Management Professional), is senior director with ABS Group, focusing on security and emergency response operations planning. He is former chair of the ASIS Global Terrorism, Political Instability, and International Crime Council and served on the ASIS Workplace Violence Prevention Standard committee.