Certification Profile: Alejandro Pulido, CPP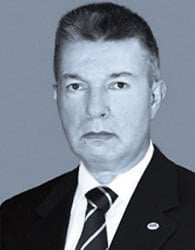 A military retiree, Alejandro Pulido wanted to transfer his experience in public security to private and/or nonprofit environments—so he joined ASIS International in 2015. He soon realized the benefit of attaining a certification to affirm his skills and decided to pursue ASIS's Certified Protection Professional (CPP®) certification in January 2019.
"I did not participate in any formal study group or take any online preparation course," Pulido notes. "I prepared by myself at home during the COVID-19 pandemic, successfully passing the exam in September 2020."
In preparing to take the exam, Pulido consulted the Protection of Assets (POA) reference set. He also studied ASIS standards and guidelines, which are freely accessible to ASIS members.
"The POA books were a great tool in studying for the CPP certification, as they contain the core knowledge of a security professional," he says. "I made diagrams and charts for every POA volume and standard—filling 80 notebook pages with symbols and definitions, summarizing eight POA volumes, 10 standards, and seven guidelines."
He followed a rigorous study schedule—committing the material to memory for three hours every weekday, with a 10-minute break each hour. He also counted on physical exercise to offset the stress of adding studies on top of a full-time workload.
"If you walk, run, hike, bike, swim, or practice any sport during your study, you will feel your mind clear and eager to learn more," he explains, "not to mention the benefits for your body, as well."
Pulido hopes that the story of his pathway to the CPP can help and encourage other security professionals who want to become certified to be confident in their abilities and to take the leap.
"By the time I finished my preparation, I had a great dictionary of security language I can consult anytime," he adds. "I feel proud of myself—of being an ASIS member and to have earned the CPP. As soon as I updated my profile on LinkedIn and my résumé, I became more noticeable. Armed with the gold standard in security certification, I believe I am ready to take the next leap in my career."
Profile by Steven Barnett, ASIS Communications Specialist