Certification Profile: Jason Hamm, CPP
Jason Hamm got into security management through the front lines—starting as a bouncer at nightclubs in Baltimore after graduating high school, then moving on to concert venues.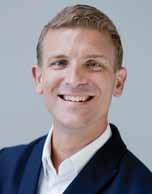 "I was a student of security, and really wanted to learn and get better," he reflects. Dedicated to self-improvement, he worked his way into a supervisory role at a Washington, D.C., concert venue, before earning the opportunity to serve as the inaugural director of security for a new 6,000-person indoor venue in 2017.
When looking for a way to accelerate his professional growth, Hamm's father directed him to ASIS International. "My dad transitioned to a security role in the Middle East after he retired from the U.S. Navy, and he remembered ASIS from his transition—suggesting I look into it," Hamm shares.
A U.S. Department of Homeland Security protective security advisor described his Certified Protection Professional (CPP®) certification and how it was important for him to have that credential in his current role. While Hamm found that he did not have the years of experience required to sit for the CPP exam, he was able to sit for the Associate Protection Professional (APP) exam—ASIS International's early career credential.
He pursued the APP and, consulting with the Protection of Assets (POA) reference material, he successfully passed the exam in February 2019.
"The time I took reading the POA was honestly so much more enjoyable than any college class I had taken," he says. "The material was directly relevant to the things I was doing in my job. There were many times that I would immediately put something I had read into practice the very next day with my staff. Also, earning an internationally recognized certification helped me prove that I know my security."
Hamm was able to leverage his APP certification into a new role overseeing the 24/7 security operations and gameday security staff for a 65,000-person stadium in Glendale, Arizona.
"I was asked about my APP in the interview and they were impressed that I had accomplished that feat," he shares. "I immediately applied to and registered for the CPP exam so that, once I had the required experience, I could sit for that exam as well."
When Hamm's position was impacted by the global COVID-19 pandemic, he used his time to graduate from the APP to the CPP—setting a date for the test and beginning to study. Taking advantage of the POA reference materials and the new CPP Study Manual, he successfully passed the CPP exam in September 2020. Hamm is one of 19 individuals who have made the transition from APP to CPP.
With the gold standard of security certifications behind him and his options open, Hamm looks forward to continuing his journey of professional growth.
"What I love most about security management is the people," he shares. "When I was on the front lines, working a post, I loved interacting with the patrons and protecting people—sometimes even from themselves. In management, the feeling is still there and now it's enabling other security professionals to have all the resources and information they need to execute their job—and have fun while doing it."
Profile by Steven Barnett, ASIS communications specialist